---
Tonight's unveiling of Michigan's retro jersey for the Under the Lights Game against Notre Dame on Sept. 10 should excite the Michiagn fanbase as we move on from the past three seasons and into what is shaping up to be an exciting season.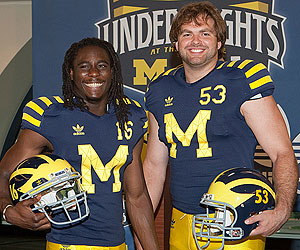 Previously released renderings of the jerseys, even from earlier today, were met with a great deal of angst and disparagement from much of the maize and blue faithful, but the final versions modeled by Denard Robinson and Ryan Van Bergen at tonight's ceremony should be celebrated.
The uniforms that Michigan unveiled live on MGoBlue.com are certainly differant than Michigan's traditional solid blue top, but by no means should that be a bad thing.
Michigan's uniforms are defined by tradition. Similar to Penn State and perhaps Texas, simplicity has made them one of the most iconic in college football.
Other schools that don't have the history and tradition of the nation's winningest program, such as Oregon or TCU have gone the gimmicky route full time, even changing styles and designs every few seasons. The addition of Nike's Pro Combat took it a step further, eschewing tradition for snazzy, money-making get-ups like Florida's, Arizona State's, and a bunch of others.
While those uniform designs likely appeal to younger fans, Michigan's night game duds should encompass the whole spectrum of Michigan fans by tying in the entire history of the Michigan uniform.
"Michigan's maize and blue jersey is one of the most iconic in all of sports and this new vintage-inspired uniform highlights design cues from throughout Michigan's rich football tradition honoring 132 years of championship football," said Jon Yuska, Adidas' director of sports licensing design.
Because of the lack of significant uniform changes over the course of the 132-year history of Michigan football, especially in the modern era, there weren't many options to choose from when designing throwbacks to commemorate the game. Aside from changing from Adidas to whoever made the jerseys back in the day, and some minor number or font tweaks, actual throwbacks would look basically the same as what Michigan always wears on Saturdays.
Since creating a true throwback was not really an option, Michigan AD Dave Brandon and the Adidas design team chose to take elements and concepts from the past 132 years and develop a unique uniform that personifies the program's rich history.
From Michigan's first captain, David N. DeTar, in 1879, to Bennie Oosterbaan in the 20s to Gerald Ford and Tom Harmon in the 30s, all the way to the stars of the modern era who never got to play under the lights in Ann Arbor, these uniforms represent 132 years of Michigan football.
September 10 deserves to be celebrated, not just for the 85 who get to suit up that day, but for the thousands whose combined efforts have made Michigan football the nation's best. Tweaking the uniforms ever so slightly to honor one team from the 40s is great, but if that's to be done, there will be a time and a place for that. This game is about more than one team or one era since it's carving history out of what is already the sport's most historic program.
These retro uniforms involve elements from the very beginnings of Michigan football in the late 1800s that wore the block M on the front as well as the striping on the sleeves (if you don't like that, at least it's not the full uniform like the Where's Waldo uniforms some players wore in 1888). It also features the number on the sides of the winged helmets, as Michigan wore in the 1950s and 60s, as well as grey facemasks. Aside from those elements, Michigan's uniforms really haven't changed in the modern era.
I commend Brandon and the Adidas design team for integrating several elements of Michigan's uniform history to create a compelling uniform for this historical occasion. It's not something I would buy to wear, but I'd probably buy one to hang in a Michigan-themed man cave.
Most importantly, the team seems to love them and they're only for one game,  so we don't have to worry about Michigan's history being thrown out the window. There's nothing wrong with a little marketing gimick now and then, especially when it gets everybody talking about Michigan football again in a positive light while we watch that school in Ohio's world crumble more and more each day.