---
Denard's speech
From his first snap in a winged helmet, Denard Robinson has provided one highlight-reel play, record breaking performance, and thrilling moment after another. He has amassed a career that will go down as one of the greatest ever by a Michigan player and perhaps the best by a dual-threat quarterback in the history of college football. But what typically gets lost in the hype surrounding his speed and his shoelaces is his humility.
Earlier in the spring, he approached Michigan sports information director Justin Dickens about giving the keynote speech at the Big Ten luncheon. He wanted to conquer his fear of public speaking. Dickens set up a practice run in front of a few hundred school children in New York City and Robinson poured his heart into it.
He delivered the keynote speech at the luncheon last week opened up more than ever before. You can read the full transcript here, but below is a selection quotes that reveal the character of Michigan's signal-caller.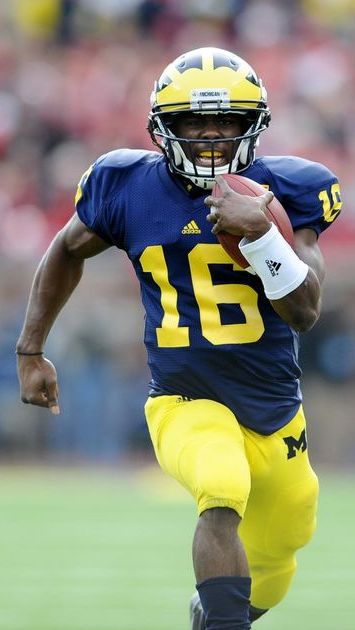 "What you may not know is I was so self-conscious about the area I grew up in that I used to hold recruiting visits at my grandparents' house. What you may not know is that I was not even the best athlete in my neighborhood, but I was one of the ones who made it out. Why? Choices."
"Where I came from, it was easy to do the wrong thing, quit school, do drugs, live the street life. It's tough to do the right things. You may not know my freshman year of high school I was ineligible to play spring football because of my grades. It would have been easy for me to give up and fall into what all the other students were doing. But it was my choice to be different. To be uncommon."
"When Coach [Brady] Hoke came in, he didn't guarantee me anything. All I had was the opportunity to continue to play quarterback. For that, I want to say thank you, Coach."
"Character is who you are when no one else is watching. It's easy when you know the camera is on us to do the right thing but it may be tougher at other times. This year, because of that, I became aware of how big our platform can be. I met the President of the United States and I met LeBron James and they both knew who I was."
"My motto is: It's my goal to make somebody's day every day. With this platform, we have that opportunity, an opportunity to make a difference. Tough choices don't stop. Trust me, I'm not perfect. Just ask Coach Hoke. I drive you crazy way too often, right Coach?"
"I mentioned earlier that I lost my brother. I promised him that one day I would provide for our family so that they wouldn't struggle anymore. I have a feeling that I'm on my way, but I'm not there yet. Like I said, I was so self-conscious of where I came from, but today I realized I'm blessed and I embrace it. Where I came from helped me become who I am today. And it shows it doesn't matter where you come from, anything is possible. That is the message I want to carry over."
It seems that every day we are inundated with offseason stories about players getting in trouble with the law. The growth by Denard that is beginning to be made known is refreshing. For an athlete of his talent and popularity to come from where he did and be mature enough to talk about making the right choices, using his platform for good, and making people's day, it certainly makes one happy to have him representing the Maize and Blue.
If you missed it, you can watch the full speech here.
Legends jerseys
Last season, the football program kicked off a new tradition of honoring Michigan football greats with legends jerseys, which will not be retired, but will feature a patch. Junior Hemingway got to wear the first one, Desmond Howard's number 21.
This spring, Michigan announced that it will honor Gerald Ford's 48, Ron Kramer's 87, and Bennie Oosterbaan's 47. The question that remains is which current players, if any, will don these numbers this season? Roy Roundtree switched from his 12 to the 21 that was left behind by Hemingway's departure, but when Hoke was asked when he will decide who will wear the other three, he simply replied, "Sometime, in the future. We'll see."
There are several schools of thought on determining which players get to wear the jerseys. Do only seniors get to wear one or can a player who has a great freshman season wear it for his final three seasons? Do they have to play the same position as the legend? What happens if a player is becoming a legend of his own, but wants to wear a designated legends jersey? What number will he ultimately be remembered for?
One thing is for sure: the numbers won't just be handed out on a whim. Hoke will talk with each player who is worthy of wearing a legends jersey and make sure they understand what it means and the responsibility that comes with it.
My take: it should be an upperclassman. I'm okay with a junior wearing a legends jersey for two years as long as he has done enough to earn it in his first two seasons. There should also be an off the field aspect to it – if he does anything that will disgrace the jersey, he either can't earn it or can lose it. I also think  it should remain at the same position as the legend. The problem with that is Ford's 48. Under current NCAA rules, an offensive lineman – the position Ford played – cannot wear 48. In that instance, I think it would be okay to give it to another deserving player.
As for this season, there's only one that I think should be given out, and it's not the one you think. Many feel that Jordan Kovacs should wear either Oosterbaan's 47 or Ford's 48, but I disagree. Kovacs has made a name for himself in the number 32. His story is well known by now, from walk-on to all-Big Ten. If he has another all-Big Ten season this year or even makes All-American, he could someday have a legends jersey of his own. Switching numbers at this point seems counterproductive. Keep 47 and 48 in the bag this season and give Kramer's 87 to Craig Roh.
Kramer was a two-time All-American at Michigan and played several positions including defensive end. He was most known for his play as a tight end, which he played in the NFL, but with no current Michigan tight ends fitting the mold for the jersey this season, Roh makes the most sense. He hasn't achieved nearly the success of Kramer, but to wear the number, he doesn't have to. He has started 38 consecutive games, was named All-Big Ten honorable mention last season, and was named Academic All-Big Ten a year ago. He has also stayed out of trouble off the field. He hasn't made a name for the number 88 like Kovacs has with his, so switching to Kramer's 87 won't cause any confusion. Oosterbaan's 47 could work as well, since he also played defensive end, but it can't be worn by a defensive end under current NCAA rules.
So if 47 and 48 aren't given out this season, is anybody on the current team in contention for them next season? Both would have to be either backs or kickers to be within the rules. Prior to Fitz Toussaint's DUI last week, I would have said he should be in the running for 48 next season if he has another strong season this year, but now that should be out the window. The only one that could be a possibility is Brendan Gibbons if he has a big season. A year ago, that would have been unthinkable, but his clutch performance in the Sugar Bowl should at least put him in the conversation to earn one his senior season.
Are there any players on the current team that could receive legend status? Aside from Kovacs if he has a huge season, the obvious choice is Denard Robinson. If he leads Michigan to a Big Ten title and wins the Heisman, it should be a no-brainer. Number 16 should be give the legend treatment for Michigan quarterbacks. Should it still be deemed so if he doesn't win the Heisman? I'm still iffy on that, but I lean towards yes if he has another great season. He'll likely finish in the top five in all passing and rushing categories in Michigan history. He'll also be the Big Ten's all-time leading rushing quarterback and possibly the nation's as well.