---

Welcome to the first installment of our new weekly series that will run throughout the season, Friend vs. Foe. In this feature, we will go head to head with a writer from a blog of that week's opponent. The point isn't to make a score prediction of the game, but rather for each of us to explain how or why our respective team will win.
For this week's edition, we are privileged to have Todd from Roll Bama Roll. You might recognize RBR from the "Michigan Hate Week" post earlier in the week. However, that was just a fan post, not by the actual guys that run RBR. Todd is a good guy and they produce some great Alabama content. But head over to that thread for a good pregame laugh. I haven't met enough Alabama fans yet to tell whether they all subscribe to that line of thinking, but I will say that that poster didn't do his brethren many favors when it comes to fanbase perception. But I digress. Let's get on with it.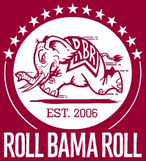 The case for Alabama
by Todd
In football, most students of the game will tell you everything starts up front. The team that can control the line of scrimmage and impose its will on the opponent is usually the team that will come out on top. Nick Saban has built his success at Alabama on that principle, using big and surprisingly athletic linemen on both sides of the ball to establish the Tide's dominance in games early and often. The same will hold true this year.
Four starters return on the offensive line, with consensus All-American Barrett Jones at center, and two ESPN preseason All-Americans in Chance Warmack and D.J. Fluker at left guard and right tackle. While all the chatter from spring and fall is that Alabama is looking to ride the strength of returning QB AJ McCarron's arm and a host of speedy young receivers, with this line and a stable of running backs that have two former five star recruits as backups there's no reason to believe the Tide can't be just as brutally efficient on the ground as it has the past few years and control the game with the same frustrating mix of power runs and play action that has worked so well. Given that Michigan's defensive line lost three of four starters from last season and are facing the possibility of losing even more depth with Frank Clark suspended, the advantage is in Alabama's favor.
On defense, the Tide loses starting NT Josh Chapman, but returns three players with starting experience and most of the backups that played significant snaps, while the linebackers return three key contributors in the middle. Trying to run between the tackles against that front won't be easy, and if Fitz Toussaint is really sitting out the Wolverines will almost have to run wide. This could actually work to Michigan's advantage. Alabama loses both starting outside linebackers from last season and is replacing them with a pair of untested underclassmen in Xzavier Dickson and Adrian Hubbard.
The early returns on their performances through spring and fall are promising, but Alabama lost a lot of experience at both outside spots and it does give Michigan an advantage should they want to utilize Denard Robinson's speed and the "deuce" package to run wide against Alabama's defense and put the pressure on the outside linebackers and secondary to keep contain. Staying disciplined and not allowing Robinson to create with his feet will be the first goal of the Alabama defense, and after having faced offenses like Florida, Auburn, and LSU's over the last few years there's plenty of experience against teams with mobile QBs.
Unless Robinson has the game of his life and Alabama is forced into a shoot out Alabama is still the better team. Questions about Robinson's passing efficiency and the underwhelming production of his receivers coupled with inexperience and lack of depth make Michigan merely a good team with a lot of questions to answer. I expect this to be a fairly back and forth affair for the first half, but Saban and his staff have shown time and again that they are masters at in game adjustments, so look for the Tide to pull away late.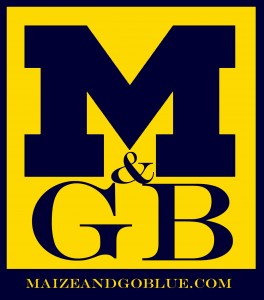 The case for Michigan
by Justin
Alabama's biggest advantage coming into the game is its All-Everything offensive line against Michigan's unproven defensive line. The depth chart that Michigan released earlier in the week included a surprise starter on the line: the presence of Quinton Washington at nose tackle and Jibreel Black starting at weak-side end. If that depth chart holds true on Saturday, Hoke and defensive coordinator Greg Mattison will be choosing size over speed, and I think that's the right call. Remember, Mattison is one of the best D-coordinators in the game and Hoke's specialty is the D-line, so this won't be as big of a mismatch as people think.
Alabama returns just 36 percent of its receiving from a year ago. The top three receivers, including tight end Brad Smelley, are gone from a passing offense that ranked 69th nationally last season. 'Bama fans are high on quarterback A.J. McCarron because of his performance in the BCS National Championship game, but it was also his second attempt at LSU in less than two months. His first was far less impressive. Michigan's back seven is its strength with a pair of proven corners and safeties as well as smart and experienced linebackers. I'm confident that they can handle Alabama's passing game. The key will be to stop the running game.
This is where the big defensive line comes in. I would submit that getting a ton of pressure on McCarron is less important than clogging the running lanes for Eddie Lacey, Jalston Fowler, T.J. Yeldon, and Dee Hart. If the Tide are able to completely control the line of scrimmage and run at will, they'll put up points and win the game. If Michigan can neutralize the run game and force McCarron and his host of inexperienced receivers to make plays, then we'll have a ballgame.
Michigan will score some points – I think somewhere in the range of 20 – so it's up to the defense to force the Tide to kick field goals rather than punch it into the end zone. Jeremy Schelley attempted 27 last year (making 21) and Nick Saban leans towards the conservative side when it comes to scoring points. So stop the run and be stout in the red zone (which Michigan excelled at last year), and we could see a shocker on Saturday night.