---

Michigan has the unique position of having three big rivals. Most teams only have one rival to get up for, but year-in and year-out, Michigan has three. While we, as fans, hate each of these teams, we carry some respect for them. Michigan State and Ohio State carry conference affiliation ties while Notre Dame, well, we all just put up with them. All season long, it's fun to keep track of how each of them doing, but there's only so much time on Saturday to watch games. More often than not, they play at the same time Michigan does so you don't get a chance to do your "advanced scouting." Well, don't fret because we've got you covered. This weekly feature will give you an overview of Notre Dame, Michigan State, and Ohio State's games the previous weekend and a look ahead to the upcoming one.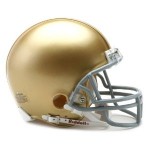 #20 Notre Dame 20 – #10 Michigan State 3
Record: 3-0
This week: Home vs. #18 Michigan (2-1) – 7:30pm – NBC
Notre Dame and Michigan State made it easy on us this week by playing each other. The outcome was not even close to what I expected. In fact, it was just about the opposite. The Irish snapped a six game losing streak to ranked teams and had their best defensive showing against a top ten team since beating Texas A&M 28-3 in 1993, per ESPN. Oddly enough, 1993 is largely regarded as the last year ND football was actually relevant, but who's keeping score?
Notre Dame opened the scoring with Everett Golson rolling right and throwing across the field to receiver John Goodman, who one-handed it in the end zone. For those of you not keeping track, it was the first touchdown scored against the Spartan defense this season. Golson scored with his feet early in the second quarter to make it 14-0. Overall, Golson's numbers were nothing to admire, 14-of-32 for 178 yards and one TD. As a team, the Irish pounded the rock for 122 yards on 34 carries. But the key was the return of Cierre Wood, a tough nosed runner who gave the Golden Domers some spark in the run game.
The big story of the night was the line play. Notre Dame absolutely dominated the vaunted State defensive front, made lanes for their running backs and gave Golson enough time to make some big plays. On defense, the Irish applied constant pressure (mostly without use of the blitz) on Andrew Maxwell, holding him to 23-of-45 for 187 and no touchdowns, while breaking up eight passes and sacking him four times. The Spartans had not given up a sack in their previous two games.
Perhaps an even bigger story than ND's line playing so well against the Spartan d-line was the Irish defense stepping up and holding State to 50 yards rushing as a team, although Le'Veon Bell had 77 yards. But not all that glitters is gold, so to speak. Notre Dame was 1-for-14 on third downs, and while Golson made some big plays when he needed to, he was still held under 50 percent passing. Wood had a good game – he missed the prior two – managing 56 yards on 10 carries, which something he will likely build on going forward.
Were it not for some MSU miscues – such as a dropped pass in the end zone – and failing to stop Notre Dame on third down and later on a fourth down conversion, the Spartans may have come away with the win. Regardless, ND fans are pumped up and buying more and more into the delusion that they are a great team. The line play for ND was outstanding and it worries me a little bit heading into next week's matchup, but more than anything I think last Saturday showed us that MSU is not the MSU of 2011 and that bodes well for Michigan's Big Ten Title shot.
___________________________________________________________________________________
This week:
Notre Dame hosts Michigan. Stay tuned for our previews later in the week.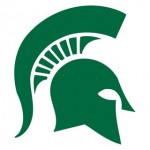 #10 Michigan State 3 – #20 Notre Dame 20
Record: 2-1
This week: Home vs. Eastern Michigan (0-3, 0-1) – 3:30pm – Big Ten Network
See recap above
This week:
This week MSU takes on Eastern Michigan in East Lansing and it shouldn't be close. EMU is 0-3 and has given up over 560 yards in two of those contests. This should be a nice bounce back game for State as they prepare for opening the Big Ten schedule against the Ohio State Buckeyes the following week.
Prediction: Michigan State 37 – Eastern Michigan 9
___________________________________________________________________________________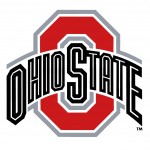 #12 Ohio State 35 – California 28
Record: 3-0
This week: Home vs. Alabama-Birmingham (0-2) – 12pm – Big Ten Network
The Buckeyes were once again led by Braxton Miller, but the outcome was in question until the final minute of the game. After tying the game up at 28 midway through the fourth, Cal was looking like they were going to pull off the upset. Miller threw a pick on the Bucks' next drive but Cal faltered and missed its third field goal attempt of the day. On the ensuing Buckeye possession, Miller capped a 72-yard drive with a touchdown pass to Devin Smith, and Ohio State intercepted Zach Maynard's pass with just under a minute to go to seal the game. Miller had another big day, with 249 through the air to go along with 4 touchdowns and one pick, but was barely over a 50 percent completion rate. He added another 75 yards on the ground and another TD, accounting for all five Buckeye scores.
Cal running back Brendan Bigelow had a MONSTER game, rushing for 160 on 4 carries (two of them going for six), including and 81-yarder that was the longest in the history of the Horseshoe. Maynard torched the Buckeye secondary for 280 yards on 26-of-37 passing and a touchdown. Cal put up over 500 yards on OSU, 288 in the air and 224 on the ground, but couldn't quite seal the deal. Three missed field goals and an inopportune pick at the end of the game was just enough for the Buckeyes to hang on and grab a win they didn't really deserve. As they say, sometimes it's better to be lucky than good.
This week:
Ohio State faces UAB this week in the 'Shoe before heading to East Lansing the following week. UAB is fresh off a losses to Troy and South Carolina and is giving up 44 points per game, while putting up only 17.5. This shouldn't be much of a test for the Buckeyes, but I thought the same thing last week and they almost lost. The Blazers don't possess much of a rushing attack. They rank 114th in the country at 80 yards per game but could find some success against the Buckeye defense that has been getting torched thus far in 2012. In the end it will probably be the Braxton Miller show and he is going to be too much for the Blazers to handle.
Prediction: Ohio State  34 – UAB 13