---

He's as good as advertised
Last Friday night I had the chance to go see the nation's top receiver, and one of Michigan's top remaining targets, LaQuon Treadwell, play in person. His Crete Monee Warriors played previously unbeaten Glenbard South and came away with a dominating 45-7 win. Treadwell racked up 181 yards and two touchdowns on seven catches through three quarters of play. With such a big lead, he didn't play the fourth.
Treadwell's team is loaded with talent, most notably linebacker Nyles Morgan, fellow receiver Lance Lenoir, and defensive back Jaylen Dunlap, but it was ever apparent that the offensive game plan could have simply been to throw it to Treadwell on every single play. And it would be just as effective. But in a team sport on a squad with other Division 1 prospects, they have to spread the wealth.
For a high school senior, he has perfect size, good hands, and enough shiftiness to turn a crossing route into a 75-yard touchdown. I was skeptical prior to the game. After all, how good can this kid be? But I was impressed. I guess that's why the kid has offers from nearly every school in the country. Florida receivers coach Bush Hamdan (far right in photo) was on hand and Oklahoma State will be there this week. Treadwell visited Ole Miss on Saturday and would be a huge pick up if Brady Hoke is able to land him.
Treadwell also plays safety and kicker for the Warriors. At safety, he seemed to shy away from contact, and the one time he tried to make a big hit, he whiffed on the receiver who then ran untouched for an 84-yard touchdown. But that doesn't take away from Treadwell's receiving skills as he's clearly a receiver first and foremost.
His teammate, Morgan, may have been the most impressive player on the field that night. He has offers from Michigan State, Notre Dame, Vanderbilt, Illinois, and Purdue, with interest from several others, including Michigan and Alabama. He's currently just a junior, so he'll be one to watch next season. He visited MSU last weekend. Please don't end up there.
___________________________________________________________________________________
#EATING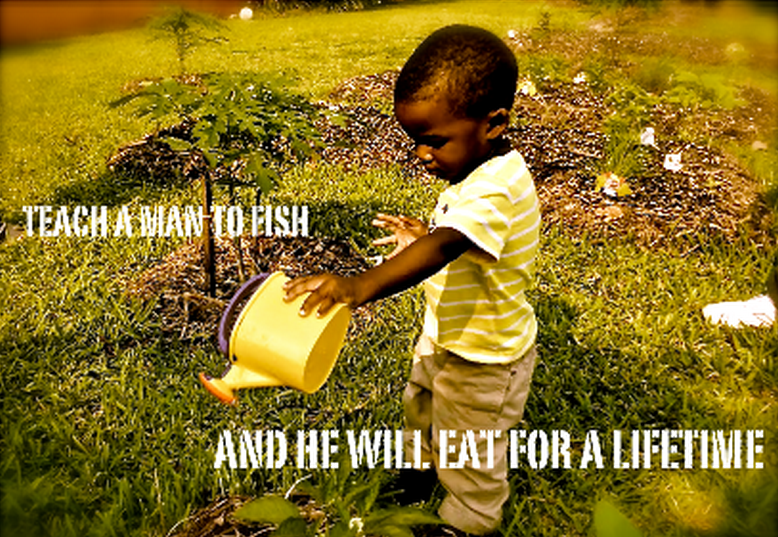 I've been meaning to pump the #Eating fundraiser for some time now, but it kept slipping my mind. Now that I've remembered, it has already reached its goal. But that doesn't have to stop you from donating to this great cause.
If you're not aware of it yet, it's a project by former Michigan receiver Martavious Odoms. He's trying to start a community garden in his hometown of Pahokee, Florida to "create jobs and provide job training, as well as provide positive activities for the youth."
If you don't know much about Pahokee, it's a relatively poor town in south Florida with higher than average crime rates, but has produced an astonishing number of big time athletes. Unemployment rates are currently around nine percent and the percentage of college graduates is very low as well. Regardless of political affiliation, this is a cause to get behind since it involves one of our very own Wolverines serving and giving back to his community.
While the goal has already been met, there's nothing that says Hope for Pahokee doesn't need more. If you're leery about where the funds will go, you can read about it on the Kickstarter page. Hope for Pahokee is using Urban Greenworks of Miami, which has successfully installed five urban gardens in Miami, to facilitate the project.
___________________________________________________________________________________
Legends jerseys
We've talked previously about the Legends jerseys that will be awarded this season and our view on them. I, like many others, thought Craig Roh was the logical choice to get Ron Kramer's No. 87, but it was awarded to senior tight end Brandon Moore on Saturday afternoon. The previous week, Bennie Oosterbaan's No. 47 was awarded to sophomore linebacker Jake Ryan. This clears up a couple of things. First, it doesn't necessarily have to be an upperclassman. Secondly, with Moore, it doesn't have to be a star or a player who has made major contributions on the field.
It appears that the jerseys will be sought after by the players who get the distinction of wearing a jersey that commemorates a Michigan football legend and a special locker in the locker room. That means Desmond Howard's No. 21, which was worn by Junior Hemingway last season and Roy Roundtree this year will likely be given to someone else next year, as will Kramer's 87 that Moore will done for the remainder of 2012.
The next question is, who will be awarded Gerald Ford's No. 48 and the Wistert brothers' No. 11? Since it appears that each of them will, in fact, be awarded, my vote for 48 now goes to senior center Elliott Mealer. Unfortunately, unless Michigan can get the rules changed, which is highly unlikely, it has to go to a quarterback, running back, receiver, defensive back, or linebacker. So how about Desmond Morgan? Like Ryan, he's a young starting linebacker and plays the type of hard-nosed defense that would make ford, the former center, proud.
No. 11 also falls into the same number classification under NCAA guidelines, so my vote goes to Devin Funchess. Would the coaching staff give it to a freshman? Would they give it to another tight end? I'd say at this point it's probably unlikely, but given the potential star ability of Funchess, it would be great to see. If not, how about sophomore quarterback Russell Bellomy? He's likely to be the starting quarterback next season and according to Sports Illustrated, the best player to ever wear No. 11 in the NFL was Eagles quarterback Norm Van Brocklin. But watching the Cardinals' Larry Fitzgerald pull down touchdown passes in No. 11, I can't help but think how great it would look on Funchess before he makes a name for himself in 19.