---

This week, we are proud to feature Eric from the Notre Dame SB Nation blog One Foot Down. He will provide his perspective on how or why Notre Dame can win on Saturday. Remember, this isn't an actual game prediction. It is an attempt to describe how or why each team can win from each side of the matchup.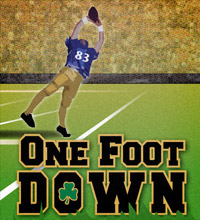 The case for Notre Dame
by Eric
Offensively, Notre Dame is still a work in progress mainly due to new starting quarterback and redshirt freshman Everett Golson. However, there are plenty of weapons for the young quarterback to work with and an offensive line with a few really strong and tough players.
Overall though with a somewhat less explosive offense, the Irish seem more comfortable with Golson under center. There's a sense that he can make plays on his own, but the whole offense isn't as dependent upon his play as is usually the case with Brian Kelly's quarterbacks. Notre Dame will lean a little bit more on the run, and keep things pretty simple for Golson in the passing game, and there seems to be growing confidence in the team's ability to protect the ball (just 2 turnovers through 3 games), which is a welcome change from last year.
Defensively the Irish front seven has looked tremendous so far this season. They're 23rd nationally in run defense despite playing Navy already, and tied for 7th in total sacks. It's not an exaggeration to say that this is the most complete and dominant front seven the Irish have had in 10 or 15 years.
There could be problems for Notre Dame's defense if somehow Michigan can protect Denard Robinson and they can exploit an Irish secondary that is suffering through numerous injuries. The green Irish corners have played well so far this season but they really haven't been tested a whole lot through three games.
A lot must be said about Michigan's ability to get up for this rivalry game and the fact that Brady Hoke has done a great job re-molding the Wolverines into a tough and physical football team. This says nothing of the playmaking abilities of Denard Robinson who still haunts Irish fans' dreams with his near miraculous play the past two meetings.
With that said, Notre Dame has somewhere between a good and great advantage with their line play (particularly on the defensive line) and I think that's a key advantage for the Irish this year. As much as last year's loss to Michigan hurt, let us not forget that for three quarters the Irish were dominating in nearly all facets of the game.
As usual, I would expect a close game but this should be Notre Dame's time to finally beat Michigan and break the 3-game losing streak to the Wolverines. It's a home game, the Irish have been great defensively this season, and the third time should be a charm in defending Denard Robinson.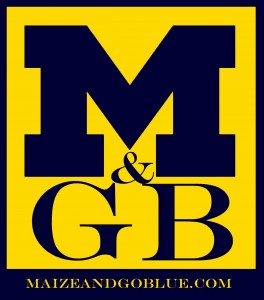 The case for Michigan
by Justin
Notre Dame looked awfully impressive a week ago in beating 10th-ranked Michigan State on the road. But this early in the season, it's hard to tell how much of that is due to the Irish actually being one of the top 11 teams in the country or simply a case of Michigan State being overrated. That's the problem with preseason polls. Until about midseason, or once conference play is in full swing, it's hard to tell how good a team truly is. Early season wins and losses are overblown due to teams being ranked higher or lower than they are truly worthy.
That being said, it's clear that Notre Dame is considerably better than the previous two or three seasons. Part of that is due to a defense that somewhat resembles Michigan's last season: a dominant front seven and a young secondary. As Chris discussed in his Monday Morning Quarterback this week, the Irish defensive game plan against Michigan State was to load the box to stop the run and put pressure on the inexperienced Andrew Maxwell. And it worked. Notre Dame sacked Maxwell four times and held Le'Veon Bell to just 77 yards rushing.
Senior linebacker Manti Te'o is the Mike Martin of the defense – the leader who plays with aggression on every play. He's well aware of Denard Robinson's abilities, having faced him the past two seasons. While he and the Irish defense haven't been able to completely stop Denard, the fact that the leader of the defense has two years under his belt defending him should not be overlooked. The old sports cliche – it's hard to beat a team three times in a row – comes to mind.
The pressure Notre Dame put on Maxwell worked largely because it was able to capitalize on Maxwell's inexperience and State's passing game had no teeth to it. It's going to be a little harder to do against Michigan because Denard is a third-year starter who has had considerable success against the Irish. Offensive coordinator Al Borges has done a nice job of balancing the offense and using the passing game so far. The 699 passing yards through first three games are the second most in a three-game stretch in Denard's career.
The weakness of the Notre Dame defense is its secondary, which lost its top corner, Lo Wood, right before the season started, and starting safety Jamoris Slaughter to an Achilles' tendon injury last week. While State's passing game posed virtually little threat, Michigan's is dangerous with the emergence of Devin Gardner and tight end Devin Funchess. Add Drew Dileo's performance last week and the already proven Roy Roundtree and Jeremy Gallon, and Michigan now has more receiving weapons than it has had in years.
Notre Dame will surely use a similar defensive game plan as it did last week, forcing Denard to beat it with his arm. The performance of the offensive line will likely determine the game. If it can give Denard enough time to set his feet and find his targets, Michigan's offense will be tough to stop. But if the Irish are consistently getting into the backfield and forcing Denard to make poor decisions, much like in the first three quarters last week, it could be a long day. That's where the game will be won or lost. Look for a lot of quick passes on Michigan's first couple of drives to try to soften up the defense and make room for Michigan's trademark running game. If it works, Michigan wins. If Brian Kelly is able to kidnap the kids from Tuscaloosa to play corner and take away the passing game early, Michigan's offense will struggle in a similar fashion as State's.