---

Michigan has the unique position of having three big rivals. Most teams only have one rival to get up for, but year-in and year-out, Michigan has three. While we, as fans, hate each of these teams, we carry some respect for them. Michigan State and Ohio State carry conference affiliation ties while Notre Dame, well, we all just put up with them. All season long, it's fun to keep track of how each of them is doing, but there's only so much time on Saturday to watch games. More often than not, they play at the same time Michigan does so you don't get a chance to do your "advanced scouting." Well, don't fret because we've got you covered. This weekly feature will give you an overview of Notre Dame, Michigan State, and Ohio State's games the previous weekend and a look ahead to the upcoming one.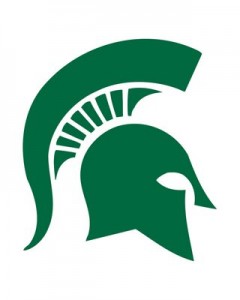 Michigan State 31 – Indiana 27
Record: 4-2 (1-1)
This Week: Home vs. Iowa  (3-2, 1-0) – 12pm – ESPN
Last week I predicted Michigan State would roll over Indiana. They won, but the Hoosiers almost pulled off the upset. Indiana opened up the game with a 17-point first quarter while holding the Spartans scoreless. MSU bounced back with 14 straight points to cut it to 17-14 but IU rattled off another 10 before halftime to go up 27-14. Things were not looking well for MSU.
In the second half the Hoosiers showed why they are bottom dwellers in the Big Ten as they gave up 17 points and put up zero. MSU scored its last 14 (two touchdowns) within a minute and a half of each other midway through the fourth to go up for good.
When I looked back at the box score the thing that stood out to me most was the 33-for-48, 282 yard, three touchdown performance by Indiana quarterback Cameron Coffman. MSU's defense is not what it was last year and has some serious issues against the pass. The Spartans' pass offense, however, is picking up as Andrew Maxwell gets more comfortable with the system and the players around him. As of right now I'd say State is prime for the picking as we look down the road a bit to the matchup next week.
This Week:
On Saturday, State gets an underwhelming Iowa at home this week before making the short trip south to Ann Arbor. If the Spartans are not careful they could wind up with two conference losses before meeting Michigan, effectively killing their chances of winning the Legends division.
Prediction: Michigan State 24 – Iowa 20
___________________________________________________________________________________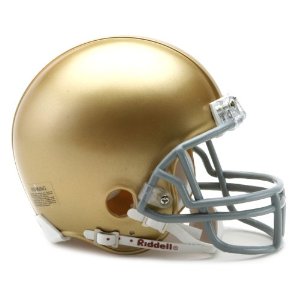 #9 Notre Dame 41 – Miami 3
Record: 5-0
This Week: Home vs. #17 Stanford (4-1, 2-1 Pac-12) – 3:30pm – NBC
Miami versus Notre Dame – an epic battle between two once proud and dominating programs. Or that's how it was supposed to be. Yet it was everything but epic. Notre Dame rocked the Hurricanes (yes, that was a vague Scorpions reference) 41-3 to further fuel the idea the Irish are back. I tend to disagree.
I'll concede they are back when they post back-to-back ten-win seasons and win a BCS bowl game against a BCS school. Regardless, the Irish are playing well thanks to their front seven. The Irish scored all five of their touchdowns on the ground. It didn't look like they were running up the score in the second half though. Miami just failed to stop them.
George Atkinson III led Notre Dame with 123 yards and a touchdown while Cierre Wood added another 118 and two TDs. Notre Dame ran the ball for a staggering 376 yards and added 211 through the air in a combined effort of Everett Golson and Tommy Rees. Miami just looked awful. Its one bright spot was that the Hurricanes didn't commit any turnovers.
Notre Dame is now in the position Michigan was in before the season started. Top 10 team that just isn't one. Based on expectations and the overreaching hyperbole of the media (it's Notre Dame after all) they sit at No. 7 in the country, despite barely beating a Michigan team everyone wants to hate on despite being given six gifts. I'm not bitter; I'm just saying people need to take it easy with all the love for Notre Dame already.
This Week:
The Irish welcome the Stanford Cardinal into South Bend on Saturday afternoon in what could very well be the wake up call the Golden Domers need. Stanford is a tough team that has already upset a very good USC team and will look to hand the Irish their first loss of the season. Stanford might be the best team Notre Dame has faced all year and if they win I guess they are for real, but I just don't see it happening.
Prediction: Stanford 23 – Notre Dame 17
___________________________________________________________________________________
#12 Ohio State 63 – #21 Nebraska 38
Record: 6-0, 2-0 Big Ten
This Week: at Indiana (2-3, 0-2 Big Ten) – 8pm – Big Ten Network
Ohio State welcomed the Nebraska Cornhuskers into town, and for the first 32 minutes, it was a back and forth battle of the offenses as one couldn't stop the other. But something clicked with the Buckeyes after Taylor Martinez hit Ben Cotton for a three-yard score to make it 35-31 OSU. Carlos Hyde ran for a score then Philly Brown returned a punt 76 yards to effectively put the game away.
OSU added another two touchdowns, both on good sized runs, and made it appear to be an absolutely dominating performance as the Buckeyes put up 63 points. Shockingly, it was once again the Braxton Miller show as the sophomore quarterback threw a measly 14 times, connecting on only seven of them, for 127 yards and a touchdown, while rushing for 186 yards and another score. However, the bigger story was Carlos Hyde's 140 yards and four touchdowns. Yes, four rushing touchdowns.
Nebraska did themselves no favors as they turned the ball over four times (three picks and a lost fumble). Rex Burkhead had a good game with 119 yards on only 14 carries for a nice 8.5 yards per carry, though 73 of those came on one play. Ohio State continues to look impressive and has a fairly easy road before November. The Bucks could conceivably head to Wisconsin sitting at 10-0 and quite possibly be undefeated welcoming Michigan to town for an epic showdown. Normally it irks me when OSU wins, but when they keep beating teams in the Legends division I don't mind. It makes Michigan's road to Indianapolis all the more smooth (provided the Wolverines take care of their own business).
This Week:
Ohio State travels to Bloomington, Ind. next week and I can almost guarantee it will not turn out as close as the Spartans-Hoosiers game did. Look for more of the same – Braxton Miller and then some more Braxton Miller. You have to hand it to Urban, he is using his quarterback the way he should: by running him a lot and only passing when necessary. I hate to say it but Al Borges could learn a lot from this strategy.
Prediction: Ohio State 52 – Indiana 30