---

This week we welcome Robert from the Illinois blog A Lion Eye. He will provide his perspective on how or why Illinois can beat Michigan on Saturday. Remember, this is not an actual game prediction. It is an attempt to describe how or why each team can win from each side of the matchup.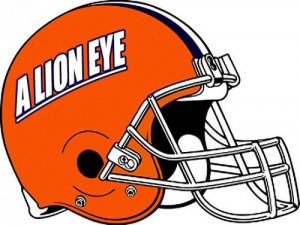 The case for Illinois
by Robert
How or why will Illinois win? We can't and won't. So there you go. What's that? Keep going? OK, but your readers need to promise not to laugh. They won't? You're sure? OK, here goes:
We should have a top-25 defense. But we don't. We can't force field goals, and our offense keeps turning the ball over. We're 37th in total defense but 78th in scoring defense, and that pretty much tells the whole story. Too many redzone touchdowns, too many short fields for our opponents.
Wait, sorry, this is supposed to be "how we win this game." Well, let's start with force field goals and don't turn the ball over. Because if we can do that, we might be able to capture a little bit of last year's defensive magic (when we finished 7th nationally). This could still be a great defense – there are four or five guys who will be playing in the NFL soon – but the scheme change under the new coaches just hasn't taken. We still look confused, not only with the assignments but also the signals and the play calls. But…when they do put it together, we're going to have that one game where we hold some Big Ten offense to 13 points. Maybe that's this week.
Stop laughing.
On offense, we get a huge boost this week, as both senior linemen (Graham Pocic – yes, Ethan's brother – and Hugh Thornton) are reportedly 100 percent healthy and playing together for the first time since the opener. They combined for 80 percent of our offensive line starts coming into the season, so when both were out, like in the Louisiana Tech game, we were as green an offensive line as could be found anywhere in college football. I'd guess Pocic was at 80 percent last week and Thornton at 60 percent (Pocic started, Thornton played some). If they're both finally healthy, it's a huge boost for our offense.
And we haven't had that crazy turnover game yet. Every year, Illinois has a Crazy Turnover Game where we stay in the game just because our opponent can't hang onto the ball. And our best Crazy Turnover Game in history happened in the Big House. You guys were ranked No. 3 in 1992, we were something like 15-point underdogs, and Tyrone Wheatley fumbled I believe 31 times to keep us in the game. It ended in a 22-22 tie.
And – AND – we only win in the Big House when we're not supposed to. 1993 (Simeon Rice strips Ricky Powers as Michigan is running out the clock; Johnny Johnson hits Jimmy Klein (all Illini heroes of yesteryear are required to use the childhood version of their name) in the endzone with 30 seconds left and the Illini win 24-21. Or 1999, when we're losing by 20 at halftime but somehow come back to win 35-29. Or 2008, when Juice Williams set the Big House record for total offense.
So maybe Saturday is That Game for our defense combined with Crazy Turnover Game combined with That Game In The Big House Where Everything Goes Right For Us. Beware, Michigan fans!
Stop laughing.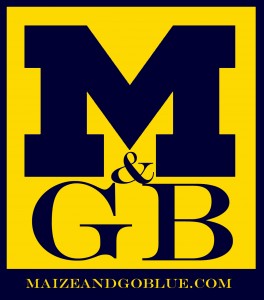 The case for Michigan
by Justin
Illinois is on its way to taking over the reigns of conference cellar dweller from Minnesota and it didn't take long. Tim Beckman took over from Ron Zook and inherited some talent thanks to Zook's recruiting prowess, but the former Toledo head coach hasn't shown he can make it on the big stage as of yet.
However, he does have a talented quarterback-receiver duo in Nathan Scheelhaase and Ryan Lankford. Wait, who am I kidding? This is an Illini offense that ranks dead last in the Big Ten in scoring offense and rushing offense, 11th in total offense, and seventh in passing offense. In other words, Beckman hasn't yet been able to get the kind of offensive firepower he had at Toledo. To put it lightly, the offense has been downright bad, averaging just 21.2 points and 126.5 rushing yards per game. It has also allowed a conference-worst 20 sacks. And the best team Illinois has faced so far is Louisiana Tech.
It's safe to say this won't be the shootout we saw the last time Illinois visited Ann Arbor when Michigan held on  67-65 in triple overtime. Illinois has barely scored that many points all season.
Michigan's defense is rounding into form after seeming to struggle against Alabama and Air Force. But Alabama has been putting up points on everybody and Air Force's wonky system is tough for anybody to stop. Michigan has allowed just 13 points in each of the last three games. The Wolverines held Notre Dame to their fewest point total of the season and virtually shut down the offensive powerhouse that was Purdue. So don't expect Illinois to spend much time in the end zone.
On the other side, Illinois has the Big Ten's worst scoring defense, allowing 28.3 points per game. The rush defense is actually pretty respectable – sixth in the conference, allowing 124.5 yards per game – while the pass defense ranks ninth, allowing 226.8.
If you watched last week's game, you saw Michigan pound the ball on the ground to the tune of 54 rushes and just 16 passes. That's about what you can expect again until Illinois shows it can stop the run. Wisconsin's Montee Ball rushed for 116 yards and two touchdowns on 6.1 yards per carry against Illinois last week and Penn State running back Zack Zwinak rushed for 100 yards and two touchdowns on 5.3 yards per carry the week prior.
The only way Michigan can lose this game, or even make it close, is to look ahead to next week's showdown with Michigan State. That's the game every player on this team circled prior to the season, but Hoke does a good job of keeping the team's focus on one week at a time.
Michigan will run, run, and run some more. Purdue's defense keyed on stopping Fitz Toussaint last week and Denard busted out for 235 yards. Illinois will likely gear up to stop Denard and make Toussaint beat them and he will. Both will get their yards and Denard will throw for 100-something just to keep the defense honest and Michigan will win big.