---

Michigan has the unique position of having three big rivals. Most teams only have one rival to get up for, but year-in and year-out, Michigan has three. While we, as fans, hate each of these teams, we carry some respect for them. Michigan State and Ohio State carry conference affiliation ties while Notre Dame, well, we all just put up with them. All season long, it's fun to keep track of how each of them is doing, but there's only so much time on Saturday to watch games. More often than not, they play at the same time Michigan does so you don't get a chance to do your "advanced scouting." Well, don't fret because we've got you covered. This weekly feature will give you an overview of Notre Dame, Michigan State, and Ohio State's games the previous weekend and a look ahead to the upcoming one.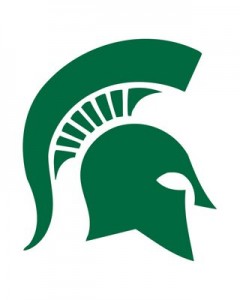 Michigan State 16 – Iowa 19 2OT
Record: 4-3 (1-2 Big Ten)
This Week: at Michigan (4-2, 2-0) – 3:30pm  – Big Ten Network
Perhaps Michigan State was looking ahead to its trip to Ann Arbor, or perhaps the Spartans just aren't that good this year, but Mark Dantonio's crew laid another egg last Saturday, losing to Iowa 19-16 in double overtime.
Michigan State looked as if it was going to run away with the game early on, jumping out to a 10-0 lead on a 14-yards LeVeon Bell touchdown run and a 24-yard field goal. Iowa finally got on the board just before the half with a 23-yard field goal to head into the locker room trailing 10-3.
Nobody could muster any offense in the third quarter until an Iowa field goal early in the fourth cut the deficit to 10-6. But State answered with a 22-yarder of its own to push the lead back to seven. Iowa faced 2nd-and-26 from its own 16 late in the fourth, but got a pair of big plays, a 35-yard pass from James Vandenberg to Kennan Davis and a 37-yard run by Mark Weisman, to set up the game-tying touchdown run with 55 seconds left.
In the first overtime, the teams traded field goals. Iowa kicked another field goal on the first possession of the second overtime and then forced an interception to seal the game.
Bell had another solid performance with 140 yards and a touchdown on 29 carries, while Andrew Maxwell completed just 12 of 31 passes for 179 yards, no touchdowns, and an interception. The Spartan defense allowed Weisman to rush for 116 yards on 26 carries, though 37 came on that late fourth quarter run.
This Week:
Michigan State invades Ann Arbor looking for its fifth straight win in the rivalry. The Spartans' Big Ten title hopes are hanging by a thread and Michigan has a chance to cut that thread for good. However, State would love nothing more than to put a big dent in Michigan's own hopes. Stay tuned in the next few days for our analysis and predictions.
___________________________________________________________________________________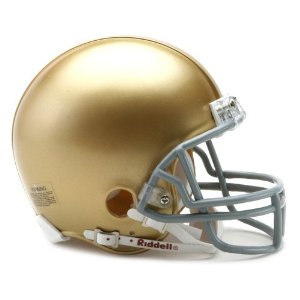 #7 Notre Dame 20 – #17 Stanford 13 OT
Record: 6-0
This Week: Home vs BYU (4-3) – 3:30pm – NBC
The  hype surrounding the Irish was taken up a notch following Notre Dame's overtime victory over Stanford, but it wasn't without controversy. After scoring a touchdown on its first possession of overtime, Notre Dame stopped Standford at the goal line on fourth down to win the game. Stanford running back Stepfan Taylor seemed to have thrust the ball across the goal line on his second effort, but the call on the field stood and the Irish remained undefeated.
The game started out slow with Notre Dame getting on the board at the end of the first quarter with a 29-yard field goal. Stanford took the lead halfway through the second quarter with an Everett Golson fumble recovery in the end zone. The Cardinal added a field goal just before the half to take a 10-3 lead into the locker room. It was Notre Dame's first deficit of the season.
But the Irish answered back at the beginning of the fourth quarter with a 24-yard pass to Tyler Eifert. Stanford responded with a 27-yard field goal, but ND came right back with a 22-yarder to tie the game with 20 seconds remaining.
Notre Dame improved to 6-0 on the season and No. 5 in the first BCS standings of the year, which has the Irish on pace for a BCS bowl and potentially a spot in the national title game if a few things work in their favor. But some big games remaining and this weekend provides a classic letdown/look-ahead game.
This Week:
Notre Dame hosts BYU which is coming off a tough 42-24 loss to No. 10 Oregon State. The Cougars have also lost to Utah (24-21) and then-No. 24 Boise State (7-6). Despite allowing 42 points to Oregon State, BYU's defense ranks seventh nationally in points allowed (13.6) and have held four opponents – Boise State, Utah State, Washington State, and Hawaii – to seven or fewer. It's safe to say Saturday will be a defensive battle as Notre Dame's ranks second.
The Irish have a huge road battle with Oklahoma looming next weekend, so Brian Kelly will need to keep his squad from looking ahead to the Sooners. I think it will be close, but the Irish should win the field goal battle.
Prediction: Notre Dame 16 – BYU 9
___________________________________________________________________________________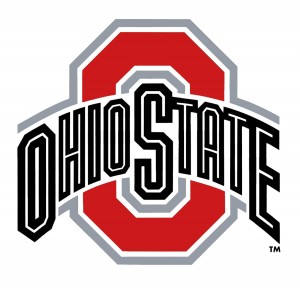 #8 Ohio State 52 – Indiana 49
Record: 7-0 (3-0)
This Week: Home vs Purdue (3-3, 0-2) – 12pm – ABC/ESPN2
When Ohio State beat Nebraska 63-38 a week ago, it seemed as if the Buckeyes had turned the corner following a few lackluster performances against lesser teams. But on Saturday, Ohio State had to fend off a furious charge from the Indiana Hoosiers to pull out the 52-49 win.
Ohio State jumped out to a 10-0 lead on a 12-yard Philly Brown run and a 35-yard Drew Basil field goal, but Indiana got on the board with a 59-yard run by Stephen Houston. The Hoosiers wasted no time taking the lead as Houston carried it in from seven yards out.
Ohio State added a pair of touchdowns to close the half with a 24-14 lead. Indiana kicked a field goal on its first possession of the second half, but Braxton Miller broke loose for a 67-yard touchdown run to give the Buckeyes a 31-17 lead. The teams traded touchdowns once again before Indiana ended the third quarter scoring with a field goal. At the end of three, Ohio State led 38-27.
And then the fun began. Carlos Hyde carried it in from a yard out to put the Bucks ahead 45-27 and Indiana answered right back with a one-yard TD run of its own. With just under seven minutes remaining, Miller found Devin Smith for a 46-yard touchdown pass to seemingly put the game out of reach at 52-34. But Indiana scored twice and converted a two-point conversion in the final two minutes to pull within three. An onside kick was recovered by the Buckeyes and that was the game.
On Monday, Urban Meyer called a pow-wow with his defense to try to set things straight as the Buckeyes surrendered 481 total yards and 49 points just a week after giving up 437 yards and 36 points. This isn't your Buckeyes defense of old.
Braxton Miller, however, continued to impress, completing 13-of-24 passes for 211 yards, two touchdowns, and one interceptions, while rushing 23 times for 149 yards and a touchdown. Without Miller, it's hard to imagine where this team would be, but the Bucks have a good shot at remaining undefeated until The Game. But first, a team that has been a thorn in Ohio State's side in recent years comes to town.
This Week:
Ohio State hosts Purdue at noon on Saturday, a team it has lost to two of the last three years. But this year's Purdue squad is hemorrhaging after a good start. Its offense was high-scoring until Michigan and Wisconsin held the Boilers to 13 and 14 points, respectively. Even so, another high scoring affair is likely given OSU's porous defense. But Purdue's defense, which had no answer for Denard Robinson, won't be able to slow down Miller either and OSU will win.
Prediction: Ohio State 55 – Purdue 33