---

Michigan has the unique position of having three big rivals. Most teams only have one rival to get up for, but year-in and year-out, Michigan has three. While we, as fans, hate each of these teams, we carry some respect for them. Michigan State and Ohio State carry conference affiliation ties while Notre Dame, well, we all just put up with them. All season long, it's fun to keep track of how each of them is doing, but there's only so much time on Saturday to watch games. More often than not, they play at the same time Michigan does so you don't get a chance to do your "advanced scouting." Well, don't fret because we've got you covered. This weekly feature will give you an overview of Notre Dame, Michigan State, and Ohio State's games the previous weekend and a look ahead to the upcoming one.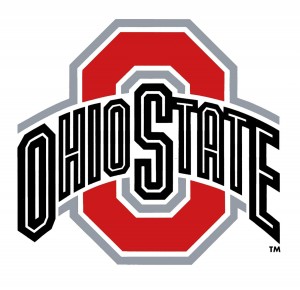 #7 Ohio State 29 – Purdue 22 OT
Record: 8-0 (4-0)
This Week: at Penn State (5-2, 3-0 Big Ten) – 5:30pm – ESPN
They say a win is a win, but if I were an Ohio State fan (though I'd rather not consider what that is like) I wouldn't be so cocky these days. Consider their games against Cal, UAB and Indiana; they almost lost all three, and a loss to Indiana is almost as bad as a loss to an FCS school. They have "resolve," some Buckeye fans will say, "they never quit and always pull it out." A close call is to be expected as the season wears on, but four close calls against four subpar teams is not resolve, it's just plain awful.
That's what happened again to THE luckiest team in college football this season. After almost losing to bottom feeder Indiana, OSU looked to right the ship and send Purdue back to West Lafayette with yet another conference loss. Record aside, Purdue is a good team and OSU made them look even better. After giving up a rushing touchdown to Braxton Miller to go down 7-6, Purdue took the ensuing kickoff 100 yards for the touchdown. It went back and forth in the third and Purdue answered back every time OSU scored.
Braxton Miller suffered a scary moment for Buckeye fans near the end of the third quarter as he was dragged down hard by Josh Johnson. Miller was taken to the hospital in an ambulance and has since been cleared to go home and practice in preparation for this week's game. The tackle was as about as close to a horse collar as you can get without being flagged. Head injuries are no joke and all hatred to our rivals to the south aside, I'm glad the kid is apparently okay.
With no Braxton Miller to work his magic it looked to be over with 10:11 in the fourth when OSU was flagged for an illegal block in the end zone, giving Purdue a 22-14 lead. After a Purdue punt, OSU converted a 4th-and-short and looked to be on the move until back up quarterback Kenny Guiton threw a pick and Purdue took over on its own 18 with 2:40 left in the game. All the Boilers had to do was run the clock out and victory was all but assured.
Sadly for Boilermaker fans, a false start dug them in a hole they could not get out of, and they punted the ball back to the Buckeyes with 47 seconds remaining. If Miller was in the game their improbable march down the field wouldn't have been so surprising, but the fact that it was Guiton who led them down the field for six is quite impressive. Of course, if you take into account this should never have come down to the wire it is not impressive at all.
Oh, I forgot to mention that OSU was "aided" by a pass interference call on 3rd-and-10, giving them 1st-and-goal at the two instead of 4th-and-10 at the 11-yard line. For a game's outcome to essentially hinge on an iffy call late in the game is nuts – pun intended, as this has benefitted OSU before. Remember the 2002 BCS title game? Regardless, OSU earned the right to force overtime and set the tone with a touchdown on its first possession. Purdue proceeded to throw four straight incomplete passes and once again OSU walked away with another close win.
This Week:
It has yet to be determined if Braxton Miller will be available for next week's game against Penn State in State College, but as long as he's cleared I'm sure Urban Meyer will roll with Miller. Speaking of next week, it should be a great game as these two teams mired in seasons of meaninglessness. Penn State's punishment had nothing to do with its players while OSU's, well, we all know about that already.
After dropping their first two games, the Nittany Lions have rattled off five straight and look to be a pretty good team. These aren't JoePa's Lions but they're a tough team that has come together both on and off the field. I think this will be the week the Buckeyes' luck finally runs out. Just look at their defense, depleted or not, it's just not very good. OSU is giving up an astounding 396 yards per game, with most of those (272) given up in the passing game.
Contrast that to the Michigan defense: No. 10 overall giving up just 286 total yards per game and No. 4 against the pass giving up 143 yards per game. And the media wants to give love to OSU and hate on Michigan, go figure.
Penn State is a fairly balanced team, putting up 257 yards per game in the air and 149 per game on the ground, while hanging 28 points on the board and giving up just 15.7. If OSU allows the Nittany Lions those types of numbers it's going to be tough for them to head back to Columbus sitting at 9-0. Happy Valley is a tough place to play and for two teams with nothing to play for this one should be a battle.
I expect Penn St. to pull off the upset in the "Ineligi-Bowl" and give Nittany Lion fans some hope for next season.
Prediction: Penn State 31 – Ohio State 24
___________________________________________________________________________________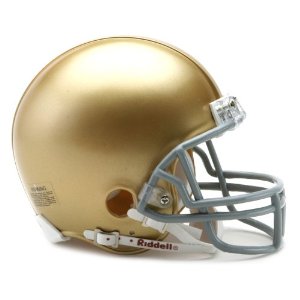 # 5 Notre Dame 17 – BYU 14
Record: 7-0
This Week: at #8 Oklahoma (5-1, 3-1 Big 12) – 8pm – ABC
Notre Dame faced a classic letdown/look-ahead game against a tough defensive BYU team in South Bend on Saturday. Justin was there in body if not in spirit to witness the Irish improve to 7-0, setting up a monumental showdown at Oklahoma this weekend.
Coming off an overtime win over Stanford that featured a goal line stand on fourth down – which Stanford actually scored – Notre Dame had to keep itself from looking ahead to the Sooners. The Irish got off to a good start, scoring first with a minute and a half left in the first quarter to take a 7-0 lead. But BYU answered with two straight touchdowns, a six-yard pass from Reilly Nelson to Cody Hoffman and a two-yard pass from Nelson to Kaneakua Friel. ND hadn't allowed an offensive touchdown in 17 quarters before surrendering the two in the span of less than three minutes.
Trailing 14-7 to begin the second half, Notre Dame continued to run the football and inch closer. With 2:25 remaining in the third, Kyle Brindza hit a 24-yard field goal to bring the Irish within four. It didn't take long for ND to score again as George Atkinson III ran it in from two yards out just two minutes into the fourth quarter to put the Irish ahead 17-14.
BYU wasn't done, however. The Cougars put together a 13-play drive to the Irish 31, but a nine-yard sack took them out of field goal position. The sack wouldn't have happened had Nelson been able to connect with a wide open Hoffman for a sure touchdown just three plays earlier. It was a moment that nearly gave ND fans a heart attack, but Nelson's pass was nowhere close. BYU had to punt on 4th-and-13 from the Irish 34 and never got the ball back.
Notre Dame rushed for 270 yards, led by Theo Riddick's 143 on just 15 carries and Cierre Wood's 114. Tommy Rees, starting in favor of an injured Everett Golson, completed 7-of-16 passes for 117 yards, a touchdown, and an interception.
It was by no means a dominant performance, but once again, the Irish found a way to get it done.
This Week:
Notre Dame travels to Norman, Oklahoma for a primetime face-off with the eighth-ranked Oklahoma Sooners. College GameDay will be there and the Sooners will be eager to improve their 1-8 all-time record against the Irish. Oklahoma would be ranked among the top five if not for a 24-19 loss to current No. 3 Kansas State. In the five victories, the Sooners have outscored their opponents 249 to 68. They have the nation's fifth best scoring offense and ND has the second best scoring defense. What sets the two apart, however, is Oklahoma's defense isn't too shabby either, ranking 12th nationally, while ND's offense is just 77th.
It will surely be a defensive battle, but Oklahoma's offensive firepower is better than anything the Irish have faced to date and they have a defense to back it up. Sorry Irish fans, but this is finally the week your luck falls short.
Prediction: Oklahoma 23 – Notre Dame 13
___________________________________________________________________________________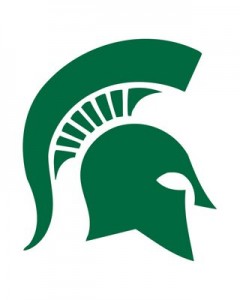 Michigan State 10 – #23 Michigan 12
Record: 4-4 (1-3 Big Ten)
This Week: at #25 Wisconsin (6-2, 3-1 Big Ten) – 3:30pm – ABC
We all know what happened in the Big House on Saturday as Michigan ended its four year futility at the hands of the Spartans and brought home Paul Bunyan. While it wasn't pretty and Michigan was held without a touchdown for the second time this year, the Wolverines defense shut down Le'Veon Bell and limited big plays, holding the Spartans to just 10 points – their second lowest total of the season. Bell gained just 68 yards on 26 carries (an average of just 2.6 yards per carry) and Andrew Maxwell completed 21-of-34 passes for 192 yards, a touchdown, and an interception. Most importantly, Michigan won.
This Week:
Michigan State now has to travel to Madison to face an improving Wisconsin squad that has been perhaps the Spartans' toughest rival the past couple of years. To make matters worse, a loss would drop Michigan State below .500 overall and put Mark Dantonio's squad in danger of missing a bowl game. State would have to win two of its final three against Nebraska, Northwestern, and Minnesota to even get to six wins. But let's not get ahead of ourselves.
MSU and Wisconsin are pretty evenly matched. Despite four losses, Spartans' defense is still one of the best in the country and Wisconsin's offense hasn't exactly been lights out. Both teams feature solid running games with top-flight running backs in Le'Veon Bell and Montee Ball. Ohio State and Michigan both showed the blueprint for stopping Bell and Wisconsin will do the same.
Prediction: Wisconsin 20 – Michigan State 16