---

For this week's edition of Friend vs. Foe, we welcome Jon from the Nebraska SB Nation blog Corn Nation. He will provide his perspective on how or why Nebraska can beat Michigan on Saturday. Remember, this is not an actual game prediction. It is an attempt to describe how or why each team can win from each side of the matchup.
Nebraska's biggest problem has been turnovers. The Huskers are last in the nation in fumbles lost with 13. Eight have been lost at home. Two came at UCLA in a 36-30 loss, and another four at Ohio State as the Huskers were blown out.
Nebraska's second biggest problem lurks in how to handle mobile quarterbacks. If you want to successfully disable a Husker fan, all you have to do is whisper "mobile quarterback" in their ear, then stand back and scream "TURNOVER!" and watch them collapse and curl up in a fetal position.
Yet all is not lost for Nebraska!
Nebraska has the best offense in the Big Ten, outpacing second-ranked Indiana by nearly 50 yards a game. The Huskers have a deep, talented set of running backs. Rex Burkhead may not play in this game, but Ameer Abdullah has proven to be a capable backup, rushing for 615 yards, seven touchdowns and a 5.86-yard per carry average. His backup is Braylon Heard, capable in his own right, a great balance of speed and power. Backs like Imani Cross, Mike Marrow provide power when needed.
The Huskers feature easily the best receiving corps in the conference. It isn't just the speed of Kenny Bell, who's currently averaging just under 21 yards per reception, it's the depth of the unit.  Nine different players have caught a touchdown pass and five are in double digits in receptions. Quincy Enunwa is the physical, possession receiver, and Jamal Turner adds another big play threat to complement Bell.
While Denard Robinson gets more positive press because of his speed and agility, Taylor Martinez has proven to be the better quarterback. Despite his national reputation as an arm punter, he's completed 67 percent of his passes with a 16-to-four TD to interception ratio. He's still a thread on the ground as well, with six touchdowns, 403 yards and a 12.29 yard per carry average.
They've had two great comeback victories against Wisconsin and Northwestern, but one has to wonder with the great offense that we've had why we had to come back (see above turnovers). The Husker defense has seen better days, but they've had their moments.
Nebraska has yet to put together a full game, and they'll need to play one to beat Michigan. At the same time, Michigan has displayed an ability to break down in fundamentals, so the same could be said for the Wolverines.
Bottom line – the game goes to the team with the fewest mistakes. That may sound like a cliché, but the margin between these two teams makes it paramount that the winner play a clean game.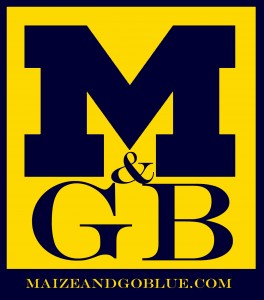 The case for Michigan
by Justin
It's no secret that Nebraska has trouble stopping, or even slowing down, mobile quarterbacks. That reality doesn't seem to make sense since they have one of their own to defend in practice day in and day out. In the previous decade, it was Michigan that continually got torched by quarterbacks that weren't statues, but those days are gone, in part due to Denard Robinson and in part due to going out and getting one of those really good defensive coordinator things.
In tomorrow's battle for Legends division supremacy, whichever defense slows down the other's rushing offense most effectively will win the game. It's as simple as that. And because of that, Michigan has the advantage.
Taylor Martinez and Ameer Abdullah are very talented and dangerous, so Michigan's defense will have to play like it has the last five weeks and not like it did the first two. While stopping the run is most important, Martinez cannot be overlooked as a passer. He has improved significantly from last season (67 percent completion rate compared to 56.3, 16 touchdowns and four interceptions compared to 13 and eight) and has a solid cast of receivers to throw to. The 'Huskers have the conference's third-best passing offense.
What it will really come down to is the Nebraska defense's ability to stop Michigan's run game. Michigan will look to do just what it did to Purdue and Illinois and just what Braxton Miller and Ohio State did to Nebraska a few weeks ago. It's up to the 'Huskers' defense to step up, which it hasn't shown it can do this season. Michigan won't completely stop Nebraska's high powered offense, but it certainly won't surrender the kind of points opponents have been allowing. I just don't see Nebraska's defense having the manpower to stop Michigan.
As I said in yesterday's game preview, it will be tough for Denard to have much of a downfield passing game because of the man coverage abilities of Nebraska's secondary, so expect a big day for Devin Funchess on the rare occasion that Denard does put the ball in the air.
Michigan should be able to run for 250-plus yards while getting a few big plays in the passing game, and the Wolverines will force Martinez to try to continue his success in the air against the nation's fourth-best passing defense. That's the recipe for success for the Maize and Blue.