---

For this week's edition of Friend vs. Foe, we welcome Tom from the Minnesota SB Nation blog The Daily Gopher.  He will provide his perspective on how or why Minnesota can beat Michigan on Saturday. Remember, this is not an actual game prediction. It is an attempt to describe how or why each team can win from each side of the matchup.
If the question is, how or why can the Gophers win on Saturday, I think there are only a few perfect storm scenarios. I'll give you three reasons why it is possible as long as you do not construe these as any sort of a prediction that such things will come to fruition.
First and foremost, Denard Robinson cannot be Denard Robinson. Or he cannot be playing at all. It is possible that the Gophers can compete or even win with a healthy Robinson, but in that scenario it would likely mean Michigan is beating Michigan with Minnesota taking advantage of critical mistakes.
Secondly I think it is really important to note the time of kickoff. Michigan has kicked off every game this year either in the evening for a nationally televised game or in the late afternoon. This will be their first 11:00 CST kickoff. The schedule of getting up a bit earlier, playing over lunchtime and doing this on the road may lead to a sluggish start for the Wolverines.
And lastly I can easily see Michigan looking past the Gophers. This isn't really a trap game scenario with Northwestern on the schedule for next week, but I think Michigan thinks they can beat the Gophers in their sleep. And who can blame them? Last year's 58-0 game may not have even been that close. The Gophers haven't forgotten that score and I'm sure Michigan hasn't either. I have been reading on a few different Michigan sites how the Gophers are better but the numbers really are deceiving and they really aren't "that good."
Nobody wants to have a let-down game and coaching staffs do everything in their power to avoid it, but it is human nature. After two consecutive weeks of getting yourself ready to play your best against Michigan State and Nebraska, it is only natural to take it a bit easy this week when you are facing what you believe to be an inferior opponent. The problem with this, for Michigan, is that the Gophers really are a better team and while they are not at the same level as Michigan the gap is closer.
Notice that none of my possible scenarios for a Gopher win involved player match-ups or areas that the Gophers can exploit. The Gopher defense is much better at defending the pass and with Robinson's elbow Michigan might be more one-dimensional than they usually are. But even when you know what is coming you still have to defend it. Offensively the Gophers can move the ball when they don't make mistakes. On the field the margin for error is incredibly thin for the Gophers. If they are to pull out a win and bring home the Jug I think Michigan will have to do what they can to increase that margin for Minnesota.
I'm not arguing that this game is a pick'em or that the Gophers are really in a great place to pull off an upset here. Michigan is the more talented football team, but my hope is that they believe that with all their heart.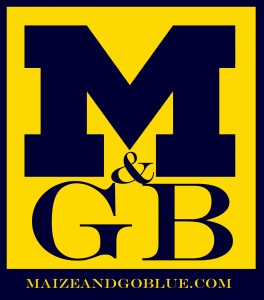 The case for Michigan
by Justin
Following the disappointing loss to Nebraska last weekend, Michigan now finds itself needing help to win the Big Ten Legends division. Essentially, the Wolverines have to win all four of the remaining games and hope Nebraska loses one of its remaining games and it all starts with Minnesota on Saturday. If there's one opponent you'd love to play coming off a loss and needing to get things going again for the stretch run it's the Gophers.
As I showed in Monday's First Look, the two teams' offenses look fairly similar on paper. Michigan averages about three more points per game and is the better rushing team, but Minnesota is the better passing team. In terms of total offense, they're about equal. But a couple of stats show the discrepancy between the two. Michigan converts 47 percent of its third downs, good for 23rd nationally, while Minnesota converts just 39 percent, which is 72nd nationally. Inside the red zone, Michigan has scored on 89 percent of its trips, while Minnesota just 77 percent. And Michigan has faced three of the toughest defenses in the country while Minnesota feasted on nobodies in the non-conference schedule.
Minnesota's defense is solid against the pass (7th nationally) but very vulnerable to the run, giving up 178 yards per game which is 84th nationally. Three of the last four opponents have had 100-yard rushers against the Gophers, including Wisconsin which had two. Expect Michigan to continue that trend. Much like the Wolverines did against Purdue and Illinois, Denard and Fitz Toussaint will run often, and we may even see some more of Thomas Rawls.
Don't expect Denard to pass much because he likely won't need to, but do expect him to be a little more cautious with running out of bounds instead of taking a hit. As we saw last week, the biggest thing that could derail the rest of the season is Denard getting hurt for an extended period of time. He'll have his share of big runs, but will likely defer to the running backs more than usual in an effort to avoid getting banged up in a game that shouldn't be too difficult.
Minnesota's only hope to pull out a win is for Michigan to come out lethargic following a demoralizing loss and in its first noon game (11am local time) of the season. But don't expect that to happen.
On the other side of the ball, we don't know a whole lot about freshman quarterback Philip Nelson, as he will be making just his third start. He struggled against Wisconsin two weeks ago, but looked good against Purdue last week. But then again, who doesn't? His best bet is to try to beat Michigan's corners deep a few times, which will likely happen, either with long completions or drawing pass interference penalties. But while it might get the Gophers a few big plays, it won't be enough to sustain the offense against Michigan's highly-rated defense.
Michigan will win convincingly and retain the Little Brown Jug for the fifth straight season. It won't be like last year's 58-0 romp, but it will be a win and keep Michigan in the Big Ten title hunt.