---

For this week's edition of Friend vs. Foe, we are proud to welcome RossWB from the ever popular Iowa SB Nation blog Black Heart Gold Pants.  He will provide his perspective on how or why Iowa can beat Michigan on Saturday. Remember, this is not an actual game prediction. It is an attempt to describe how or why each team can win from each side of the matchup.
How can Iowa win this game? If Michigan contracts a serious case of food poisoning on Saturday morning, Iowa could win this game. If the Iowa bus gets lost and they wind up playing the game against a team of Ann Arbor middle schoolers, Iowa could win this game. If Kirk Ferentz is allowed to use a time machine, Iowa could win this game.
But as far as serious ways for Iowa to win this game…well, if you've seen the highlights – or even just read the box scores – from the last four weeks, then you probably know why it's hard to have even a sliver of confidence in Iowa winning this game. They've lost four games in a row in Big Ten play, twice to decent opponents (Penn State and Northwestern) and twice to the Big Ten's Indiana contingent. And the "decent" opponents absolutely massacred Iowa. The Indiana and Purdue games were close losses that, truth be told, were probably only close because of too many turnovers and penalties by those teams.
The Iowa offense hasn't put up 20 points on their own since September, when they scored 24 of Iowa's 31 points against Minnesota. (Iowa scored 21 and 24 points the last two weeks, but each game featured a defensive touchdown by Iowa.) The offense was bad to begin with, but it went from bad to farcical when it lost probably its two best players in back-to-back games (RB Mark Weisman against Michigan State, OT Brandon Scherff against Penn State). Now the offensive line can't do much of anything, the receivers can't get open, and the quarterback is a jittery mess still trying to adjust to life as a square peg in the round hole that is Greg Davis' offense.
Only one of Iowa's past four opponents has cracked 30 points (Penn State), but the other teams easily could have cracked 30 points if not for some untimely turnovers and red zone miscues. Each of Iowa's last four opponents has amassed over 400 yards of offense and they've done it in a variety of ways; Penn State killed Iowa with balance, Northwestern ripped Iowa to bits on the ground, Indiana shredded them through the air, and Purdue did a little bit of everything. The defensive line can't get pressure, the secondary struggles to cover, and two of the top three linebackers ended the previous game on the bench, for injuries or other reasons.
So how can Iowa win? They'll probably need touchdowns from defense and special teams, for one. (And actual touchdowns, not just short fields – I have zero confidence in the Iowa offense being able to take advantage of a short field and score touchdowns themselves.) They'll need Michigan's offense to have an absolutely miserable day and turn the ball over several times. They'll probably need the Michigan defense to forget how to tackle. And they'll probably need to lock Greg Davis in a closet, give James Vandenberg a playbook from 2011, and hope for the best. Iowa has won three in a row over Michigan and they did pull an upset over Big Blue last year, but that was a better Iowa team, one that wasn't bereft of talent, good ideas, and confidence. To win this year, Iowa probably needs a minor miracle.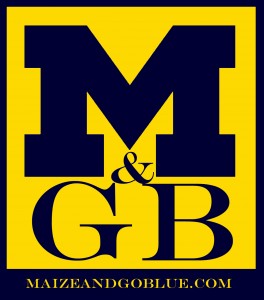 The case for Michigan
by Justin
It's hard to imagine Michigan losing this one unless Denard doesn't play and Devin Gardner gets hurt too. Then it's anyone's guess. Iowa has surrendered over 400 yards to each of its past four opponents, one of which being a Purdue squad that was previously winless in conference play. Regardless of whether Denard or Devin is piloting the offense, Michigan should be able to move the ball.
But Iowa's main problems are on the offensive side of the ball where the Hawkeyes are averaging just 19 points per game over the last five. The run game ranks second to last in the Big Ten and took a big hit when Mark Weisman went down two weeks ago. James Vandenberg is a decent quarterback, and the best way for Iowa to try to attack Michigan would be with the passing game. We all saw how Northwestern's Trevor Siemian was able to shred the Michigan secondary the few series he was in last week. The main difference was that NW had a running game that Michigan was having trouble stopping as well. Despite the No.1 overall pass defense, Michigan's secondary has been vulnerable to the deep ball all season; opposing quarterbacks just haven't been accurate with it. If Iowa can hit a couple of them they could back Michigan's defense off.
But make no mistake about it. If Michigan scores more than 20 points, it will win. And there's absolutely no reason to think the Wolverines will be held below 20. I have a hard time believing Denard will play much if at all this weekend, so the offense will be the same as it has been the past two weeks: pro-style, power running with a better passing game. Devin Gardner's command of the offense will continue to improve and he'll be able to exploit the Hawkeye defense just as the past four opponents have.
The main thing Michigan has to worry about in this one is not looking ahead to undefeated Ohio State next week. That's where the last three years come into play. Iowa's three-game winning streak over Michigan allows Brady Hoke to keep the team focused on ending the streak, just like it did against OSU last year and Michigan State a few weeks ago. On Senior Day, you can bet the 18 seniors won't want their careers to expire having never beaten the Hawkeyes.  In addition to that, Michigan is still in the hunt for the Legends division title, so expect another big day by Garnder leading Michigan to a win setting up a huge showdown in Columbus next Saturday.