---

Michigan has the unique position of having three big rivals. Most teams only have one rival to get up for, but year-in and year-out, Michigan has three. While we, as fans, hate each of these teams, we carry some respect for them. Michigan State and Ohio State carry conference affiliation ties while Notre Dame, well, we all just put up with them. All season long, it's fun to keep track of how each of them is doing, but there's only so much time on Saturday to watch games. More often than not, they play at the same time Michigan does so you don't get a chance to do your "advanced scouting." Well, don't fret because we've got you covered. This weekly feature will give you an overview of Notre Dame, Michigan State, and Ohio State's games the previous weekend and a look ahead to the upcoming one.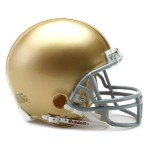 #3 Notre Dame 38 – Wake Forest 0
Record: 11-0
This Week: at USC (7-4, 5-4 Pac 12) | 8pm | ABC
For the first time this season Notre Dame actually looked like a top ranked team should against an inferior opponent as they pounded Wake Forest 38-0. The Irish scored on their first three drives, all in the first quarter, and never looked back. Everett Golson had quite a day going 20-of-30 for 346 yards and three touchdowns. Cierre Wood added 150 on the ground and a TD.
Notre Dame opened the scoring on a 68-yard touchdown run by Wood. Wake proceeded to cough up the ball on its first possession and the Irish took advantage as Golson got his first touchdown pass of the day, a two-yarder to Tyler Eifert. Eifert's six catches gives him 130 for his career, a Notre Dame record. Wake couldn't get anything going, they only managed barely more than 200 yards, but it wasn't expected that they would put up much of a fight.
The Irish defense held Wake Forest to a paltry 209 yards total and kept them to 4-of-15 on third downs. Despite looking lackluster against inferior opponents earlier in the year, the Irish really came out strong and asserted themselves as a legit title contender.
With the top two teams both losing Notre Dame is the de facto No. 1 team, in the rankings anyway. Whether they are the best team is very debatable.
This Week:
Notre Dame heads to Los Angeles to take on the USC Trojans on Saturday night, sans Matt Barkley, and it is unlikely they do not take care of business. If Barkley was playing I'd give the edge to USC, especially given Notre Dame's struggles in the secondary, but with a back up quarterback I feel confident that the Irish will finish the season 12-0 for the first time since…well, in a long time.
Prediction: Notre Dame 21 – USC 16
___________________________________________________________________________________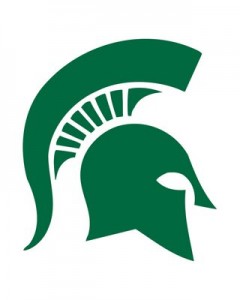 Michigan State 20 – Northwestern 23
Record: 5-6, 2-5 Big Ten
This Week: at Minnesota (6-5, 2-5 Big Ten) | 3:30pm | Big Ten Network
Michigan State lost…again. This time to a good Northwestern team. This is obviously not the season the Spartans and their fans had envisioned. MSU never led but did keep it close throughout. In the end, the Wildcats held off Sparty, who coughed up the ball four times. Michigan State now needs a win next week to become bowl eligible.
Northwestern opened the scoring with a field goal in the first quarter and led 6-5 after one. The momentum swung in the Wildcats' favor moments into the second quarter when David Nwabusi returned a pick 43 yards for a touchdown. Michigan State was not ready to lay down and die quite yet, however. Andrew Maxwell found outstanding freshman receiver Aaron Burbridge for a 15-yard score only minutes later. But Northwestern added another touchdown before the half to go up 20-13. Standout running back Venric Mark did not play in the second half for the Wildcats with an upper extremity injury.
Northwestern showed MSU a mix of both Kain Colter and Trevor Siemian to stymie the Spartan defense. Each threw a touchdown pass.
This Week:
Michigan State travels to Minnesota looking to become bowl eligible on Saturday. The Gophers are not a very good team and this Spartan team will be playing as if their lives depend on it. They probably thought they'd be heading to at least the Rose Bowl in the beginning of the season, and now they'll be lucky to even get to one.
Prediction: Michigan State 24 – Minnesota 14
___________________________________________________________________________________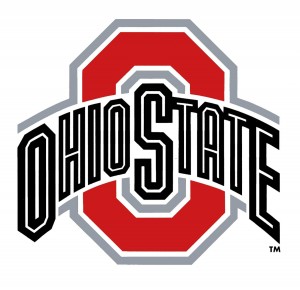 Ohio State 21 – Wisconsin 14 OT
Record: 11-0, 7-0 Big Ten
This Week: Home vs #19 Michigan (8-3, 6-1 Big Ten) | 12pm | ABC
Were it not for TatGate we might be talking about Ohio State being in the BCS title game. But sadly, for them anyway, they are still reeling from their NCAA sanctions. Nonetheless, these Buckeyes are a good team and they are playing some great football right now. It pains me to say that.
For once, Braxton Miller did not amaze with his stats; 10-of-18 for 97 yards passing and 23 rushes for 48 yards. He did not find the end zone. However, the Buckeyes held off the Wisconsin Badgers in overtime to move to 11-0. Wisconsin will be playing for the Big Ten title despite a lackluster 4-3 conference record, due to the ineligibility of both OSU and PSU in the Leaders division.
Ohio State did not play a great game and I'd say they didn't even play a good game. Montee Ball ran for 191 yards and added his NCAA record-tying 78th career touchdown in the process against the Buckeye defense. However, he fumbled what would have been the record-breaker, and potential game winner, with just under three inutes to go in the fourth as he attempted to stretch the ball over the goal line. Wisconsin eventually scored with eight seconds remaining to tie the game.
The Badgers held the Buckeyes' prolific offense to just 236 yards, and they only crossed midfield ONCE after halftime. Overall, Wisconsin bottled up Braxton Miller and kept the whole offense in check. Now I know we throw out the records when it comes to The Game, but what Michigan did last week with Devin Gardner at quarterback and Denard at running back/receiver, and what Wisconsin did to OSU's offense does make the story lines a bit more intriguing.
If you remember correctly, in our preseason predictions I picked the OSU game as a loss. Much has happened since then – for both teams – and recent events are beginning to erode my original inclinations. I'll save my prediction for our weekly staff picks, so make sure to check back on Friday.