---

For this week's edition of Friend vs. Foe, we are proud to welcome Jason Priestas from the best damn Ohio State blog in the land, Eleven Warriors.  He will provide his perspective on how or why Ohio State can beat Michigan on Saturday. Remember, this is not an actual game prediction. It is an attempt to describe how or why each team can win from each side of the matchup.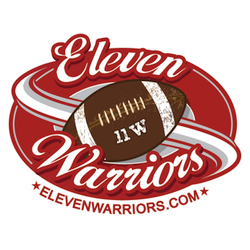 The case for Ohio State
by Jason
As any fan of either team can tell you, records don't mean a whole lot in this series. You can go back to 1969, 1973 or pick a random year during the John Cooper era to confirm this fact. Ohio State is 11-0, sure, but they're the ugliest 11-0 team you'll ever find. Whether it's the comeback win over Purdue or the 49 points surrendered to Indiana, this team has warts and plenty of them.
Despite that, they've found ways to win.
I expect that to continue Saturday where they'll be playing in front of a friendly home crowd and looking for a bit of redemption from last season's loss in Ann Arbor.
It doesn't hurt that Michigan's best running back saw his season end early last weekend and Denard Robinson's injury would be great news for Ohio State had Devin Gardner not emerged into the second coming Charlie Ward, but with Gardner, there's at least the possibility of having a plan for defense. With Robinson healthy at quarterback, it's pretty much mad libs on three.
I respect Borges and Mattison a great deal, but the edge at the top has to go to Urban Meyer in this game. I've heard Michigan fans try to insinuate that Hoke is on the same level as Meyer aside from that being hilarious, it's not even close to being true. On one hand, you have a guy that has a pair of national championships, an .833 winning percentage and a 24-5 record in rivalry games. On the other, you have a guy that parlayed a near .500 mark at Ball State and San Diego State into one of the premier coaching gigs in the nation.
Ohio State is also largely healthy at the right time. Etienne Sabino, the senior heart of the defense, is back at linebacker after missing over a month with a broken leg. The rest of the defense, maligned for much of the season, has come into their own holding their last four opponents to an average of just over 20 points per game. That doesn't sound like anything special, but considering their start, it's monumental.
Ultimately, I'm going with the Buckeyes because they're undefeated in alternate uniforms created as a cash grab by Nike.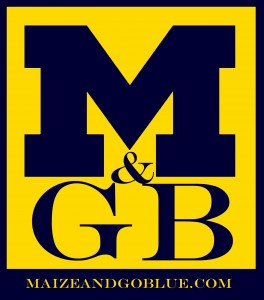 The case for Michigan
by Justin
Prior to last week, my confidence level for this one wasn't very high. Denard's status was unknown and Devin Gardner had played well against Minnesota and Northwestern, but how much of that was his ability and how much was the opponent was up for question. But then the Iowa game happened and Denard not only played, but saw plays at quarterback, running back, and receiver and tallied 122 total yards, while Gardner looked cool and confident as the main signal caller. Of course, Iowa's defense isn't good, but the offensive variety and efficiency displayed was what Michigan fans have been hoping to see since Al Borges became offensive coordinator.
Following the game, safety Jordan Kovacs admitted that the defense had no answer for the newfangled offense all week in practice and knew it would work in the game. Gardner admitted the same, saying that every time Denard was on the field, the defense was so keyed in on where he was that it opened up other things. Many have wondered whether Hoke and Borges should have brought it out against Iowa instead of saving it for Ohio State, but it was important to work on it in a live game situation before doing so in the ultimate game and it also gives Ohio State a lot of looks to prepare for. As Chris said in yesterday's MMQ, the offense the Buckeyes will likely face this week barely resembles the Michigan offense they have been preparing for all season.
Despite being undefeated, Ohio State's defense has given up a ton of yards and a lot of points. It's set up to defend the typical Big Ten offenses like Wisconsin, Penn State, and Michigan State, and the Bucks held those three to an average of just under 18 points. But against multifaceted spread offenses, Ohio State has been shredded. And this Michigan offense will be the best one they have faced. Gardner should be able to attack Ohio State underneath where he has been deadly accurate so far, and take some chances deep because the threat of Denard getting the ball in space anywhere on the field will keep the defense honest.
On the other end, this will be the best offense Michigan has faced all season, but perhaps Wisconsin provided the blueprint last week. The Badgers bottled up the explosive Braxton Miller, holding him to just 48 rushing yards on 2.1 yards per carry (65 yards, not counting sacks) and 97 passing yards. You can be sure that Greg Mattison will be focused on keeping Miller off the edge, forcing everything inside, and sending Kovacs in early and often to help out. Will it work? Sometimes, but a big play or two over top would not be surprising.
I just don't see this one being a defensive affair either way. Both offenses are high powered and both defenses have holes. Ohio State's has more and knows less about the offense Michigan will deploy, which is why Michigan can win this shootout that will feel similar to last year.