---
I

recently had the pleasure to talk with

Zak Irvin

, one of the crown jewels of Michigan's 2013 recruiting class, about the season that just ended, what his plans are for this summer, a little bit of Twitter fun with an old teammate, and much more.

Irvin was recently selected as Indiana's Mr. Basketball award recipient, becoming the first ever Michigan signee to win the highly-coveted award. He follows last year's Indiana Mr. Basketball winner, Gary Harris, to the state of Michigan and to the Big Ten, but looks to be his rival on the court next year should Harris return to East Lansing. Here is what Zak had to say:

Maize & Go Blue: First things first. Obviously Michigan's season just ended in the National Championship game on Monday, but give me your thoughts on the year they had?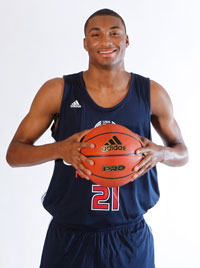 Zak Irvin: You know, I thought they had a great year, had a great start and ended up being the (second-to) last team left. When they got a four-seed, a lot of people didn't think they'd go as far as they did, but they made a nice run. Overall they had a great season.
M&GB: Do you think the team's success this season adds any pressure for you guys coming in next year?
Irvin: You know, I think it does. Them going to the national championship puts a target on our back, but I think we'll be ready and we'll play great together next year.
M&GB: You were in Atlanta last weekend along with Derrick Walton for a high school three-point contest. How did things go there?
Irvin: I definitely had a lot of fun, especially with Derrick as my roommate and who will be my teammate next year. There were a lot of great shooters there and we all had a great time. (Neither Zak nor Derrick won the contest, however.)
M&GB: Did you and Derrick talk about next season at all or meet up with Mark Donnal?
Irvin: No, I didn't see Mark, but me and Derrick are always talking about next year together.
M&GB: Were you able to stay down in Atlanta for the Final Four games?
Irvin: No, I came home Saturday morning.
M&GB: Have you seen Austin Hatch at all recently?
Irvin: The last time I saw him was at the Michigan-IU game. It was great to see him cause I don't get to see him that often, but we are real close with each other.
M&GB: A few players on this year's team, notably Trey Burke, Tim Hardaway, Jr., Glenn Robinson III, and Mitch McGary, and other Big Ten teams, including your former teammate Gary Harris, have big decisions to make regarding their future careers. How do their decisions impact you and next year's team?
Irvin: Just from playing with Gary three years in high school it definitely impacts me a lot, he really helped me to improve as a basketball player. Just watching Trey, Tim, and Mitch I just see myself, envision myself like them. I watch them and I'm just going to play hard and be the best that I can.
M&GB: Your own season ended with an early exit in the Indiana state playoffs to North Central, but how did you feel you played as a team and individually?
Irvin: As a team, we had a great regular season, finishing 17-4 when a lot of people didn't expect that because Gary left. For myself, I received the Gatorade Indiana Player of the Year and Mr. Basketball awards so I thought I had a great year.
M&GB: What were your final numbers on the season?
Irvin: I averaged 25 points, 9 rebounds, and 3 assists per game.
M&GB: You mentioned that you won Indiana's Mr. Basketball award last week. Over the last seven years, the winners of Indiana's Mr. Basketball award have been Greg Oden, Eric Gordon, Tyler Zeller, Jordan Hulls, Deshaun Thomas, Cody Zeller, and Gary Harris. What does it feel like to be in the company of such great college and NBA players?
Irvin: It's an honor just to have my name in the same category as those players. I've been blessed that all the hard work I've put in is paying off.
M&GB: When will you be moving up to Ann Arbor for summer classes and summer ball?
Irvin: I have to be in Ann Arbor on June 22.
M&GB: Do you have any plans as to what you want to study at Michigan yet?
Irvin: I want to study something with business, so I think maybe Sports Management.
M&GB: Have any of the Michigan coaches been in contact with you since Monday?
Irvin: No, I haven't talked to any of them since then.
M&GB: What have the Michigan coaches told you to work on individually this summer as you prepare for college basketball?
Irvin: Definitely getting stronger because Big Ten basketball is so physical, so that's a key thing I'm working on, just getting stronger in the weight room, and I'm always working on ball handling and shooting.
M&GB: What would you consider to be the strengths and weaknesses of your game right now?
Irvin: I'd say my biggest strength is being able to mix it up, I can shoot a jump shot or take it to the hole. My weakness was getting down when a game is not going well, but my senior year I really worked on keeping a level head no matter what and really improved that my senior year.
M&GB: Lastly, what played the biggest factor in your commitment back in 2011 to play at Michigan?
Irvin: The coaching staff. The first time I stepped on campus the coaches made it known that I was a priority at the University of Michigan and I just have a great relationship with all the coaches there.
M&GB: Can you tell us about that picture of Gary Harris that surfaced on twitter of him wearing a Maize Rage t-shirt?
Irvin: (Laughs) As a matter of fact I was just talking with him about that a couple hours ago but that was from last year. When Michigan played Michigan State we had a bet that whichever team won, the loser had to wear that team's shirt to school the next day, and Michigan won so Gary had to wear a Michigan t-shirt all the next day.