---
Over the past couple of months I've been hard at work producing the Michigan football preview magazine for Lindy's Sports. If you bought it last year, you know the deal. If you're not familiar with it, it's an annual preview magazine completely about Michigan football. It is 112 pages, just under 55,000 words, filled with everything you need to know to get ready for the upcoming season, including: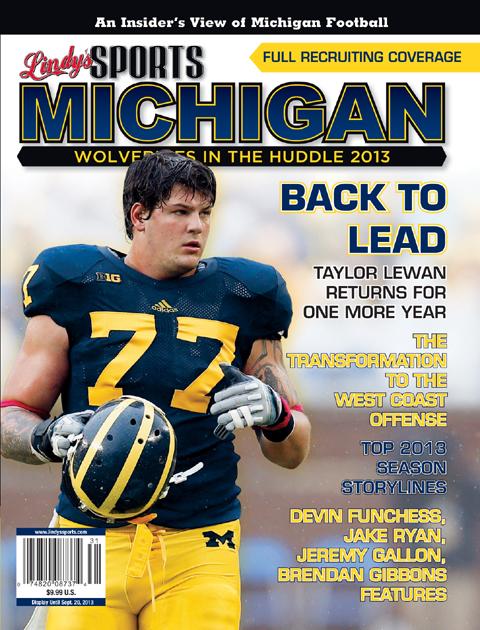 • Position-by-position previews
• Opponent breakdowns
• Exclusive interviews with Jeff Hecklinski and Curt Mallory
• Full analysis of the offensive transition from spread to pro style
• Taylor Lewan, Devin Funchess, Jeremy Gallon, Jake Ryan, Brendan
Gibbons player features
• Roy Manning feature
• A look back at the time the Little Brown Jug went missing
• Tons of exclusive recruiting content from Tremendous of 247 Sports, including a breakdown of the incoming freshmen class and the 2014 class, and interviews with Derrick Green, DeVeon Smith, and Michael Ferns.
• And more…
As you can see, the magazine is loaded with compelling content to whet your appetite for Michigan football until the Wolverines kick off against Central Michigan on Aug. 31. The magazine release date is Tuesday, July 9 and you can find it on most newsstands throughout Michigan and nationally at Barnes & Noble. You can also pre-order it online here, or by clicking on the ad on the righthand sidebar.
As for this site, we will begin posting our preseason content this week, so look for some opponent previews coming up in the next few days. We will continue with a couple of posts per week leading up to the week before the opening game when we will ramp into full gear. Only two months left.