---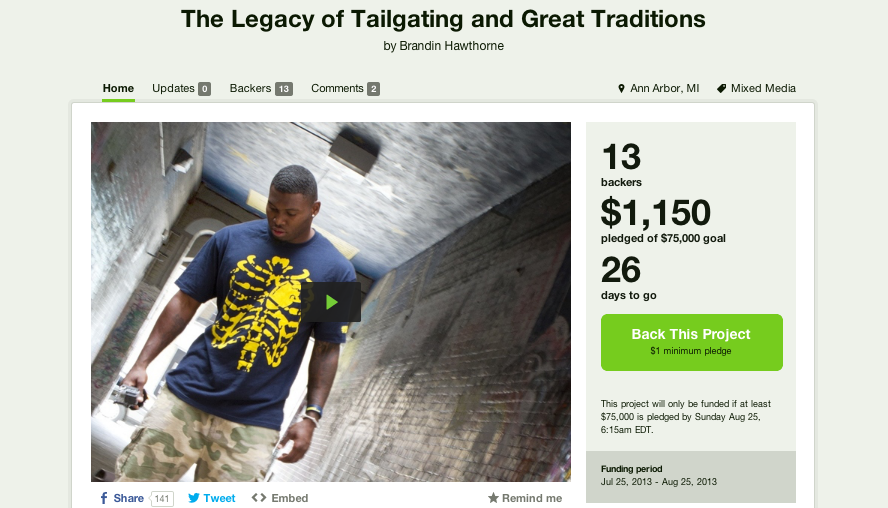 First it was former Michigan receiver Martavious Odoms' #EATING campaign in which he crowd-funded nearly $40,000 from 999 backers in order to plant a community garden in his hometown of Pahokee, Fla. Then, we brought you the story of of former Wolverine running back Vincent Smith's campaign to fund a painting day of fun for the kids of Pahokee. He successfully raised over $2,700 from 93 backers.
Now, a third former Michigan football player from the small Florida town is running a Kickstarter campaign of his own. Former linebacker Brandin Hawthorne is asking for $75,000 to make a documentary about Michigan football and the "great tradition of tailgating in Ann Arbor."
From his Kickstarter page, Hawthorne writes:
"Being a student athlete at a major university we never get to enjoy the festivities that all our fans celebrate, from things like welcome week and tailgating on Saturdays, to all of our different homecoming events and just hanging with the fans and enjoying the moment.
"We have been busy with our community art and garden projects down in Florida and we wanted to take the fall to also connect with our Michigan community.  Football is what brings us together, so we decided to make a video that we can share with everyone.  We have heard about what goes on during the weekends and how much fun it is and now its time to explore what makes you all the best fans in the world."
While Odoms' and Smith's projects were focused on the well-being of the residents of Pahokee, Hawthorne's focuses on you, the fans of Michigan football.
It includes Hawthorne and Smith visiting tailgating spots around the stadium checking out your recipes and barbecuing skills, exploring your personal Michigan football gameday traditions, holding a costume contest looking for the biggest fan, and seeking out and feature "the best" tailgate in Ann Arbor.
As with all Kickstarter campaigns, prizes are awarded for donating certain amounts. This one is a bit more personal and interactive than most, with a $45 donation earning a trampoline dodgeball with Hawthorne and Smith, a $50 donation getting a kayak/canoe trip with the two, a $65 donation earning a day of paintball with them, and higher donations earning personalized voicemails or the chance to partner with Hawthorne or Smith on the kayak/canoe trip. Smaller donations receive t-shirts, water bottles, autographed post cards, or copies of the DVD.
With only 25 days remaining in the campaign, they need a lot of help getting it funded, so take a few minutes to help out some former Wolverines.