---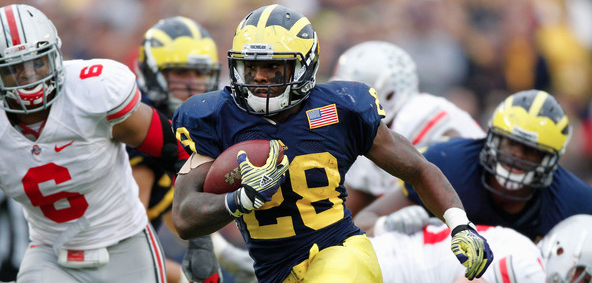 Last week we previewed what the quarterback and offensive line positions will look like this season. Today, it's Fred Jackson's group that gets the honor.
2012: What Happened?
Going into the 2012 season, high expectations swirled around the Michigan rushing attack. Running back Fitzgerald Toussaint was fresh off of a breakout year in 2011 and seemed poised for an enormous season next to Denard Robinson and behind a veteran offensive line. The results couldn't have been more disappointing. Toussaint failed to rush for 100 yards in each of the 10 games he played in and ended the season with less than half of his 2011 yards. Against Iowa on November 17, the frustrating season came to an end when he took an early exit due to a serious ankle injury.
Once again, Michigan was saved by Robinson, who willingly jumped into the backfield and became the most effective running back of the season. Thomas Rawls and Vincent Smith were unable to make up for the loss of Toussaint's meager production, rushing for a combined 20 yards in the final two games of the season.
Michigan rarely flirted with other options during the season, giving a few carries to Justice Hayes and all of two to speedster Dennis Norfleet. When the season came to an end, fans were left to remember a disaster as far as the non-Denard running game was concerned.
As Brady Hoke transitions the offense back to a more traditional Michigan style, the performance of the running backs are going to be absolutely crucial. The battle for starting snaps in 2013 appears to be wide open.
Returning Players: Bouncing Back
Toussaint figures to start the 2013 campaign with expectations somewhere between where they were heading into the last two seasons. In 2011, Michigan had a trio of backs fighting for starts in Smith, Toussaint and Michael Shaw. Toussaint was able to grab the starting job and run with it to the tune of 1,041 yards and nine touchdowns. Fans will likely have a difficult time predicting what to expect from Toussaint in the upcoming season, given the wide range of results the past two seasons.
Rawls may have cemented his role as the goal-line back in the final four weeks of last season, failing to rush for three yards per carry in each contest. At times, it seemed like the Flint product was going to take advantage of Toussaint's struggles and win the starting job. In the end, inconsistency killed Rawls and his lack of big-play potential resulted in more carries for Robinson in big moments.
Hayes and Norfleet have yet to get real shots at big carries. Ten of Hayes's 18 carries came in the 45-0 blowout of Illinois, and Norfleet was used mostly as a returner on special teams. Both backs are known for their quickness in space, so as the offense moves in a more physical direction, expect both players to remain primarily on special teams and in slot receiving roles.
The final two returning running backs on the roster took redshirts last year. Bobby Henderson joined the team out of New York and will have a hard time seeing the field in 2013. Drake Johnson created a little more buzz when he signed, mostly because he came from right across the street at Pioneer High School. Johnson will likely be used sparingly as well this year, considering the number of running back options Hoke has at his disposal.
Prediction: Despite the rough 2012, Toussaint wins the starting job to start the season. Rawls continues to see regular time in short-yardage situations due to his ability to push the pile. He may also take some snaps at fullback when Borges decides to use one. Hayes and Norfleet will see most of their time as returners and in formations as slot receivers, while Johnson and Henderson rarely see the field.
Projected Stats – Toussaint

Attempts
Yards
YPC
Long
TD
YPG
155
700
4.5
9
58.3
Career Stats
2012
130
514
4.0
50
5
51.4
2011
187
1,041
5.6
65
9
86.8
2010
8
87
10.9
61
1
14.5
Totals
325
1,642
5.1
65
15
58.6
Projected Stats – Rawls

Attempts
Yards
YPC
Long
TD
YPG
45
150
3.33
4
12.5
Career Stats
2012
57
242
4.2
63
4
30.3
2011
13
79
6.1
25
0
26.3
Totals
70
321
4.6
63
4
29.2
Recruits: Filling The Hole
A good recruiting class is one that has highly-ranked players, but a great recruiting class also fills a team's specific needs. After such a disappointing year for Michigan running backs, the 2013 class is a great class. Michigan's inability to run the ball without Denard Robinson forced Brady Hoke to focus on running backs for the upcoming season, and the results were better than anyone expected. In fact, they even brought Hoke to tears.
Derrick Green revealed that when he committed to Michigan the Head Coach was extremely emotional, which is all fans need to know when learning about the number one running back recruit, according to both Scout and Rivals. Green is a powerful running back that can carry defenders and will break out of any arm tackle. Green is the perfect fit for the Michigan offense of the future, as he prefers to run between the tackles. Don't expect Green to be fancy, but that doesn't mean he can't break a big run. If defenders don't wrap him up, the freshman will make them pay by shrugging them off and lumbering downfield.
Michigan also signed DeVeon Smith, another highly-rated recruit out of high school. Like Green, Smith will break tackles and punish defenders inside. The duo of Smith and Green should have defenses dreading Saturdays against the Wolverines in the coming years, but with the number of guys fighting for snaps this season, Smith may find himself with a redshirt. Hoke will take into account the many similarities between the two freshman, and it makes sense that he would save one of them a year of eligibility while the backfield is so crowded.
Wyatt Shallman is an interesting recruit, as he signals the unofficial return of the fullback to the Michigan offense after the Rich Rod era eliminated it completely. Shallman was one of the top fullback recruits in the nation this year, and figures to play exclusively at that position at Michigan, since Hoke brought in two talented running back recruits as well. Shallman is a big back at 6'3″, 245 pounds, but can still contribute on offense in many ways. While the fullback will be used mainly for blocking, he has some rushing ability and can catch the ball out of the backfield.
Prediction: Green battles Toussaint for the starting job and has a realistic shot to win it, but in the end he enters the season as the backup. If Toussaint fails to play better than he did in 2012, look for Green to snatch the starting job and hold his own as a true freshman in the Big Ten.
Projected Stats – Green

Attempts
Yards
YPC
TD
YPG
125
500
4.0
5
41.7
Wrapping Up
Michigan's running game is going to look very different in 2013. The most exciting runner in Michigan history has graduated and the void has been filled by several ground-and-pound guys. Robinson improvised with his speed and broke enormous runs during his career at Michigan, but the recruiting class Brady Hoke brought in will spend the majority of its time rushing between the tackles and using a strong offensive line to push ahead for more consistent, conservative gains.
Ideally, Toussaint will return to the running back we saw in 2011. Realistically, we can hope for him to be somewhere in the middle of that and his shaky 2012 campaign, which would give the Maize and Blue steady contributions from the running back position. However, if he fails to produce this year, Michigan is better prepared. Green is ready to handle rushes on the big stage right now, and will be there to push Toussaint every step of the way. Either way, Michigan appears to be in better shape at running back heading into the 2013 season.