---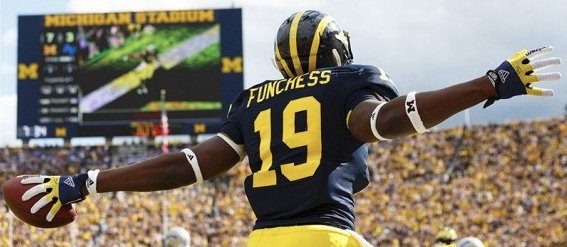 Rounding out the offensive portion of our Predicting Michigan series is the tight end position, which should be one of the most exciting to watch this season. Previously, we featured the quarterbacks, running backs, wide receivers, and offensive line.
Returning To The Offense
In the last few seasons, the Michigan offense has revolved around a spread rushing attack and featured less use of the tight end position as a result. When the spread offense was introduced, the preferred receiving options became small, fast athletes that could blow by defenders and make moves in space. As Brady Hoke takes the Wolverines back to a more physical style of play, tight ends have started to resurface in Ann Arbor.
In 2012, Devin Funchess burst onto the scene with 140 yards and two touchdowns in the games against Air Force and Massachusetts. As the season progressed, Funchess faded and had more than 15 receiving yards only once, when he caught a 29-yard touchdown against Iowa.
This year's team will likely rely more on the tight end position. A renewed focus on rushing between the tackles means that size and blocking on the line will become more important. Also, Devin Gardner's ability to keep plays alive and go through multiple options will give the tight ends a greater opportunity to catch passes even if they aren't the primary route.
The Name We Know: Devin Funchess
Funchess will return to the team as the only familiar name at the tight end position that had a statistical impact. His early success made him an immediate fan-favorite on Saturdays at the Big House, and his lack of production late in the season was proof of how difficult it is to adapt to the physical play of the Big Ten. As Denard Robinson led the offense into conference play, he connected with the 6'5″ tight end less and less. Even against poor defensive teams like Illinois and Purdue, Funchess didn't really show up on the stat sheet, catching only one pass in each contest. When Gardner was reinserted into the quarterback role, Funchess continued to have around one catch each game. This was partially because opponents caught on that when he was in it was to catch a pass, and partially to be used as a decoy because of his inability to block.
This season, after working with Gardner for an entire offseason, Funchess should be more like the player he was early in the season. Gardner isn't afraid to run through three or four options before giving up on a play, so the tight ends will have a chance to catch more passes. Funchess will also play a big role in the blocking game, which will allow him to stay on the field more often, when running backs like Fitzgerald Toussaint and Derrick Green pound the ball up the middle. His size and strong hands will make him a threat in the red zone, and he can build off of his five touchdowns from last season.
Projected Stats

Receptions
Yards
YPC
Long
TD
YPG
25
330
13.2
5
27.5
Career Stats
2012
15
234
15.6
30
5
18.0
Totals
15
234
15.6
30
5
18.0
Returning Players
There are four returning tight ends in addition to Funchess on the Michigan roster, but only one of them has ever recorded a catch. Dylan Esterline made a reception for seven yards in the 45-0 blowout of Illinois in Ann Arbor, but A.J. Williams, Jordan Paskorz and Michael Jocz haven't been included in the receiving game in their careers. While Williams is known as a very good blocking tight end (he was recruited as an offensive tackle/tight end hybrid), the thin roster at this position is a result of the transition to the spread offense. When the speedy receivers were brought in, the fullbacks and tight ends were basically erased, so these players contributed very little during that time. This season, they may fill in to block or provide depth, but it is unlikely that they will play major roles in the offensive attack. Brady Hoke will find roles for them on special teams, because of their strength and size.
Recruits: Early Impact
The 2013 recruiting class will play a big role at tight end. Two young recruits were brought in to help solidify a weak position on the team, and both players will have a chance to contribute in their freshman seasons.
Khalid Hill was a three-star recruit and is an interesting player at tight end. Due to his lack of superior size for the position, Hill isn't the strongest blocker and can't muscle up like other big players can. However, his body creates a different kind of matchup problem. Hill's strength is in the receiving category, because he has surprising quickness and showed a great ability to run routes and catch the ball in high school. He doesn't seem to be the prototypical tight end for a physical offense, but he could be the perfect player to get open and give Gardner another weapon in the passing attack.
Fellow recruit Jake Butt generated more buzz around Ann Arbor when he committed as a top-five tight end. Butt is a matchup nightmare for defenses at 6'6 because of his incredible athletic ability and coordination in the passing game. Robinson would have enjoyed throwing to this athletic tight end, because in high school Butt excelled at bringing down jump balls. Defenses will have a hard time finding a corner that can stop a receiver this big and athletic downfield.
Butt could improve in the blocking category, even though his size and athleticism make him an intimidating player across the line. Hoke will have Butt in the weight room working on his strength, and if he can add some bulk to his already-impressive body, this tight end could end up being one of the best all-round offensive threats in the country. This true freshman will likely be a major factor immediately during the 2013 season.
Projected Stats – Butt

Receptions
Yards
YPC
TD
YPG
25
260
10.4
4
21.7
Projected Stats – Hill

Receptions
Yards
YPC
TD
YPG
5
60
12.0
1
5.0
Wrapping Up
Michigan is still looking to find the type of tight end play it had in the past, with players like Tim Massaquoi and Tyler Ecker in 2004. With Funchess and Butt as potential starters, things are starting to look up. Not only are both players developed physically, they both pose a definite threat in the passing game. For a team with Drew Dileo and Jeremy Gallon as the main receiving targets, two big men with superior catching ability is a welcome addition to the offense. Expect Gardner to utilize the skills of the tight ends, and for 2013 to be the first year since before the Rich Rodriguez era that Michigan gets big contributions from the position.