---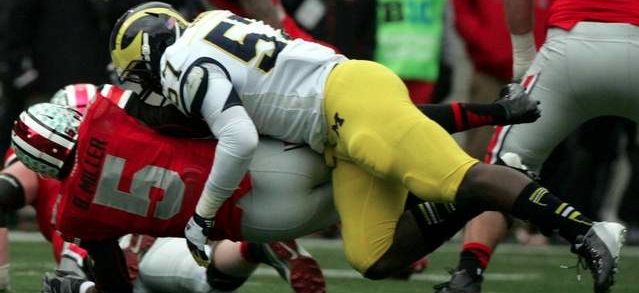 As we continue our position preview and prediction series, it's time to move on to the defensive side of the ball. If you missed the offense, we looked at the quarterbacks, running backs, wide receivers, offensive line, and tight ends over the past couple of weeks.
Shouldering The Load: A Critical Group
Since Greg Mattison has taken over as Defensive Coordinator, his unit has turned into one of the top in the Big Ten. A demoralized defense that struggled under Rich Rodriguez was turned around immediately because of Mattison's presence. This season, he will have to work with the young defensive players that have made up the strong recruiting classes the past few seasons. Leaders like Jordan Kovacs have graduated and it will be critical to establish new veteran leaders to help the rest of the defense mature.
Head Coach Brady Hoke coached the defensive line during his days under legendary Bo Schembechler, and he obviously still takes pride in that group of players as the head man. In 2013, the defensive line will be absolutely critical. Great defenses are those that can get pressure on opposing quarterbacks without blitzing linebackers or defensive backs. Michigan will need to get pressure from the pass rushers on the line to help a secondary that seems to have many questions at this point in the preseason.
Veterans: The Few
This season's defensive line will be anchored by the few returning players that will likely play big minutes again this year. Frank Clark has had a nice camp and figures to play a bigger role on the line this season. He has played all over the field on defense during his time in Ann Arbor, but this year he will play predominantly at defensive end, where Hoke expects him to be an effective pass rusher and leader. Perhaps the most satisfying play of the entire 2012 season for the Wolverines was Clark's hit on Braxton Miller when he came through untouched against the Buckeyes in Columbus. After that hit, it is unsurprising that Clark has been moved permanently to the defensive end position.
The interior line seemingly has more stability, as proven defensive tackles Quinton Washington and Jibreel Black return as candidates to start. Washington, a redshirt senior, was solid in 2012 recording 32 tackles but only one sack. He has been steady on defense since his move from offensive line midway in 2010 and will be crucial as one of the two seniors on the defensive line. Black, the other senior, was more of a big-play threat last season. Though he only had 20 total tackles, he recorded three sacks and five tackles for loss.
The only other upperclassman on the line is redshirt junior Richard Ash, who will be a role player at defensive tackle again this season. Players like Ash are crucial to having a strong line, because so many players contribute during the course of one game due to the number of substitutions in the trenches.
Career Stats – Clark

Games Played
Solo
Assisted
Total Tackles
Sacks
TFL
FF
FR
INT
25
19
16
35
2.0
9.5
1
1
1
Career Stats – Washington

Games Played
Solo
Assisted
Total Tackles
Sacks
TFL
FF
FR
INT
35
16
19
35
1.0
3.0
1
0
0
Career Stats – Black

Games Played
Solo
Assisted
Total Tackles
Sacks
TFL
FF
FR
INT
39
28
17
45
4.5
6.5
2
0
0
Career Stats – Ash

Games Played
Solo
Assisted
Total Tackles
Sacks
TFL
FF
FR
INT
9
0
0
0
0
0
0
0
0
Filling In: Talented Youth
While the rest of the defensive line is largely unproven coming into 2013, there is no doubt the talent is there. Two strong recruiting classes in a row have helped establish depth at an important defensive position for the Wolverines. Freshman Taco Charlton could be one of the most important players on the defense, because of his standout ability as a pass rusher. Most of the returning players on the defensive line were adequate run-stoppers last season, but there is definitely a hole in the pass-rushing department. Charlton was recruited to fill that gap, and will likely get a chance to rush the quarterback in some meaningful games this season. Hoke likes what the true freshman has shown midway through camp.
Another exciting young player is sophomore Ondre Pipkins. Pipkins played in every game as a true freshman, so he could be considered a veteran on an otherwise inexperienced defensive unit. Though he didn't start any games last year, Hoke and Mattison showed great trust in Pipkins by giving him meaningful minutes in every game of the season. This year, the sophomore has an opportunity to move up into a starting position at defensive tackle.
Tom Strobel did not see any playing time last year, as he was given a redshirt to mature. However, he was a highly-ranked recruit and could be right in the mix to play big minutes as well this season. The Ohio native has a big body and is strong in the run-blocking category which is a strength of this unit.
Fellow redshirt freshman Mario Ojemudia has caught Hoke's attention during the offseason with his ability to jump snaps and get quick pressure on the quarterback. Ojemudia is a smaller defensive lineman, at 6'2″, but he uses that to his advantage as a quicker defender and can get around bigger offensive lineman because of that. He was given a redshirt to work on his size and strength, since that seems to be the one issue that could stop Ojemudia from being a star.
Henry Poggi and Chris Wormley were recruits that also created some buzz. Wormley is a big athlete who moves very well for a player of his size. In high school he showed incredible disengaging skills and was able to overpower his opponents the majority of the time. Poggi, who was recruited as a four-star out of Baltimore, Maryland, may be the victim of Michigan's depth at defensive tackle and take a redshirt this season. Players like Washington, Black and Pipkins figure to receive most of the snaps at defensive tackle, so coaches may take the opportunity to let Poggi mature for a season.
Career Stats – Pipkins

Games Played
Solo
Assisted
Total Tackles
Sacks
TFL
FF
FR
INT
13
2
5
7
0
0.5
0
0
0
Career Stats – Ojemudia

Games Played
Solo
Assisted
Total Tackles
Sacks
TFL
FF
FR
INT
9
8
3
11
1.0
2.5
1
1
1
Depth: An Exciting Future
Having too many good players is a nice problem to have, and Michigan may have difficulty finding time for some very good young players this season because of the traffic jam on the defensive line. True freshman Maurice Hurst Jr. comes to Ann Arbor after being labeled a very talented recruit, and can help fill in at defensive line this year if Michigan needs him. It is likely that Hurst could get a redshirt along with Poggi, and we'll see them make a major impact in a few years.
Keith Heitzman has played 12 games as a backup defensive end in his short career so far, and will continue to contribute this season, potentially winning a starting role.
Redshirt freshman Matt Godin will likely pick up a similar role this year. Godin is one of the bigger lineman on the team at 6'6″ and 280 pounds. Godin's classmate Willie Henry is also a huge interior lineman, listed just over 300 pounds. These players will see playing time throughout the course of the season, and will need to be solid while they give the more well-known players a breather. Luckily, Hoke and Mattison are the right coaches to have around a defensive line with so much potential.
Career Stats – Heitzman

Games Played
Solo
Assisted
Total Tackles
Sacks
TFL
FF
FR
INT
12
2
5
7
0
1.0
0
1
0
Wrapping Up
Michigan's defensive line is similar to many of the other groups on the 2013 team. Two outstanding recruiting classes have established important depth, and the few veteran players will need to be leaders to help those youngsters mature. Washington, Black and Clark will be the big name veterans on the line, but there's a great chance that some of the newer players step up and make a name for themselves early as well. Fans in Ann Arbor should be excited to see players like Charlton and Pipkins play major minutes and cause havoc on the defensive line.
The rest of the defense has their own responsibility, but the line is the really crucial group to watch in 2013. If the young pass-rushers can keep quarterbacks from getting comfortable in the pocket, the rest of the defense should fall into place. Mattison will look to his defensive line to set the tone this season.