---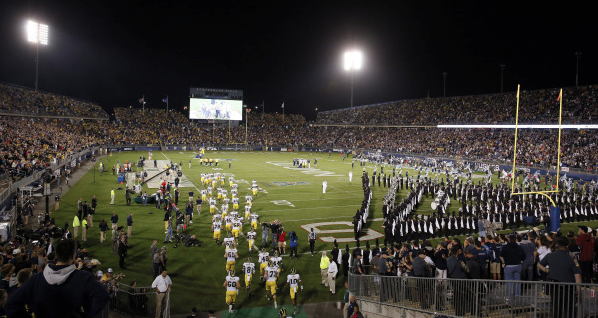 (David Butler II, USA Today Sports)
As SuperFan of the Maize Rage student section at the University of Michigan, I have the opportunity to travel to all of the Michigan football away games and experience what football Saturday means in different parts of the country. This feature will run after each away game this season, detailing the gameday experience for Michigan games outside of Ann Arbor.
Football Saturday in Ann Arbor is one of the most precious traditions in all of college sports. The city shuts down to prepare for the game and campus fills with students making the pilgrimage down to the Big House where the largest audience in the country watches the Maize and Blue defend the most wins in college football.
Elsewhere, students around the country have their own ways of celebrating a home game, and this weekend my close friend Jonathan Wagenknecht and I made the trip east to see Michigan take on the Huskies in Hartford, Connecticut.
When we arrived at Rentschler Field, it was obvious how different the venue was from Michigan Stadium. A capacity crowd of around 42,000 fans broke the record for attendance at UConn's home stadium, thanks to the 2,000 temporary bleacher seats that were added for this weekend's game in response to Michigan fan demand for tickets.
Before even entering the stadium, I was turned away at the gate because of my cowbell. The gentleman scanning my ticket asked me if I "was part of the band, or something" and told me I would have to put Michigan's most preferred instrument back in my car. Returning to the car would have been simple had UConn not used an airport landing strip to direct cars over half a mile away from Rentschler.
With no other option, Jon and I jogged back to the car against the flow of 42,000-strong heading towards the gates. We had to use the Cabela's that shares a parking lot with the stadium to locate our car in the dark before returning to the field and joining the many Wolverine fans already in attendance.
Unlike Big Ten fans, the Connecticut faithful generally have very little confidence in their team. The best indication of this was a few gentlemen that told us we'd be doing them a favor if we won by 50 points, citing the need for a new head coach to lead the Huskies. Following home losses to FCS opponent Towson and the University of Maryland to begin the season, the fan base didn't have any hope on Saturday night.
Or so they thought.
Instead, Connecticut fans got involved in the game in a very different way: betting the spread. From our vantage point next to the concourse, we were approached by several fans that after politely asking about our visit revealed to us that they had taken Michigan to cover the spread over their hometown team (Michigan to win by 20). One season ticket holder told us that 'the team I've watched from this spot right here the last two weeks doesn't stand a chance of sticking with Michigan.'
During the first half, it was tough to tell which team had a larger following in the stadium. Michigan fans showed up in full force, often making Rentschler feel like a little Big House, but despite their 0-2 start, UConn fans were loud and took over for most of the game.
When it was clear that Michigan wasn't looking like the team that beat Notre Dame two weeks ago, a local fan came over to us and talked about the bet he placed on the visiting Wolverines. After assuring us that UConn Head Coach Paul Pasqualoni had been his high school gym teacher and Ray Allen a family friend, he implored us to tell him why Michigan wouldn't run power football.
Through the first three games, the offensive line hasn't been able to open anything up for running back Fitzgerald Toussaint. Taylor Lewan's dominance hasn't even been enough to bully the defensive lines of Akron and UConn so far, and as a result Devin Gardner's broken-play scrambles have turned into Michigan's most reliable running attack.
After the man heard this explanation he complained about the Michigan offense throughout the rest of the game until, when Michigan trailed 21-14, he had a sudden revelation. He frantically asked me what our kicker's name was and whether or not he was reliable, to which I responded that Brendan Gibbons has made several big kicks in his career including one to win the 2012 Sugar Bowl.
Our friend responded that he 'liked the sound of that name, and knew he was going to be our hero tonight.' As fate would have it, he made a new bet on his cell phone that Michigan would win with a final score of 24-21. Although I have no experience in betting, the smile on this Husky fan's face as he left the game lead me to believe that predicting the correct final score made up for Michigan failing to cover the spread.
This guy was a great example of Connecticut fans, who put little importance in winning and more on just enjoying the fan experience.
Part of this experience for students includes a bus ride to the game, as their campus sits about 20 minutes away from Rentschler Field. While leaving the stadium, one of these students turned to us and yelled 'hey Michigan, did you cover your spread?' and I responded that we covered my personal spread of one point.
Though the last two games have been terrifying, Michigan has avoided disaster by coming up with big plays late. Many people are jumping off the Wolverine bandwagon, but it appears that Michigan is just playing to the level of their competition every week. When a marquee game comes up on the schedule, Brady Hoke will have his team ready, so Michigan will have a chance in every game.
So at the time when that student sarcastically asked about the spread, I was just happy that the team had avoided losing to themselves once again.
Our friend Matt Ryan (no, not that Matt Ryan), who lives in Hartford showed us around the city after the game, and we happened to run into Connecticut's starting punter, Cole Wagner. Seeing my vibrant maize shirt, Wagner walked over and talked to me about the game for a few minutes. I told him I thought we were going to give them the game that night.
He said he thought they were going to take it.
By the end of the night, I had a fairly good idea of how UConn fans approached football Saturday. Though they called Michigan coming to Rentschler 'our Super Bowl,' they didn't take the loss nearly as hard as the Maize and Blue faithful do when the Wolverines falter.
Even though our losses are hard, I wouldn't have it any other way.
This experience made me appreciate Michigan's football tradition even more by contrast. Michigan Stadium is a truly special place to watch a football game, and the pride that all 110,000-plus fans take in their program is unparalleled.
The Wolverines didn't live up to the expectations of Michigan and Connecticut fans alike. Offensively, they struggled to run the ball and Devin Gardner continued to throw interceptions. Until the end of the game, when Connecticut was scrambling, the defense couldn't get enough pressure. But despite all of these mistakes, the trip was worth the drive, and made me appreciate how great it is to be a Michigan Wolverine.