---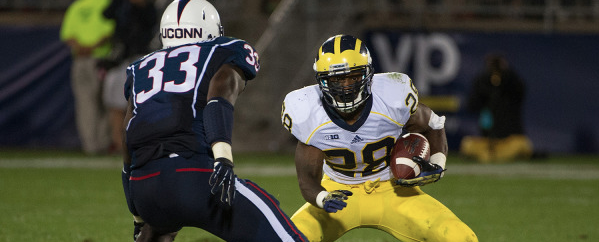 (MGoBlue.com)
With no Michigan football this Saturday, it means we have more time to analyze last week's game. As we have done the first three weeks, let's take one final look back at the big plays, numbers, stats, and observations from Michigan's 24-21 win over UConn.
1. Desmond's game-changing grab
No play was bigger last Saturday than when linebacker Desmond Morgan read UConn quarterback Chandler Whitmer perfectly and snagged his pass out of the air with one hand. Michigan trailed by seven at that point and UConn had the momentum after stopping the Wolverines on 4th-and-2 from the Husky 23. A long scoring drive would be a dagger to a Michigan squad that had entered the game favored by 18.
After taking possession following the turnover on downs, UConn quickly picked up a first down, but left tackle Jimmy Bennett false started, giving the Huskies 1st-and-15 instead of 1st-and-10. Whitmer dropped back to pass, stared down his receiver and fired towards the left hash marks, about 14 yards downfield. Morgan dropped back, read Whitmer's eyes, and leaped up with his right hand extended, snagging the ball and pulling it in at the UConn 41. He then zig-zagged his way to the UConn 12, giving Michigan great field position. Fitzgerald Toussaint ran it in on the ensuing play, tying the game.
2. Gardner options to Toussaint
Trailing 21-7 midway through the third quarter, Michigan needed to find some offense. The fist two drives of the second half had resulted in a total of two yards, a fumble returned for a UConn touchdown, and a punt. UConn punted the ball back to Michigan with ten minutes remaining in the third and the Wolverines took over on their own 25. A 4-yard Toussaint run and a 13-yard completion to Drew Dileo moved the ball to the Michigan 42. A 12-yards strike to Jeremy Gallon got Michigan into UConn territory. Another first down advanced the Wolverines to the UConn 35.
On first down, Gardner threw an incomplete pass. On 2nd-and-10, he saw something in his pre-snap reads and checked into the pistol formation. Gardner took the snap and ran to his right, drawing the UConn defensive end. Just before contact, he pitched the ball to Toussaint who cut up-field at the 42 got a good seal block from Jake Butt, cutting to his left at the 23, dodged a diving defender at the 20, and raced the rest of the way into the end zone to pull Michigan within seven. It was just the play Michigan needed to get back in the game.
3. Gardger gets it done with his legs
On the opening drive of the game, Michigan forced UConn to punt. Michigan's offense moved the ball to the UConn 33, but Gardner was intercepted. After forcing another UConn punt, Michigan took over looking to put the first points on the board. Three separate times on the drive Gardner converted a third down with his legs. On 3rd-and-1 from the Michigan 40, Gardner rushed for 14 yards. On 3rd-and-2 from the UConn 38, Gardner scampered for 11. A pass interference kept the drive alive the next time Michigan faced third down and then on 3rd-and-12 from the UConn 17, Gardner ran for a touchdown.
It surely wasn't the way Michigan wanted to drive down the field, but it was the only part of the offense that was working. Four first downs on the drive resulted in: a Toussaint loss of one, a Gardner rush for two, a Jehu Chesson loss of one, and a Tousasint loss of two. Not gaining positive yards on first down meant Michigan faced a lot of third downs on the drive and thankfully Gardner was able to keep the chains moving despite getting no help from the traditional running game.
42,704: The record crowd that filled Rentschler Field for the primetime matchup
7-0: Michigan's all-time record against teams currently in the American Athletic Conference
Sept. 16, 1995: The last time Michigan played a non-conference game on the East Coast (against Boston College)
Nov. 26, 2011: The last time Fitzgerald Toussaint rushed for 100 yards (against Ohio State)
1,961: Toussaint's career rushing total after gaining 120 against UConn, surpassing Chris Howard (1994-97) and Rick Rogers (1981-84) for 23rd in the record books
30: The number of consecutive games in which Jeremy Gallon has caught a pass
1,659: Gallon's career receiving total after gaining 31 against UConn, surpassing Junior Hemingway (2007-11) for 17th all-time
10: The number of consecutive extra points Brendan Gibbons needs to make to pass JD Carlson for tops in Michigan history
1-of-11: UConn's third down conversion percentage. The Huskies had converted just 29 percent in the first two games
*Hover over team initials to see drive statistics
1. Defense first
Michigan's defense starting the game has become a positive trend dating back to last season. On UConn's first possession of the game, Michigan forced a punt just like it has done in all four games so far this season. In each one, the opponent started with the ball and each time punted it away to Michigan. The four opponents have combined for 16 plays for 57 yards on opening drives this season, an average of 14.25 yards per drive. This is something Michigan's defense has been very good at the past couple of years.
Last season, Michigan started on defense in nine games and only Ohio State and South Carolina scored on the opening possession, which means since the beginning of 2012, only two of 13 opponents have scored when they started the game with the ball. In Hoke's first season, 2011, three of six opponents that started the game with the ball scored on the opening possession.
2. Turnovers, man
This will be discussed in more detail in tomorrow's post, but turnovers seem to be a disturbing trend with Hoke's teams. Michigan now has 12 turnovers through four games, which ranks 120th out of 123 teams nationally. Only Western Kentucky has more (15). Through the first 30 games of Hoke's tenure his teams have turned the ball over 61 times. That's six more than Lloyd Carr's first 30 games and five fewer than Rich Rodriguez's.
Turnovers let Notre Dame back into the game in Week 2 and allowed Akron and UConn to have a chance to win the games the past two weekends. With all the other struggles Michigan has, eliminating turnovers has to be atop the list of areas to improve during the bye week.
More to come on this tomorrow.
3. Toussaint
I'm not as down on Toussaint as much as others are. In this game he recorded his first 100-yard game since the Ohio State game in 2011. Yes, he has a lot of negative rushes so far this season, but he's capable of making big plays as we saw in the 35-yard touchdown run and the game-tying touchdown run. He'll never be confused for Tyrone Wheatley, but he's also playing in an offense struggling to find it's identity. Is it a power running game or a zone running game? It seems the personnel is still more suited for a zone running game at this point despite Hoke and Borges' longing for a power running game. Toussaing just isn't the right back for that.
Perhaps Derrick Green can evolve enough during the bye week to be able to step in and take some of the power running game carries so Fitz can focus on the zone stuff, but that may be too much to ask at this point. For now, Toussaint is reliable enough to keep as the every down back, he doesn't fumble, and he's sure to improve throughout the season as he gains confidence after returning from the gruesome broken leg he suffered last season.