---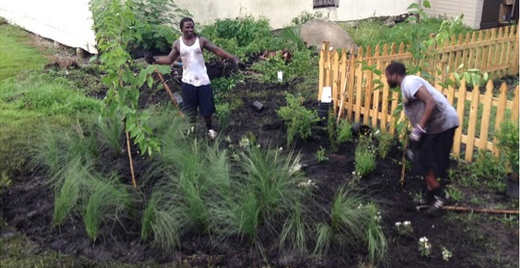 Back in February, you helped fund Vincent Smith's painting project with the youth of Pahokee, Fla. Prior to that, the Michigan faithful helped fund he and Martavious Odoms' #Eating project in which they built an urban garden for the town of Pahokee. Now, the duo is back along with fellow former Michigan football player and Pahokee native, Brandin Hawthorne. And this time, another familiar face has joined in: Denard Robinson.
The group along with Team Eating just launched another campaign, this time on Indiegogo, to continue and expand the community gardens program they have already started. This campaign has three goals. First, to expand the Pahokee garden that is already up and running. Second, to add a community garden in Denard's home town of Deerfield Beach, Fla. And finally, to add a community garden somewhere in Michigan.
Each of the three goals carries a different monetary threshold, so if $30,000 is raised the first goal will be funded, if $80,000 is raised the second will, and if $120,000 all three will be. With indiegogo, the Pahokee crew has 60 days to fund their project as opposed to the 30 days that the previous Kickstarter projects allotted and there are currently 52 days remaining. The other difference between this one and the previous Kickstarter campaigns is that Team Eating will receive all funds donated even if the project does not reach its goal.
You may be asking yourself, 'I already donated to the previous one, why should I donate to this again?' or 'why should I give them my money?'. Well first of all, perhaps you've never been to Pahokee. I have. It's poor, it's hot, there's not much around, and there isn't a whole lot to do. There's no major grocery store in town. It was once the winter vegetable capital of the world, but now business have closed and unemployment is nearly 30 percent. The per capita income is just over $12,000 and over 30 percent of the population is below the poverty line. Only nine percent of the population has a bachelor's degree and the crime rate is about double the U.S. average.
Pahokee has been well publicized for its ability to produce football stars. Aside from Smith, Odoms and Hawthrone, several NFL stars have come from the Muck including Anquan Boldin, Fred Taylor, Janoris Jenkins, Pernell McPhee, and Reidel Anthony among others. The fact is football provides a way out, a way to become successful and avoid the pitfalls that abound in the small town that borders Lake Okeechobee.
While Boldin, Jenkins, and McPhee are busy making a living in the NFL, Smith, Odoms, and Hawthorne are dedicating their time to improving the quality of life in their hometown. They are using the garden as an opportunity to provide jobs, job training, and activities for the local youth. They're using it as a chance to teach elementary grade students about healthy living, nutrition, and teamwork. All the while growing food to provide for the community.
Regardless of your political affiliation, we can all agree that in a time when America's economy is struggling, people like Smith, Odoms, and Hawthorne are just what we need more of. People willing to invest their time into improving their communities and provide jobs and better education to ensure a better future for the youth.
The fact that the three played football at Michigan, got their degrees, and are putting them to use for the greater good should be reason enough to invest in them. We rooted for them on Saturdays, so why not root for them in life beyond the gridiron as well?
The campaign offers perks for your contributions. For example, a $1 donation gets you an email with photos from the garden; a $12 donation gets you an autographed post card from Smith; a $25 donation gets you an #Eating t-shirt; a $55 donation gets you an #Eating hoodie, and so on.
So why donate? Perhaps it's an opportunity to teach your kids the value of giving back. Or simply a chance to support some former Michigan athletes that gave it their all for the team you root for and are now giving it their all for their community and the next generation. Or maybe you just want a cool new t-shirt to wear around campus. Whatever the reason, please consider helping them out and together we can be a part of the solution.