---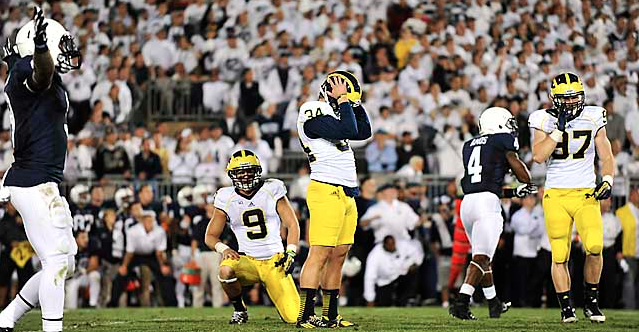 (John T. Grellick, Detroit News)
Michigan's soul-crushing, quadruple-overtime loss to Penn State last Saturday has sent much of its fan base into panic mode. Despite Michigan being one of 17 unbeaten teams prior to last weekend, many fans and national media personalities have given up on the Wolverines after just one loss, some even going so far as to predict that Michigan will stumble to a 2-4 or 1-5 regular-season finish. The changes in expectations are not because Michigan lost to a far inferior team—the Nittany Lions were only a 2.5-point underdog. Instead, the changes in expectations are because Michigan was on the wrong end of the last-minute luck it benefited from in its first two seasons under head coach Brady Hoke.
What is last-minute luck? It is a term that embodies a rare combination of coaching miscues, lack of execution, bad bounces, and missed opportunities that allows a left-for-dead opponent to steal a win in the final minute. The more popular term for this type of collapse is "choking."
In 2011 and 2012, Michigan benefited from such last-minute luck in two contests: Notre Dame in 2011 and Northwestern in 2012. This stroke of last-minute luck was not going to continue to work in Michigan's favor. Sooner or later, there would be a game in which the Wolverines would fall victim to it. This is the nature of football, especially at the collegiate level. It happens to all teams. No team is immune. Unfortunately, it happened to Michigan in the worst possible way this past Saturday in Happy Valley.
After a sloppy start, which saw Michigan commit three turnovers and fall behind, 21-10, the Maize and Blue dominated the first 20 minutes of the second half, outscoring the Nittany Lions, 24-3, to take a 10-point lead. Proceeding from this point, Michigan encountered seven situations in which it could have sealed its second consecutive road victory for the first time since 2010. The Wolverines needed to capitalize on only one of these seven to escape with a 6-0 record. However, the last-minute luck got the best of the Wolverines, and the victory slipped through their fingers.
Here is a breakdown of just how much needed to go wrong for Michigan to lose this game:
Situation 1: Fourth quarter, 9:22 left, Michigan leads 34-24. Penn State ball
Breakdown: Penn State needed to cut Michigan's lead to one score to stay in the game. For the second series of downs, which referees granted to PSU by calling a ticky-tacky defensive pass interference penalty against Michigan linebacker Desmond Morgan, the Nittany Lions faced fourth and one on the PSU 47-yard line. If Michigan—which had allowed only one fourth-down conversion to opponents in six tries before this play—would have forced a turnover on downs, the Wolverines would have maintained a two-score lead for the win and remained unbeaten .
Instead, Penn State running back Bill Belton dove through the pile for a two-yard gain and extended the drive, which led to kicker Sam Ficken's 43-yard field goal, closing Michigan's lead to seven.
Situation 2: Fourth quarter, 0:57 left, Michigan leads 34-27. Michigan ball
Breakdown: Michigan lost eight yards on back-to-back plays, one of which was an untimely delay of game penalty, setting up fourth and 17 at the outskirts of kicker Brendan Gibbons' range. Hoke had two options: (1) go for the win and attempt a 52-yard field goal; or (2) try to pin Penn State deep in its own territory with a pooch punt. If Hoke would have opted to go for the win, and Gibbons would have converted the 52-yard field goal, which would have matched the career long he set against Nebraska in 2012, Michigan would have secured a 10-point lead for the win and remained unbeaten.
Instead, given that field goals no less than 52 yards in the fourth quarter or overtime are good only 40 percent of the time, Hoke chose to have punter Matt Wile kick a pooch punt to force PSU to drive 90-plus yards for a game-tying touchdown with no timeouts and less than a minute remaining. However, Wile—who had dropped inside the 20-yard line 83.3 percent (10-for-12) of his punts that were snapped in opponent territory in 2012 and 2013—punted the ball one yard deep in the end zone for a touchback, which meant Michigan exchanged a chance to seal a win for only 15 yards of field position.
Situation 3: Fourth quarter, 0:50 left, Michigan leads 34-27. Penn State ball
Breakdown: With no timeouts and less than a minute remaining, Penn State needed to travel 80 yards in a hurry to score a game-tying touchdown and force overtime. Since 2003, only six teams have scored a touchdown under these circumstances, one of which was Michigan against Notre Dame in 2011. If the Maize and Blue would have prevented Penn State from scoring a type of touchdown that has happened only once almost every two seasons of college football, on average, for the past decade, Michigan would have maintained a seven-point win and remained unbeaten.
Instead, Penn State receivers Brandon Felder and Allen Robinson made three spectacular catches in four plays to move the Nittany Lions to the U-M one-yard line. Further, on the second and third of these receptions, Michigan cornerback Channing Stribling was in perfect position to intercept both passes, but he mistimed both of his jumps, allowing Felder and Robinson, respectively, to jump over him and make the grab as he was falling back to Earth. Penn State proceeded to punch in the first rushing touchdown Michigan had allowed on the following play to tie the game.
Situation 4: Fourth quarter, 0:02 left, game tied 34-34. Michigan ball
Breakdown: After a long kickoff return by Dennis Norfleet, Michigan reached the outer limit of Gibbons' field-goal range with a few seconds remaining in regulation. Hoke sent out Gibbons for a potential game-winning, 52-yard field goal, which, as aforementioned, would have matched his career long. If Gibbons would have made the field goal, it would have been his fifth career game-winning or game-tying kick in the final five minutes of regulation or overtime, and Michigan would have earned a three-point win and remained unbeaten.
Instead, Gibbons' kick was dead straight, but he did not muster enough power to push it over the crossbar as the ball landed a few yards short, sending Michigan to its third overtime game in the last 20 contests.
Situation 5: Overtime, game tied 34-34. Michigan ball
Breakdown: Penn State's offense took the field to start the first overtime session and failed to score points when Ficken missed a 40-yard field goal wide right. Since 2007, in 287 overtime periods, the team with its offense on the field first has failed to score 79 times. Only 13 of those 79 times the second team has failed to score, too. Michigan went to the ultra-conservative strategy it deployed in the same situation in overtime against Virginia Tech in the 2012 Sugar Bowl: three straight runs in heavy formations and then kick for the win. If the same result as the 2012 Sugar Bowl would have occurred in Happy Valley, Michigan would have won and remained unbeaten.
Instead, the Nittany Lions blocked Gibbons' 40-yard attempt—the first Gibbons' field goal to be blocked in 25 games, dating back to Northwestern in 2011—and forced a second overtime.
Situation 6: Third overtime, game tied 37-37. Michigan ball
Breakdown: This will be the situation that will forever be burned in Michigan fans' memories. Like the first overtime, Penn State went scoreless during the first possession of the third overtime, fumbling the football on a wide-receiver end around. Since 2007, no team had failed to score in an overtime period after the opponent went scoreless during the first possession of that period twice in one game. On second down, quarterback Devin Gardner threw a nine-yard hitch to wide receiver Jeremy Gallon that was spotted one yard shy of a first down, despite replay evidence that Gallon moved the ball past the first-down marker. On third and one, rather than using Gardner's feet or arm to pick up a first down, Michigan handed the ball to running back Fitzgerald Toussaint—who averaged a school-record low of one yard per carry on 27 attempts—out of the I-formation, which led to no gain.
Although a first down would have allowed Michigan to shorten the distance of a field-goal attempt for Gibbons, he still had the opportunity to end the game with a 33-yard field goal from between the hashes. Under Hoke, Gibbons had made 29-of-31 field goals from less than 40 yards away (93.5 percent), including his last 22, before lining up for this try. If Gibbons would have continued his streak, Michigan would have won and remained unbeaten.
Instead, Gibbons missed a field goal from less than 40 yards away for the first time in 22 games, pushing it wide left and sending Michigan to its first ever four-overtime marathon.
Situation 7: Fourth overtime, Michigan leads 40-37. Penn State ball
Breakdown: Penn State faced fourth and one on the 16-yard line. Rather than attempt a 33-yard field goal to force a fifth overtime, PSU head coach Bill O'Brien opted to go for the victory. At this point, Michigan had allowed opponents to convert only two of seven fourth-down attempts this season. If Michigan would have stuffed the Penn State offense here, despite all the previous miscues and missed chances, the Wolverines would have won, improving their all-time overtime record to 9-1, and remained unbeaten.
Instead, Belton, who initially was stuck behind his offensive line, budged his way past the line of scrimmage for a three-yard gain to keep the Nittany Lions' drive alive. Four plays later, Belton finished off the Wolverines with a two-yard touchdown run, capitalizing on Penn State's first chance to win the contest.
Many of the critical issues that Michigan needs to fix—ball security, the performance of the offensive line, and offensive play calling—contributed to the collapse. It would be understandable if fans and media were pessimistic about Michigan's success for the rest of the season because of these issues.
However, it would not be as understandable if the reason for pessimism was just the fact that Michigan lost. It took an unfathomable amount of bad breaks and last-minute bad luck to prevent Michigan from defeating a team it was favored to beat by only 2.5 points on the road, and becoming one of only 15 unbeaten FBS teams left. Don't expect a chain of events like this to happen again to Michigan for a very long time, and certainly not again this season.
­­­­­­­­­­­­
Three
Notes You Should Know Before Michigan-Indiana
1. Trends in the Michigan-Indiana series favor the Wolverines heavily. Michigan holds a 52-9 record against the Hoosiers and has won the last 17 contests. Further, Michigan is a perfect 18-0 at home under Brady Hoke, while Indiana is only 2-22 in its last 24 conference road games.
2. Despite turning over the football 13 times this season, which is more than the number committed by 93 FBS teams, Devin Gardner leads the Big Ten in total offense (285.8 yards per game) and most points responsible for (17.0 points per game).
3. Through the first six games of the season, Michigan has scored three non-offensive and two defensive touchdowns. Further, the Wolverines have scored defensive touchdowns in back-to-back games—Blake Countess' 72-yard interception return against Minnesota and Frank Clark's 24-yard fumble return against Penn State. This is the first time since 2004 that the Maize and Blue has scored defensive touchdowns in two straight games.
If you are interested in more stats, notes, and nuggets, you can follow me on Twitter: @DrewCHallett