---
Michigan's second bye week in four weeks provides another great chance to relax, get your fall yardwork done, and ultimately get ready for the final five-week stretch of the season. All five of the next Saturdays feature big-time matchups for Michigan, each of which is a must win if the Wolverines want any chance of winning the Big Ten this season. This stress-free Saturday sets up nicely to scout each of the five teams Michigan has left on its schedule with a nice slate of games. Here's your viewing guide.
At noon, two Big Ten games are worth at least casually keeping your eye on. They won't necessarily be good games, but three of the four teams involved are among Michigan's next four opponents. Iowa hosts Northwestern (12pm, Big Ten Network) in a battle of 4-3 squads. The Wildcats began the season 4-0 and battled Ohio State punch-for-punch in Evanston, but a combination of factors including injuries to several of their top playmakers have them reeling with three straight losses. Suddenly, one of the Legends Division favorites from the beginning of the season is now relegated to playing spoiler.

The most wonderful time of the year is right around the corner, and with Christmas just two months from today, you might be starting to think about what you or that special someone wants for Christmas.
If you're a golfer or if you're buying a gift for your dad, brother, cousin or friend who is a golfer, I've got the perfect gift idea: a custom scorecard holder from Stanley Mayhem. These are all fully handcrafted and customizable and make a truly unique gift for the golfer who has it all.
The guy who makes them, Greg Dibble, uses only genuine leathers and has many different styles and colors for you to choose from. You can choose the lacing, stamping, and pretty much whatever you want to make it a one-of-a-kind gift.
Several tour pros, caddies, and top amateurs around the world use Greg's custom scorecard holders and you can too. Simply click the Stanley Mayhem logo above or follow this link to take advantage of Maize and Go Blue's special 10 percent discount. Keep in mind that since these are all completely hand made, you'll want to get your order in quickly in order to get it in time for Christmas.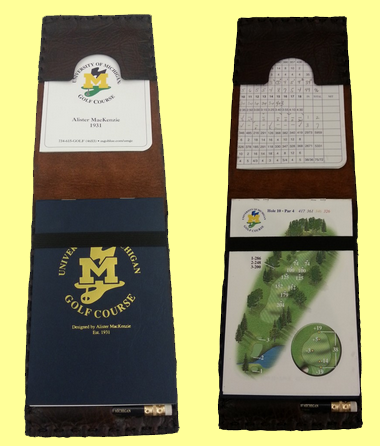 Following the Iowa game, Northwestern has Nebraska, Michigan, and Michigan state in three consecutive games before finishing the season at Illinois, so beating Iowa is a must-win for the Wildcats to be assured of bowl eligibility. But that's easier said than done in Iowa City. The Hawkeyes won the last matchup at home and are always tough to beat at home, especially in late fall when the wind starts whipping.
Iowa has shown to be pesky this season, playing Michigan State and Ohio State tough each of the last two games, so while neither of these teams is likely to win the Legends, Michigan will have to get through both of them – on the road – to have a chance.
The other noon game to keep an eye on is #24 Nebraska at Minnesota (12pm, ESPN). The Cornhuskers may be the Legends Division favorite at this point, but as Derick described on Wednesday, they have beaten just one team this season that has a winning record (4-3 Wyoming). The other four have come against winless Southern Miss, FCS school South Dakota State, and Big Ten bottom feeders Illinois and Purdue. The one team with a pulse Nebraska has faced, then-16th ranked UCLA, stomped the 'Huskers 41-21 in Lincoln.
Minnesota is coming off a big win at Northwestern with head coach Jerry Kill taking a leave of absence. The Gophers likely don't have enough in the tank to hang with Nebraska, but after last weekend's big road win they'll at least be playing with confidence.
Outside of the Big Ten there aren't really any other big early games worth watching. Wake Forest vs #7 Miami (12pm, ESPNU) and #16 Texas A&M vs Vanderbilt (12:21pm, ESPN3) are the only others even remotely good, the latter because the Aggies are a potential bowl opponent.
The afternoon slate features a few games worth watching, most notably Michigan State at Illinois (3:30pm, ABC/ESPN2), only because the Spartans are Michigan's next opponent. It's not likely to be much of a battle as MSU's top-ranked defense should be able to handle Illinois' offense that was held to just 25.5 points per game against Nebraska and Wisconsin the past two weeks. Conversely, Michigan State's offense, which hasn't been much to talk about this season should be able to move the ball and score against the Illini's 98th-ranked scoring defense which allows over 32 points per game. The Spartans shouldn't have much trouble beating Illinois, but it will be a good chance to get acclimated with them if you haven't seen them play yet this season.
Outside of the Big Ten will feature a few solid matchups worth paying attention to. Tennessee visits #1 Alabama (3:30pm, CBS), #2 Florida State hosts NC State (3:30pm, ABC/ESPN2) and #9 Clemson visits Maryland (3:30pm, ESPN). Tennessee isn't likely to pull off the upset in Tuscaloosa, but the Vols have shown some fight this season under Butch Jones, including last week's win over #11 South Carolina and taking then-#6 Georgia to overtime earlier this month. Similarly, Florida State shouldn't have trouble dispensing of NC State, but an unranked Wolfpack squad has beaten a ranked FSU team four times since 2005, including a 17-16 upset last season. Florida State is coming off a huge primetime win at Clemson and faces #7 Miami next week, so this could be a classic trap game. Finally, the team that was on the losing end of that Florida State win last Saturday, Clemson is licking its wounds as it travels to College Park to face a 5-2 Maryland squad. The Terps, however, were blasted by FSU (63-0) and last week by Wake Forest (34-10).
Another one to at least flip over to during commercial breaks is #10 Texas Tech at #15 Oklahoma (3:30pm, FOX). The Red Raiders are a surprising 7-0 and the Sooners' only loss of the season was two weeks ago at the hands of Texas. Both of these teams are potential bowl opponents if Michigan either gets a BCS at-large bid or limps through the rest of the season falling to the Buffalo Wild Wings Bowl or Meineke Car Care Bowl of Texas.
The evening set of games features several ranked foes squaring off. The one that most pertains to us is Penn State at #4 Ohio State (8pm, ABC). The Nittany Lions had a week off last week after beating Michigan, while Ohio State got an unexpected fight from Iowa. With two weeks to prepare, could Penn State pull off a big upset in Columbus? The big play threat of Christian Hackenberg throwing to Allen Robinson and the rest of Penn State's receivers is sure to test Ohio State's beleaguered secondary, but the Buckeyes will look to put pressure on the freshman quarterback. Expect a close game in what's likely to be Ohio State's final test before visiting Ann Arbor on Nov. 30.
The biggest battle of the day will be #12 UCLA at #3 Oregon (7pm, ESPN). The Bruins lost to 13th-ranked Stanford last week and will be looking to bounce back in Eugene against the high-powered Ducks.
Two other games feature battles of ranked teams: #21 South Carolina at #5 Missouri (7pm, ESPN2) and #6 Stanford at #25 Oregon State (10:30pm, ESPN). Missouri is the surprise of the SEC this season, but a team many feel is overrated at fifth in the BCS standings. South Carolina is coming off a disappointing loss at Tennessee, looking to pull off an upset of its own and stay in the SEC East race. Stanford got upset by Utah two weeks ago and now finds itself a game behind Oregon State and Oregon in the Pac-12 standings. If UCLA is able to upset the Ducks, this game could either put Oregon State in the conference lead or leave a three-way tie, and both teams still have to play Oregon in the final month of the season.