---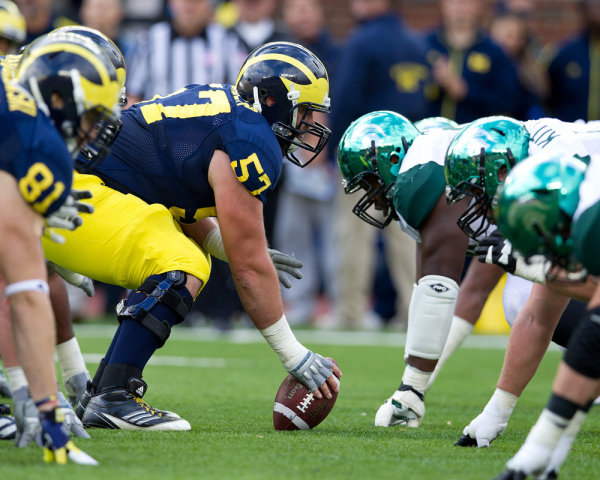 (MGoBlue.com)
Ladies and gentlemen, it is State Week.
The big question many Michigan fans have been asking this week is whether Michigan offensive coordinator Al Borges will finally solve the complex puzzle that is Michigan State's defense. Despite a dramatic, last-second victory for the Wolverines last October, no team has given their offense more fits than the Spartans. In the past two contests against MSU, the Maize and Blue averaged 13 points and 288 total yards. Those numbers are the worst Michigan has averaged against any opponent it has played more than once since U-M hired Borges.
Do not expect the puzzle to become any easier this Saturday. If anything, it has become even more challenging. Statistically, Michigan State has one of the best defenses in the country, if not the best. The Spartans' national ranks in each relevant defensive category speak for themselves. They are ranked in the top three in scoring defense, total defense, rushing defense, rushing yards allowed per carry, passing yards allowed, passing yards allowed per attempt, and passing efficiency defense. MSU is the only team in America to have such a high ranking in all of these categories. Other than Michigan State's tendency to force referees to throw an inordinate number of yellow flags—MSU is ranked 109th in fewest penalty yards per game—the Spartans' defense has no weaknesses for Borges to exploit.
Borges will run into roadblocks whether he tries to run or pass against Michigan State, but if he wants to walk out of Spartan Stadium with a win on Saturday, he needs Michigan's ground game to be successful against the nation's best rushing defense. Why should Borges bother testing the teeth of MSU's defense? Because in the last 43 meetings between the two in-state rivals, the team with more rushing yards in the game has been the victor 40 times.
So what should Borges do to give Michigan the best chance to execute against a rush defense that has held all opponents to less than 100 yards and all but one opponent to less than three yards per carry? Simply, Borges needs to shelve his "manball" formations and make the shotgun the core of U-M's offense.
Michigan entered this season with a mission to deemphasize the spread formations that U-M employed the last two seasons when former quarterback Denard Robinson took the snaps. The goal was to preach "manball," feature tight formations, such as the Ace and I-formation, and run the ball down defenses' throats. Through the first seven games of the season, Borges and the Wolverines have not deviated from this goal. Sixty-eight percent of U-M's 281 relevant running plays—which exclude those that featured Michigan's backups—have been called from formations in which quarterback Devin Gardner has lined up under center.
Yet, there are times when people must realize that their goals are not in their own best interest. For Borges and Michigan, this is one of those times. Despite Borges' preference to run the football when under center, the Wolverines are much more productive when running from spread formations, such as the shotgun and pistol. Evidence of this production can be seen in the table below, which breaks down Michigan's rushing totals by formation:
Michigan rushing – by formation
Under Center
Shotgun/Pistol
Carries
Yards
YPC
Carries
Yards
YPC
CMU
30
180
6.0
8
50
6.25
Notre Dame
21
80
3.81
15
95
6.33
Akron
21
78
3.71
8
110
13.75
UConn
25
92
3.68
16
137
8.56
Minnesota
31
104
3.35
3
19
6.33
Penn State
34
65
1.91
17
110
6.47
Indiana
29
125
4.31
23
145
6.30
Totals
191
724
3.79
90
666
7.40
There is no denying how much better the Maize and Blue's rushing attack is when running from the shotgun and pistol. Not only has Michigan recorded more yards per carry in those spread formations than when under center in every game this season, it has averaged 3.61 more yards per carry overall. If U-M ran well from both types of formations, there would be no need for Borges to rethink his offensive game plan, but this is not the case. Instead, the Wolverines have exceeded six yards per carry in shotgun and pistol formations in all of their games, while averaging less than four yards per carry overall in all but two of them.
Borges may have finally realized this after the debacle in Happy Valley, where Michigan ran a season-high 34 times under center while averaging a season-low 1.91 yards per carry. The following week against Indiana, U-M posted its highest percentage of running plays from the shotgun and pistol this season (44.2 percent), including a season-high 13 runs from those formations for running back Fitzgerald Toussaint. Not only did Toussaint have his most productive game of 2013 with 151 rushing yards, the shift to more spread formations contributed to Michigan's season-high 248 rushing yards and helped the Maize and Blue set a school record for total yards in a single game with 751.
This was a step in the right direction for Michigan's offense, but Borges needs to leap even further away from under center and towards the shotgun and pistol when it faces Michigan State this weekend.  To give U-M the best chance to win, more than half of the Wolverines' runs must be from spread formations. Although there is no guarantee that running mostly from the shotgun and pistol will be effective against the mighty front of the Spartans' defense, the odds that it will are exponentially greater than if U-M lined up under center. Plus, there are two additional benefits to running from the shotgun and pistol.
First, those formations provide Michigan a second rushing threat in addition to the running back: Gardner. He has been U-M's most effective rusher this year. When one removes his sacks, Gardner has carried the ball 80 times for 625 yards and an average of 7.81 yards per carry. When one then removes his scrambles, Gardner still has averaged 6.84 yards per carry—about three yards per carry more than both Toussaint and backup running back Derrick Green.
If the Wolverines want to utilize their best rusher properly, they need to put him in a formation that does not restrict him only to scrambles and bootlegs. The formations that expand the arsenal of quarterback runs that Borges can call are the shotgun and the pistol, and the Michigan quarterback has used his legs best when lined up in those formations. In the shotgun and pistol, Gardner has recorded 54 carries for 484 yards—averaging 8.49 yards per carry—and recorded seven of his nine total rushing touchdowns. With Gardner lined up a few yards behind the center, MSU's defense won't be unable to focus all of its attention on Michigan's running back, opening up lanes for both Wolverines in the backfield.
Why would the Spartans focus all of their attention on Toussaint when Michigan goes under center? The reason is because Michigan tips its play calling when it lines up in the Ace or I-formation. When U-M lines up under center, defensive coordinators know that U-M usually plans to handoff to its running back. This season, Michigan has run 270 relevant plays from under center, and 70.7 percent of those plays have been runs. Further, 84.8 percent of these runs have been handoffs to the running back.
It is even worse in third-and-short situations. When the Maize and Blue need three yards or less to move the chains on third down, Borges has called a run 15 of 16 times (93.75 percent) when under center, earning the first down only nine times. In these situations, Borges practically is telling the defensive coordinator that the ensuing play will be either a handoff to the running back or a bootleg by Gardner.
Defenses have adjusted accordingly by placing eight or nine defenders in the box when they see U-M line up under center. Without an audible, these plays generally have been dead before Gardner even received the snap. Of the Wolverines' called runs when under center, 35.8 percent have resulted in no gain or a loss, while only 15.3 percent of their runs in the shotgun and pistol have had such poor results. This has been a critical reason why Michigan's inconsistent offensive line—which will have its ninth different starter of the season against MSU—is 115th in the nation in tackles for loss allowed.
Thus, the second benefit of lining up in spread formations is that Michigan likely will no longer tip its plays to opponents. Michigan's play calling has been much more balanced when lined up in the shotgun and pistol. In these spread formations, the Wolverines have run the football 45.5 percent of the time. Although Michigan's run-pass balance likely will skew more towards the run if Borges decides to feature more spread formations, the balance should be much closer to a 50-50, meaning defenses should be less likely to make adjustments at the line of scrimmage based on U-M's formation.
Additionally, an emphasis on the shotgun and pistol should not negatively impact Michigan's aerial attack. Gardner's accuracy has been nearly identical when throwing from both types of formations, completing 61.3 percent of his passes when under center and 61.2 percent in spread formations. Also, Gardner's yards per passing attempt in both formations are no less than 8.6, so U-M should still maintain its vertical passing attack.
The only potential drawback for U-M is turnovers, particularly interceptions. Michigan's battle with Michigan State likely will be a low-scoring affair, meaning points will be a premium. Turnovers not only waste an opportunity for a team to score, but they also put the opponent in a great position to capitalize with points, especially in Michigan's case. This season, eight of Gardner's ten interceptions have been the result of plays in the shotgun and pistol. To make matters worse, five of those eight led to an opponent returning the interception for a touchdown or starting the ensuing possession in the red zone.
However, of those eight interceptions in the shotgun and pistol, seven occurred when Michigan faced second or third down with a distance to go of seven yards or longer. These are difficult situations for Michigan to throw the football because defenses expect U-M to pass. Yet, the Wolverines are in these difficult situations mostly because U-M has lined up under center for 71.4 percent of its first-down plays. As aforementioned, this has led to defenses adjusting and stuffing Michigan's runs at the line of scrimmage. If the Wolverines utilize more shotgun and pistol on first down, they should be able to gain more yards on first-down plays. Thus, Gardner will not be placed in a position in which he has to force risky passes to extend drives nearly as much as he has in the first seven games.
As much as Michigan and Borges want to go "manball," it is time for them to cut their losses and put "manball" on the backburner. This Michigan squad is not a "manball" team, no matter how much Borges wants it to be one. The personnel of this offense best fit in the spread and are most productive and efficient when operating out of the shotgun and pistol. If Borges wants to finally solve the puzzle that is MSU's defense, he needs to call the majority of plays out of these formations. But if Borges chooses to stick with "manball" against one of the best defenses in the country, he likely will put Michigan at a severe disadvantage in a heated rivalry game and a game that would, for all intents and purposes, extend U-M's Big Ten championship drought to 10 years with a loss.
Three Notes You Should Know Before Michigan-Michigan State
Michigan's defense should keep blitzes to a minimum against Michigan State. Although MSU has below average national ranks for most offensive statistical categories, the Spartans have exceled at not turning over the football—MSU is fifth in the nation in interceptions thrown—and have been one of the best ten teams in the nation in not allowing tackles for loss. Thus, the Wolverines should stay back in coverage, forcing quarterback Connor Cook to fit throws into tight windows to extend drives and hoping Cook will be unable to make those throws.
Dating back to 2001, Michigan is 10-1 in its last 11 games after a bye week. Saturday's contest against Michigan State will be the second such game this season for the Maize and Blue—the Wolverines beat Minnesota, 42-13, in Week 6 after a bye. U-M's average margin of victory in those 10 wins—three of which were away from Michigan Stadium—is 19 points. The lone defeat was a 10-point loss to Penn State in 2010.
Under Brady Hoke, the Wolverines have not lost a game that has started at 3:30 PM ET, holding a 9-0 record in such games. Eight of those games were in Ann Arbor, with the only road game resulting in a 31-14 win against Illinois in 2011. Michigan and Michigan State will kick off at 3:30 PM ET on ABC this Saturday.