---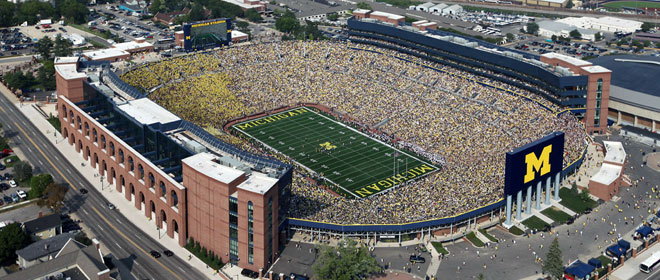 The first three editions of "Inside the Numbers" have analyzed statistics and records earned by Michigan coaches and players. This week's feature has a slightly different focus. This column celebrates the students, the alumni, and the fans that have supported the Maize and Blue for the past 38 years. Their efforts likely will result in the achievement of a historic milestone this Saturday at Michigan Stadium.
College football is one of the most attended sports in North America. In 2011, 37,411,795 people walked through turnstiles to watch an NCAA FBS football game in person. An average of 46,074 attended each of these contests. These statistics ranked NCAA football second in total attendance behind Major League Baseball and second in average attendance per game behind the National Football League two years ago. Much of college football's attendance success can be attributed to having games played regularly in 14 of the 15 largest football stadiums in the United States and having several of the most passionate fan bases in all of sports.
For decades, one school has set the bar for high attendance totals: Michigan. Fans have been pouring into Michigan Stadium to support the Wolverines each Saturday in the fall since it was erected in 1927. Although the venue was designed to seat 72,000 fans when it first opened, the Regents of the University of Michigan opted to incorporate former Michigan head coach Fielding H. Yost's proposal that the stadium's footings be constructed in a way that would permit future expansion. Yost foresaw a future when over 100,000 people would attend a football game in Ann Arbor, and he wanted to ensure that the possibility could one day become a reality.
In 1956, Michigan Stadium underwent its fourth expansion, which included the addition of a state-of-the-art press box, increasing the facility's capacity from 97,239 to 101,001. On October 6 of the same year, Michigan Stadium—coined by legendary broadcaster Keith Jackson soon thereafter as "The Big House"—hosted over 100,000 people for the first time as the Wolverines took the gridiron to face their in-state rivals, the Michigan State Spartans. Yost's vision from three decades earlier came to fruition.
Then, almost two decades later, the Michigan faithful initiated a streak that not even Yost could have dreamt. On October 25, 1975, the Maize and Blue ran through the tunnel at "The Big House" to battle the Indiana Hoosiers. A crowd of 93,857 watched the Wolverines dismantle the Hoosiers, 55-7. Why is this random blowout from the mid-1970s a historical game in U-M history? Because it is the last Michigan football game at Michigan Stadium that did not draw an audience at least 100,000 strong.
Since then, Michigan Stadium has had no less than 100,000 spectators enter its gates for 249 straight Michigan football games. In that 249-game span, 26,405,123 people sat down on the benches at "The Big House" to watch the men in the winged helmets play football. An average of 106,045 fans has attended each game during this decades-long streak. This average falls just shy of the maximum capacity of the second-largest football stadium in the country, Penn State's Beaver Stadium.
To put into perspective how remarkable this streak is, no other school averaged at least 100,000 in attendance per home game in just one season until the Tennessee Volunteers did it 17 years ago in 1996. Michigan has done it for 38 years and counting.
In that time, Michigan has dominated every home attendance statistic imaginable. The Wolverines have ranked first in national average attendance in 36 of the last 37 seasons and are on pace to make it 37 of the past 38 after the 2013 campaign. The only year Michigan did not rank first was in 1997 when it trailed only Tennessee by just 90 people on average per game. Further, U-M even took the top spot in 2008 and 2009 when renovations reduced Michigan Stadium's capacity from 107,501 to 106,201, despite that the capacity of "The Big House" had fallen below Beaver Stadium's.
When the university completed the most recent renovations in 2010, Michigan Stadium had a new capacity of 109,901—the most of any football stadium in the nation—and attendance record after attendance record began to fall. The first football game in the renovated venue—Michigan's 2010 season opener against Connecticut—drew a football record crowd of 113,090. Since then, U-M has reset the record twice with 114,804 against Notre Dame in 2011 and 115,109 against Notre Dame in 2013.
Additionally, since the NCAA began tracking attendance in 1948, Michigan Stadium has been the site for no less than the 30 most attended football games in that span, with each having a crowd of at least 111,000. In that process, Michigan has set and reset the NCAA single-season average home attendance record each of the past three seasons, with the 2012 season taking the top spot with an average of 112,252 spectators per home game.
Even more impressively, Michigan has set all of these attendance records during a time when college football attendance has slipped three of the past four seasons. This alarming trend does not appear to be ending anytime soon as attendance averages likely will drop for a third straight year in 2013. The dips in average attendance in those years may have been only minimal—two percent in 2009, 0.9 percent in 2011, and 1.2 percent in 2012—but photographs of in-game crowds have painted another picture. All one needs to do is look at this, this, this, this, and this to realize that these decreasing attendance figures are a serious problem for many athletic administrators and NCAA officials.
But it will not be a serious problem for Michigan. Although U-M fans have had multiple reasons to skip Michigan football games the past few seasons—poor on-field performance from 2008 to 2010, ticket prices skyrocketing, lack of appealing matchups in even-numbered years, harsh weather conditions, and the alternative of watching the game from the comfortable confines of one's home with a high-definition television—the Maize and Blue faithful continue to commute to Ann Arbor from all over the state of Michigan and beyond to experience the Michigan Stadium atmosphere and watch the Wolverines play some good, old-fashioned football.
So why discuss Michigan Stadium's attendance records this week? Barring unforeseen circumstances, this Saturday, when Michigan clashes with Legends Division foe Nebraska, "The Big House" will host at least 100,000 fans for the 250th consecutive time. This historic milestone will occur 38 years and one day after the NCAA-record streak began on November 8, 1975, when the Wolverines shut out the Purdue Boilermakers, 28-0, in front of 102,415 at Michigan Stadium.
There have been reports the past few days that Michigan fans have been trying to sell or give away their tickets for this weekend's game after U-M suffered a loss to Michigan State that essentially eliminated U-M's odds to win the Big Ten. Those fans should reconsider. Now is the time to become a representative of what this historic streak symbolizes: fans' efforts to watch Michigan football whether there was sun, wind, rain, sleet, or snow at Michigan Stadium, and regardless of the quality of the squad playing before them, for the past 38 years.
Three Notes You Should Know Before Michigan-Nebraska
Michigan's minus-48 rushing yards against Michigan State last Saturday was the worst rushing total by a Wolverines team in the history of the program. The previous worst was minus-46 rushing yards against Minnesota 51 years earlier in 1962. Here is the distribution of U-M's rushing total against the Spartans: 17 yards on called runs, six yards on scrambles, minus-two yards on kneel downs, minus-20 yards on a botched shotgun snap, and minus-49 yards on the seven sacks taken by quarterback Devin Gardner.
Last Saturday's 29-6 loss to Michigan State was the first time Michigan has scored less than 21 points in Devin Gardner's 13 starts at quarterback. It was also the first time Michigan did not score a touchdown since not doing so in three games last season (Notre Dame, Michigan State, and Nebraska).
Michigan is 19-0 at Michigan Stadium since U-M hired head coach Brady Hoke. The 19-game winning streak is the fourth longest in school history and the second longest since 1907. This will be U-M's 11th conference home game under Hoke. The Wolverines have scored at least 36 points in nine of the previous 10, averaging 42.1 points in those games.
You can follow Drew on Twitter: @DrewCHallett