---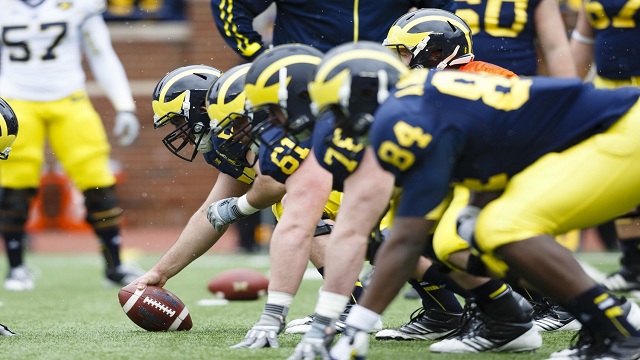 (Rick Osentoski, US Presswire)
Since returning to Ann Arbor in January in 2011, head coach Brady Hoke has preached that he wants to "hear football." He wants to hear the sound of helmets striking each other, shoulder pads colliding into each other, and players trying to drive one another into the ground. He wants to "hear football" when Michigan takes the field because he wants his team to be tough, physical, strong, and powerful. Yet, the only thing Hoke has heard from his offensive line is silence.
Michigan's offense has derailed in the month of November, and its offensive line deserves much of the blame. Prior to November, U-M's offense averaged 42.4 points and 446.5 total yards in its first seven games. In its two November contests, the offense has scored 19 points and gained 343 total yards combined, averaging 9.5 points and 171.5 total yards per game.
To make matters worse, not only has Michigan rushed for minus-69 yards on 65 carries in its last two games, it has rushed for positive yardage in only one of those eight quarters. Against Michigan State, U-M set a program low with minus-48 rushing yards, breaking a 51-year-old school record that Michigan wanted to stand untouched for all of eternity. Then, with minus-21 rushing yards against Nebraska the following week, the Maize and Blue became only the second team this millennium to turn in negative rushing performances in back-to-back games.
The lousy offensive display in East Lansing was unacceptable by Michigan standards, but was somewhat understandable. The Spartans' defense was ranked in the top three in the nation in almost every relevant defensive category, including scoring defense, total defense, rushing defense, and passing yards allowed. There is no doubt that MSU's defense was one of the best defenses in the country, if not the best.
But Nebraska's defense was not.  Prior to last Saturday, the Cornhuskers were ranked #46 in scoring defense, #70 in total defense, #85 in rushing defense, and #39 in passing yards allowed. This mediocre defense—the same one that allowed 516 rushing yards to its two prior opponents—stunningly prevented Michigan from netting positive rushing yards for the second straight week.
There is no way around it: Michigan's offense currently is broken. Before it can be fixed, the problem must be identified first. For the Wolverines, they must look no further than the offensive line.
Entering the 2013 campaign, expectations for Michigan's offensive line were high. Blame for last season's sub-par performance from the offensive line was placed upon the three then-senior interior linemen—whom former head coach Rich Rodriguez recruited to play in his zone-blocking schemes—whose skillsets did not mesh well with offensive coordinator Al Borges' man-blocking schemes. The below-average play was written off as a cost of the transition from Rodriguez's spread read-option offense to Borges' power offense. With talented, but inexperienced, interior linemen with skillsets more suited for Borges' man-blocking schemes joining the starting lineup this season, significant improvement along the line of scrimmage was expected.
Instead, Michigan's offensive line has worsened despite starting an All-American and future high-first-round NFL Draft pick at left tackle. The decline has never been more evident than in Michigan's two November games, in which U-M rushed for minus-69 yards, lost more than one yard per carry, allowed 26 tackles-for-loss, and allowed 14 sacks. Thus, the Wolverines' offensive line has been so poor in November that it has averaged 13 tackles-for-loss allowed and seven sacks allowed, while U-M's backs averaged minus-34.5 rushing yards, in those contests.
However, the decline in the play of Michigan's offensive line has not been limited to only the month of November. The cracks have been there all season. To oversimplify, an offensive line has two responsibilities: (1) create holes through which running backs run; and (2) prevent the opposing defense from sacking the quarterback. Michigan's national rankings in offensive categories that help track whether an offensive line has maintained these responsibilities have tumbled. Not only have the rankings tumbled, they have fallen so far that they are similar to Michigan's rankings in 2008—a year considered to be the season in which Michigan had its worst offense and offensive line in recent memory, if not ever.
To see the similarities, here is a table comparing these Michigan's 2008 and 2013 national rankings in these offensive categories:
Michigan National Ranks: 2013 vs. 2008

2013
2008
Nat'l Rank
Average/Game
Nat'l Rank
Average/Game
Total Offense
T-83
385.33
109
290.75
Rushing Offense
97
135.33
59
147.58
Yards Per Carry
111
3.25
73
3.91
Passing Offense
51
250.00
108
143.17
TFLs Allowed
123*
9.00
116
7.75
Sacks Allowed
T-105
2.89
T-57
1.83
*Last in FBS
According to the table above, the only offensive categories in which Michigan is better in 2013 than 2008 are total offense and passing offense. These improvements can be credited to quarterback Devin Gardner. Gardner—who leads the Big Ten in total offense and points responsible for—is a far superior quarterback than the platoon of Steven Threet and Nick Sheridan that completed less than half its passes in 2008.
However, Michigan has been worse in every other offensive category in the above table this season compared to 2008. Even though there are only 123 FBS teams, the Wolverines are ranked outside the top 100 in rushing yards per carry, tackles-for-loss allowed, and sacks allowed. Plus, Michigan is on the edge of being ranked outside the top 100 in rushing offense, too. To cap it off, U-M has allowed more tackles-for-loss in 2013 than any other FBS team in the nation, permitting defenses to tackle U-M players behind the line of scrimmage nine times per game.
It must be noted that offensive lines are one of the toughest positions to evaluate because there are no statistics that measure individual performance—at least none made available to the public. Coaches use other units, such as assignment grades and loafs, that indicate how well an individual offensive lineman has played. Assignment grades determine how well offensive linemen executed their assignments each game, while loafs measure how many times offensive linemen did not provide the effort needed to finish a play. But given that Michigan has started nine different offensive linemen in nine games, only one of which was due to injury, it seems likely that all stats measuring the performance of offensive lines have come to the same conclusion: Michigan's may be one of the worst in program history.
Unfortunately for the Wolverines, with only four games remaining, there is no permanent solution that will fix this before the season ends. A shift in Borges' play-calling may slightly alleviate the problem.  As "Inside the Numbers" alluded to prior to MSU, Borges has been tipping his play calls based upon Michigan's formation, especially on third downs. Nebraska defensive end Randy Gregory confirmed this observation in the aftermath of the Cornhuskers' 17-13 win against the Wolverines with this quote: "They had certain tendencies. Whatever formation they came out in, we knew what they were going to throw at us." When defenses notice these tells, they adjust accordingly and put the offensive line in situations in which it has no chance to make the necessary blocks to execute a play successfully.
But Michigan fans must be patient because this would only be a temporary, limited solution. The other issues affecting Michigan's offensive line—mostly inexperience—can only be fixed with time.  Of the seven linemen Michigan has started along the interior, six are no older than redshirt sophomores and zero made a collegiate start prior to this season. Plus, in 2014, U-M will have seven additional linemen—all of which currently are either redshirt freshmen or true freshmen—that will be available to play.
Raw talent will not be an issue for Michigan's offensive line in the future. Of these 14 offensive linemen available to play in 2014, Rivals.com rated nine of them as five- or four-star high school recruits. These players have very high ceilings. The question will be whether Michigan will be able to develop and transform their vast potential into reality. If so, Hoke finally will be able to "hear football" from his offensive line once again. If not, the silence will become deafening.
Three Notes You Should Know Before Michigan-Nebraska
At the moment, Michigan is a 2.5-point underdog against Northwestern, according to Las Vegas sports books. This is the first time in the history of this series that Michigan has not been a favorite against the Wildcats. Prior to this year, the Wolverines always had been at least a three-point favorite against Northwestern, with U-M being a 21.3-point favorite on average.
Michigan has forced 18 turnovers through nine games this season, matching the number it forced in all of 2012. However, U-M has converted only 11 of those 18 extra possessions into 65 points—eight touchdowns and three field goals. Further, the Wolverines have turned the last three turnovers they have forced into only three points, despite starting the ensuing series at the opponent's 41-, 33-, and 26-yard line.
Wide receiver Jeremy Gallon has 947 receiving yards for the 2013 campaign and 2,278 receiving yards for his career. Gallon needs 40 receiving yards to pass David Terrell for the fourth-most career receiving yards in Michigan history and 53 receiving yards to become the 10th wide receiver in program history to have a 1,000-yard season.
You can follow Drew on Twitter: @DrewCHallett