---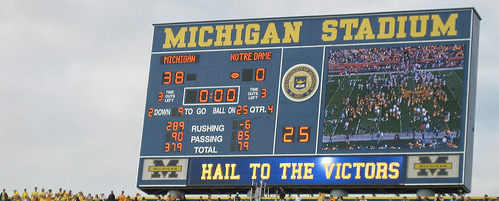 October 20, 1984 was a long time ago. Brady Hoke and Greg Mattison were coaching football, not at Michigan, but 100 miles west of Ann Arbor at Western Michigan. Teachers was the highest-grossing film of the weekend. Stevie Wonder's "I Just Called to Say I Love You" topped the Billboard Hot 100 chart for the second straight week. The price of regular gasoline was only $1.21. The author of this column would not even be born for another 53 months. Yet, that date marks the last time the Michigan football team put a goose egg on the scoreboard.
On that October Saturday in 1984, the Iowa Hawkeyes held Michigan scoreless, winning by a score of 26-0. It was an ugly, ugly game for the Wolverines. Michigan managed to accumulate only 187 total yards, did not see a single play gain more than 14 yards, and turned the football over four times. U-M's quarterback tandem of Russ Rein and Chris Zurbrugg completed only 11-of-25 passes for a whopping total of 83 yards and completed three more passes to the wrong team. Michigan's leading rusher, Rick Rogers, toted the rock 19 times, but averaged only 2.9 yards per carry. There is no play-by-play available to indicate if the Wolverines blew any easy chances to score. Nonetheless, the hideous box score indicates that this was a Maize and Blue mess. [Edit: As reader sarcasMike pointed out below, Rein threw an interception on 3rd-and-goal from the Iowa 14 in the second half].
Michigan has had putrid offensive performances after that dreadful day in Iowa City, but the Wolverines have not had such a showing of offensive ineptitude in the 29 years and one month since. In that span, Michigan has scored points in 361 consecutive games, tying Brigham Young's NCAA record when Brendan Gibbons split the uprights from 25 yards out with 8:45 remaining left in the first quarter against Northwestern last Saturday.
During the first two decades of Michigan's streak, U-M scored in 245 straight games, which at the time was the fourth-longest streak in NCAA history. But the Wolverines needed all three teams with longer streaks to have theirs snapped before U-M would be the given the opportunity to eclipse their marks. Even though Michigan kept scoring, it could not make up any ground on those above them until those streaks were dead.
Then, it happened. And it happened fast. On November 22, 2003, BYU's record streak of 361 games was put to a halt when its in-state rival Utah Utes shut out the Cougars, 3-0, in the regular-season finale. The following season, the Texas Longhorns—which had put together a streak of 282 games without being shut out—were the next to bite the dust. Texas suffered only one loss during the 2004 season, but it could not make it count when it needed to. Literally. The Longhorns fell to the second-ranked Oklahoma Sooners, 12-0, in the Red River Shootout.
This left only one team between Michigan and a shot to break the NCAA record: the Washington Huskies. Three weeks later, on October 23, 2004, Washington, bearing a streak of 271 contests without being held scoreless, walked into the Coliseum to face the top-ranked USC Trojans. The Huskies were no match for the best team in the nation as their scoring streak went up in flames with a 38-0 beating from the Trojans.
And on that very same day, in West Lafayette, Indiana, Mike Hart took a screen pass from Chad Henne and darted 25 yards before reaching over the goal line to score Michigan's first touchdown against the Purdue Boilermakers with 7:40 left in the first quarter. The touchdown extended Michigan's scoring streak to 246 straight games. But, more importantly, it ensured that U-M would have the longest active non-shutout streak in the nation for at least one week.
Well, 115 weeks of football later, Michigan still has not relinquished its grasp of the nation's longest active non-shutout streak. During this historic 361-game streak, Michigan has scored a grand total of 10,617 points, averaging 29.41 per game. The Maize and Blue may not have had the most prolific or high-octane offense during this 29-plus-year streak, but only one other school in the history of college football has been as consistent about adding points to the scoreboard.
This does not mean that the Wolverines have not had their share of scares in the process, though. During this 361-game streak, U-M has been held to single digits in 16 of them. The following will unleash suppressed trauma for Michigan fans, but here is a list of those games:
Michigan's single-digit scoring performances since Oct. 20, 1984

Date
Opponent
Result
Date
Opponent
Result
Nov. 18, 1984
Ohio State
L, 6-21
Nov. 23, 2002
Ohio State
L, 9-14
Nov. 2, 1985
Illinois
T, 3-3
Sept. 8, 2007
Oregon
L, 7-39
Sept. 12, 1987
Notre Dame
L, 7-26
Nov. 17, 2007
Ohio State
L, 3-14
Oct. 9, 1993
Michigan State
L, 7-17
Nov. 22, 2008
Ohio State
L, 7-42
Nov. 19, 1994
Ohio State
L, 6-22
Nov. 27, 2010
Ohio State
L, 7-37
Nov. 11, 1995
Purdue
W, 5-0
Sept. 22, 2012
Notre Dame
L, 6-13
Nov. 9, 1996
Purdue
L, 3-9
Oct. 27, 2012
Nebraska
L, 9-23
Oct. 26, 2002
Iowa
L, 9-34
Nov. 2, 2013
Michigan State
L, 6-29
These games indicate when Michigan's scoring offense was most futile, but they do not necessarily indicate whether these games put the streak at risk. In most of the contests listed above, the Wolverines scored in the first half, extending the streak, before struggling to produce any more points.
Nonetheless, there were two contests in which the Wolverines did not score their first points of the game until the fourth quarter—one of which is not even listed in the table above. The one that is listed above is Michigan's 13-6 loss to the Notre Dame Fighting Irish on September 22, 2012. Notre Dame held U-M scoreless until Gibbons converted a 33-yard field goal with 13:10 left in the final quarter.
Yet, the contest that most threatened to end the Maize and Blue's historic streak was a game in which Michigan actually won. In Lloyd Carr's Michigan debut on August 26, 1995, the Wolverines trailed the Virginia Cavaliers, 17-0, in the fourth quarter. U-M remained scoreless until there was about 11:30 left in the game when Ed Davis powered into the end zone with a three-yard touchdown run. The score not only extended Michigan's non-shutout streak, but it sparked the largest comeback in U-M history at the time as the Wolverines scored on the final play of regulation to beat Virginia, 18-17.
No team will look perfect offensively in 361 straight games. Heck, no team will look average in 361 straight games. Every school has its offensive ups and downs over the course of three decades. Michigan was bound to have a few clunkers here and there. However, unlike other squads, U-M has been fortunate enough to avoid the goose egg when it has experienced struggles offensively. To put in perspective how remarkable this non-shutout streak is, the following indicates the number of times the other 11 teams currently in the Big Ten have been shut out in the time Michigan has strung together its record-tying streak:
Big Ten teams shut out since Oct. 20, 1984

Team
Number of Times
Last time Shut Out
Score/Opponent
Illinois
12
2012
0-45 vs Michigan
Indiana
8
2000
0-58 vs Michigan
Iowa
4
2000
0-31 vs Illinois
Michigan State
6
2000
0-14 vs Michigan
Minnesota
14
2011
0-58 vs Michigan
Nebraska
2
1996
0-19 vs Arizona State
Northwestern
8
2003
0-20 vs Ohio State
Ohio State
1
1993
0-28 vs Michigan
Penn State
4
2001
0-20 vs Michigan
Purdue
15
2013
0-56 vs Ohio State
Wisconsin
6
1997
0-34 vs Syracuse
Not only has Michigan extended its non-shutout streak to 361 straight games, but it has also played a substantial role in preventing other Big Ten teams from doing the same. U-M has handed six Big Ten teams their last shutout loss. The most significant one is Michigan's 28-0 win against Ohio State in 1993. It is Ohio State's only shutout loss since 1982. If the Wolverines had not held the Buckeyes to zero points exactly 20 years ago from today, OSU would be the Big Ten team with the NCAA-record streak, not Michigan.
But Michigan did shut out Ohio State, and, now, U-M has an opportunity to break BYU's all-time record this Saturday in the same place where it was last shut out just over 29 years ago: Iowa City, Iowa. If the Wolverines can tack some points onto the scoreboard against the Hawkeyes, Michigan will set the NCAA record with its 362nd consecutive contest without being shutout.
However, in recent weeks, Michigan has made offense look more difficult than a toddler trying to solve a Rubik's Cube. In the last three games U-M has played in November, the Wolverines have scored only 28 points in regulation. This is the fewest number of points a Michigan team has scored in three straight regulations since the Wolverines managed only 24 points in three straight from September 25, 1965, to October 9, 1965. Yes, this has been the worst three-game stretch of Michigan's scoring offense in nearly half a century.
So will history repeat itself? Will the Iowa Hawkeyes be able to be the team that bookends Michigan's non-shutout streak? Or will Michigan overcome its offensive woes to set a new NCAA record with its 362nd consecutive game without being held scoreless? Iowa has not shut out a Big Ten opponent since the end of the 2009 season, and one should not expect it to happen again on Saturday. Tune in to Big Ten Network at noon ET on Saturday to watch history—one way or the other.
Three Notes You Should Know Before Michigan-Iowa
1. Under Brady Hoke, Michigan has mustered only a 6-7 record in true road games. After beating the Northwestern Wildcats in triple overtime in Evanston last Saturday, U-M has an opportunity to win two consecutive road games for the first time during Hoke's tenure. The last time the Wolverines won two straight road contests was during the early portion of the 2010 season, when U-M beat Notre Dame in South Bend and Indiana in Bloomington.
2. Last Saturday, Jeremy Gallon became the 10th different receiver in Michigan history to have a 1,000-yard season—the first to do so since Mario Manningham in 2007. This week, Devin Funchess has an opportunity to become the 31st U-M player to record 1,000 career receiving yards. Funchess needs only 82 receiving yards to achieve the feat.
3. With his interception on the last play of the third overtime to secure Michigan's win against Northwestern, Thomas Gordon extended U-M's streak of forcing a turnover to 12 straight games. It was Gordon's third interception of the season. Therefore, with Blake Countess picking off four passes and Raymon Taylor intercepting another three this season, this is the first time since 1998 that Michigan has had three players with three-plus interceptions in a season.