---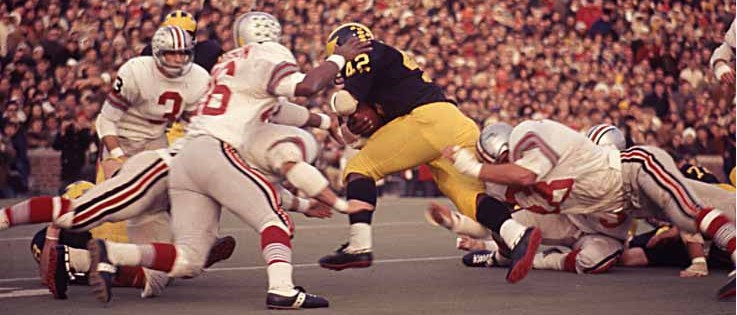 (Bentley.umich.edu)
Michigan versus Ohio State. Maize and Blue versus Scarlet and Gray. The greatest rivalry in all of sports. No fancy nickname or trophy is needed to enhance the rivalry's prestige. It is known simply as "The Game," a term that implies that no athletic competition is better, more important, or more anticipated than the one played on the gridiron between the Wolverines and the Buckeyes each year in late November.
And, yet, this year, Michigan fans are dreading the 110th edition of "The Game." Even worse, U-M fans are apathetic about it. Yes, they still have an interest in the game's result. But the passion and fanatical excitement that usually accompanies that interest? Gone. Or diminished, at best.
Michigan fans finally have bailed on this season. They held onto hope for as long as they could that the Wolverines could right the ship, even after the Wolverines needed incredible plays just to eke out victories against Akron, Connecticut, and Northwestern—teams with a combined 9-23 record. But after U-M blew a 14-point halftime lead against Iowa to lose its third game in four weeks, fans let go of that hope.
To see the quantitative effect, go to Stubhub.com. Ticket prices for "The Game" have plummeted this month. In the summer, the cheapest ticket one could find for this Saturday was for $232, and the average ticket cost $380.38. Those prices made Michigan-Ohio State one of the ten hottest tickets of the college football season. However, this week, prices have dropped to as low as $60 because Michigan fans are selling their tickets en masse. They would rather allow Ohio State fans infiltrate Michigan Stadium than witness firsthand the beatdown that the Buckeyes likely will impose on the Wolverines.
While Michigan fans should support the team through thick and thin, their apathy is not misguided. No matter how one tries to analyze the numbers, whether this year's statistics, the recent history of the Michigan-Ohio State rivalry, or how teams perform as an underdog generally, all signs point to a game that most Wolverine fans will want to forget.
Ohio State enters this Saturday as the third-ranked team in the nation. The Buckeyes have won a school-record 23 straight games and have yet to experience defeat at the helm of Urban Meyer. In contrast, the Wolverines have been trending downwards. After an 11-2 record in Brady Hoke's inaugural season in Ann Arbor, U-M is just 15-9 the past two years and has lost four of its last six contests.
On the field, Michigan's defense has performed well most of the season, but Ohio State's offense will be the most explosive and dynamic it will face. OSU has scored the third-most points and gained the seventh-most yards in the nation. Further, the Buckeyes have topped 30 points in all 11 games and scored at least 40 in all but two. To make matters worse for U-M, OSU runs an up-tempo offense. The last time Michigan's defense faced an offense that lines up at such a rapid pace, it allowed the most points it has this season—47 to Indiana.
On the other side of the line of scrimmage, many consider Ohio State's defense to be a weak link, but that description is only proper if relative to the strength of OSU's offense. The Buckeyes are ranked #8 in scoring defense and #12 in total defense. Ohio State's defense will seem like a sideline-to-sideline roadblock to a Michigan offense that has averaged only 10.5 points and 200.75 total yards in regulation of its last four games. To compound the Wolverines' problems, OSU employs one of the best pass rushes in college football, registering the second-most sacks in the country. This is likely that last thing that Michigan's offensive line—ranked 110th in sacks allowed and dead last in tackles-for-loss allowed—wants to hear.
The statistics suggest undoubtedly that Ohio State is the better team. By far. Las Vegas sports books agree with that sentiment, too, setting the Buckeyes as a 15-point road favorite against Michigan. This is not unfamiliar territory for the Maize and Blue. This is the fourth time in the past six years that Ohio State has been a double-digit favorite against the Wolverines.
The good news for Michigan is that Vegas' betting lines do not determine the outcome of games. Rather, they indicate the quality of two teams relative to one another and help determine which games a team should win and which games a team should lose. The bad news, though, is that Michigan has not won a game against Ohio State that it was supposed to lose in a long time—since 2000 to be exact. Also, Michigan is only 2-10 against the spread versus OSU since then and has not covered the spread against its rivals from Columbus since 2006. Given this trend, the odds that Michigan will not only cover the 15-point spread, but also win outright against the Buckeyes are bleak.
Additionally, under Hoke, Michigan has lacked the ability to upset opponents when given the rare opportunity to do so. In the 11 games in which his team was the underdog, Michigan has won only three times for a paltry winning percentage of 27.3. The Wolverines earned those upset victories against Notre Dame and Illinois in 2011 and Northwestern this season—although, Michigan was no more than a 4.5-point underdog in each.
To be fair, Michigan is not the only team with a poor winning percentage as an underdog. Most teams struggle to win these games. Otherwise, the people employed by Vegas sports books most likely would be pursuing another profession. As the following table indicates, since 2011, all but two Big Ten teams have lost a majority of the games in which Vegas deemed them an underdog:
B1G Schools' Records as a Favorite and an Underdog Since 2011 – By School

School
Overall Record
Record as a Favorite
Record as an Underdog
MICHIGAN
26-11 (70.3%)
23-3 (88.5%)
3-8 (27.3%)
Illinois
13-23 (36.1%)
12-7 (63.2%)
1-16 (5.9%)
Indiana
9-26 (25.7%)
7-5 (58.3%)
2-21 (8.7%)
Iowa
18-18 (50.0%)
16-8 (66.7%)
2-10 (16.7%)
Michigan State
28-10 (73.7%)
22-5 (81.5%)
6-5 (54.5%)
Minnesota
17-19 (47.2%)
10-2 (83.3%)
7-17 (29.2%)
Nebraska
27-11 (71.1%)
24-5 (82.8%)
3-6 (33.3%)
Northwestern
20-17 (54.1%)
14-3 (82.4%)
6-14 (30.0%)
Ohio State
29-7 (80.6%)
25-3 (89.3%)
4-4 (50.0%)
Penn State
23-13 (63.9%)
19-4 (82.6%)
4-9 (30.8%)
Purdue
14-23 (37.8%)
11-2 (84.6%)
3-21 (12.5%)
Wisconsin
28-11 (71.8%)
27-5 (84.4%)
1-6 (14.3%)
However, not all underdogs are the same. Small underdogs have a significantly better chance to win than an underdog projected to lose by double digits. This should not be groundbreaking to most. The following table provides, since 2011, how often Big Ten underdogs have won based on the value of the spread:
B1G Schools' Records as an Underdog Since 2011 – By Spread Value

0.0 to +3.0
+3.5 to +7.0
+7.5 to +10.0
+10.5 to +14.0
+14.5 or More
22-21 (51.2%)
9-34 (20.9%)
8-25 (24.2%)
1-17 (5.6%)
2-40 (4.8%)
There have been three different types of Big Ten underdogs recently. First, teams that were an underdog by a field goal or less actually have won more often than they lost. Second, teams that were an underdog by more than field goal but no more than 10 points won just more than one-fifth of their games. Michigan has been no exception under Hoke. U-M is 2-2 in games in which it was a three-point underdog or less, 1-5 in games in which it was a 3.5-point to 10-point underdog.
The third type, which unfortunately applies to Michigan this Saturday, consists of teams that were projected to lose by more than 10 points. These teams win outright only once in a blue moon. Since 2011, these underdogs have won only three times in 60 chances. Here are those three monumental upsets:
B1G Underdogs (10.5 Points or More) that Won Outright Since 2011

Date
Underdog
Opponent
Spread
Score
Oct. 29, 2011
Minnesota
Iowa
+14.5
22-21
Nov. 5, 2011
Northwestern
Nebraska
+17.5
28-25
Oct. 19, 2013
Minnesota
Northwestern
+12.5
20-17
This is only the sixth time since at least the mid-1990s—and likely much earlier than then—that Michigan has been this type of underdog. In that span, the Wolverines have pulled off the shocking upset only once, but it was not under the direction of Hoke. Instead, it occurred in Lloyd Carr's final game as Michigan's head coach, when the Wolverines beat Urban Meyer- and Tim Tebow-led Florida, 41-35, in the 2008 Capital One Bowl, despite being a 10.5-point underdog.
Nevertheless, this was not the only time that Maize and Blue pulled off such a big upset. The 2008 Capital One Bowl may be fresher in the minds of Michigan fans, but the other one was slightly more notable. On November 22, 1969, the top-ranked Ohio State Buckeyes arrived in Ann Arbor with a then-school-record 22-game winning streak to play Michigan. Prior to that year, OSU had beaten U-M in 11 of the past 15 games of the rivalry, including a 50-14 rout in 1968. Very few outside the U-M locker room, if any, expected Michigan, a 17-point underdog, to beat a team considered by some at the time to be the best college football team in the history of the sport.
The rest is history. Michigan manhandled Ohio State for all 60 minutes, relying on seven OSU turnovers en route to a 24-12 victory, which was coined by ABC play-by-play announcer Bill Flemming as "the upset of the century." The historic upset sent Michigan to the Rose Bowl, prevented Ohio State from clinching its second straight national championship, and sparked the legendary Ten Year War between Bo Schembechler and Woody Hayes. It is regarded by many as the most important win in Michigan football history.
So what does this mean entirely for the 2013 Michigan football team with "The Game" only three days away? It means that the Michigan fan base does not believe the Wolverines can upset the Buckeyes. It means that the statistics do not believe that the Wolverines can upset the Buckeyes. It means that Vegas sports books do not believe that the Wolverines can upset the Buckeyes.
Guess what? They are all probably right. The odds that the Wolverines upset the Buckeyes are slim to none.
So despite the fact the author of this column has preached for weeks that the truth lies within the numbers, the Michigan players need to walk out of the Michigan Stadium tunnel at noon this Saturday and yell collectively, "Screw them! Screw the numbers!" They need to remember 1969. They need to remember that, although they may not be as talented as that 1969 Michigan team, the Wolverines have stunned the Buckeyes before as a double-digit underdog. They need to remember that history has a tendency to repeat itself.
And, most importantly, they need to #BeatOhio.
Three Notes You Should Know Before Michigan-Ohio State
This Saturday will be the third straight game that Michigan will be an underdog. Two weeks ago, U-M was a 2.5-point underdog against Northwestern, and, last week, it was a six-point underdog to Iowa. This is the first time since the final three games of the 2010 season against Wisconsin, Ohio State, and Mississippi State that the Wolverines have been an underdog in three consecutive contests.
Both Blake Countess and Raymon Taylor added interceptions to their season totals. Countess became the 14th Wolverine to pick five passes in a season—the most by a U-M player since Todd Howard intercepted six passes in 2000. Taylor's fourth interception meant that Michigan has two players with at least four picks in the same season for the first time since 1998.
As this section has mentioned almost weekly, Jeremy Gallon has been climbing up Michigan's receiving lists. Gallon has 1,109 receiving yards this season, needing only 66 yards on Saturday to have the second-most, single-season total in school history. In addition, Gallon and Devin Funchess have 1,795 combined receiving yards in 2013. If they add 262 more to that total by season's end, they will be the most prolific single-season receiver duo in U-M history.
You can follow Drew on Twitter: @DrewCHallett