---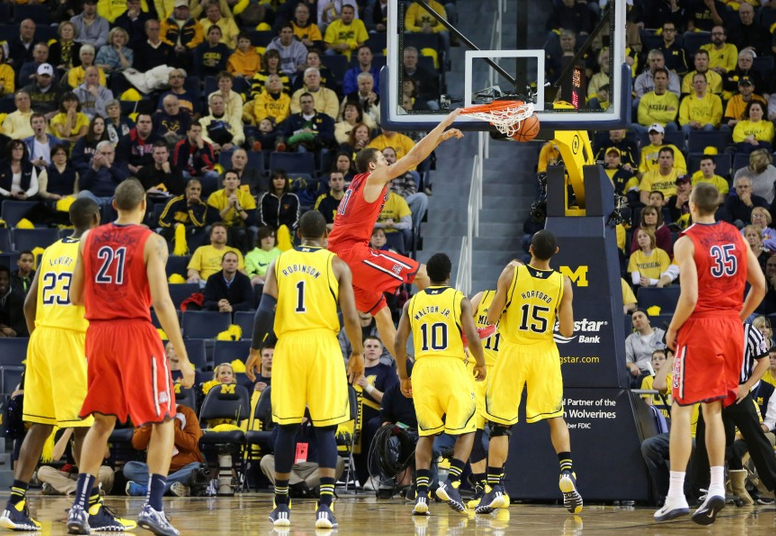 (Dustin Johnson, UMHoops)
Note: "Inside the Numbers" has returned. With only the bowl game remaining for Michigan football, this column will turn most of its attention to the Michigan men's basketball team for the remainder of the athletic year. This is the first such installment. Enjoy!
Panic. Michigan is 6-4. This became Michigan's record when Nik Stauskas' three-quarters-court heave ricocheted harmlessly off the backboard as the buzzer echoed throughout the Crisler Center last Saturday. It signaled that Michigan had fallen to the top-ranked Arizona Wildcats by two points at home. The loss snapped the Wolverines' home non-conference winning streak at 20 games.
Panic. Michigan is 6-4. The Wolverines suffered their fourth loss this season on December 14th. Last season, U-M did not lose its fourth game until February 12th, when U-M's rival from East Lansing beat it by 23 points, handing the Maize and Blue its only double-digit loss of the season. That was 60 days later in the season than when this year's squad earned its fourth loss.
Panic. Michigan is 6-4. Last season, Michigan was one of three teams that never fell out of the Top 10 in the Associated Press Poll, with the other two being Indiana and Duke. This year, the AP ranked U-M at #7 in the preseason. Now, just seven weeks later, the Wolverines received only three measly votes in the AP Poll.
Panic. Michigan is 6-4. This is the third time in John Beilein's seven years at Michigan that the Wolverines have been defeated at least four times before New Year's Day. The first two times it happened were in 2007-08 and 2009-10. Those are the only two U-M teams under Beilein that did not appear in the NCAA Tournament. Further, both of those teams finished with sub-.500 records.
Panic. Michigan is 6-4. Since 2003, only one team that appeared in the national championship game has opened the following season with a worse record. That distinction belongs to the 2011-12 Butler Bulldogs, a team that started its season 4-6 before accepting an invitation to play its post-season basketball in the College Basketball Invitational—two tiers below the NCAA Tournament.
Panic. Michigan is 6-4. Except Michigan's record is a lie because U-M currently is playing as a Top 25-caliber and Big Ten-championship-contending squad.
Each year, a debate ensues about the validity of advanced statistics in basketball. Basketball traditionalists do not invest much faith in them, relying on team records, polls, and RPI to evaluate a basketball team. Others rely on advanced statistics, which look past wins and losses and, instead, evaluate a basketball team by how it performs on a per-possession basis. A per-possession evaluation accounts for variables in basketball, such as margin of victory, strength of schedule, and tempo, that a win-loss record cannot embody.
Ken Pomeroy is one of the biggest proponents of advanced statistics in college basketball. Pomeroy owns and operates a website, KenPom.com, which provides and analyzes these statistics. To analyze them, he created an algorithm that evaluates all 351 NCAA D-1 basketball teams on a per-possession basis and then ranks them accordingly. Pomeroy's algorithm is complex, but there is a simple way to describe how it works. First, the algorithm calculates how much a team would outscore an average NCAA D-1 team in 100 possessions. Second, the algorithm ranks each team based on that margin of victory or defeat in descending order. Therefore, for example, if Team A would outscore an average NCAA D-1 team by 25 points in a 100-possession game, then the algorithm would rank it higher than Team B if Team B would outscore an average NCAA D-1 team by only 10 points in a 100-possession game.
As warned earlier, this is a very basic explanation about how advanced statistics work in basketball. Advanced statistics have much more depth to them. Basketball fans should learn how advanced statistics work if they have not already because these statistics will broaden their knowledge of the game. But the above explanation will provide a sufficient foundation to help Michigan fans understand why they need not panic about the Wolverines' 6-4 record.
As of yesterday, despite Michigan's 6-4 record, Pomeroy's algorithm ranked the Wolverines #23 in the nation. Even though U-M has suffered four losses before New Year's Day, the algorithm projected that only 22 other schools would outscore an average NCAA D-1 team in a 100-possession game by more than the margin Michigan would. Not only does Pomeroy's algorithm view Michigan as a Top 25-caliber team, it believes that this year's squad is better than the one that won Michigan's first Big Ten regular-season championship since 1986 in 2011-12.
Then why does Michigan have a 6-4 record? Because the Wolverines have experienced more bad luck to open the season than almost every other team in the country.
One must remember that Pomeroy's algorithm evaluates a team on a per-possession basis, not by its record. Accordingly, if Team A would beat an average NCAA D-1 team by only one point in a 100-possession game, and Team B would lose to an average NCAA D-1 team by only one point in a 100-possession game, the algorithm would view Team A and Team B as being nearly equal because there would be only a two-point difference between Team A and Team B.
Yet, if Team A played an average NCAA D-1 team in a 100-possession game 10 times and won each time by one point, and Team B played an average NCAA D-1 team in a 100-possession game 10 times and lost each time by one point, Team A would be 10-0 and Team B would be 0-10 despite being essentially equal teams. Pomeroy quantifies this effect as "Luck." To explain "Luck" to his readers, Pomeroy wrote, "Essentially, a team involved in a lot of close games should not win (or lose) all of them. Those that do will be viewed as lucky (or unlucky)."
So why is Michigan 6-4, rather than 9-1 or 8-2? Because Michigan has won most of its games in convincing fashion and lost all of its games in the final few possessions. Accordingly, as of yesterday, Pomeroy's algorithm ranked the Wolverines 344th out of 351 NCAA D-1 teams in his "Luck" category. His algorithm believes that Michigan is the eighth unluckiest team in the country.
This is why Michigan's record is so poor through its first 10 games, not because U-M is that much worse than the squad that played for a national championship last season. For example, if the Wolverines prevent Charlotte's Terrence Williams from tipping in his own air ball with 0.4 seconds left in the game to beat U-M, 63-61, they likely beat the 49ers in OT.
The best example is Michigan's loss to Arizona on Saturday. First, if Caris LeVert or Mitch McGary corral the rebound from T.J. McConnell's missed jumper with less than a minute left, U-M maintains its one-point lead and likely wins. Second, after McConnell rebounded his own miss, if the officials do not whistle McGary for a ticky-tacky blocking foul that sent Nick Johnson to the free-throw line and allowed the Wildcats to take the lead, U-M likely wins. Finally, if Stauskas' jumper falls rather than rattling in and out with 18 seconds left, U-M regains the lead and is one stop away from a win.
Flip those two games, and Michigan is 8-2 with a home win against #1 Arizona and two road losses to Iowa State and Duke—both of which are ranked and have a combined 16-2 record. Not only would Michigan fans not be panicking, they would be contemplating a Big Ten regular-season championship, especially because U-M likely still would be ranked in the Top 15 of the AP Poll.
It is amazing how one or two plays can affect the perception of a team. And this is why records and polls lie. Flip the Charlotte and Arizona games, give Michigan an 8-2 record and a Top 15 ranking, and this still would be the same Michigan basketball team. The Wolverines would be only slightly better than they are now, if at all, if they had won those two games. Pomeroy's algorithm recognizes this, even if Michigan's record and the polls do not.
However, the Maize and Blue still need to have a sense of urgency because, unfortunately, the NCAA Tournament selection committee does not use Pomeroy's algorithm or rankings as part of its criteria. Instead, it looks at the two criteria that most hurt Michigan's resume right now: win-loss record and RPI. Therefore, Michigan cannot wait any longer to prove to basketball traditionalists that it is a Top 25-caliber team.
The Wolverines' current level of play suggests that the wins should start to come if it maintains that level, but U-M cannot afford to lose many more close games. U-M needs those wins, especially against high-caliber opponents. If the Wolverines start to earn those wins, the NCAA Tournament selection committee will believe that the Wolverines are deserving of a high seed. Otherwise, U-M will receive a low at-large seed, hindering its odds to make another run in the NCAA Tournament, or risk not making the tournament at all.
Thus, it cannot be emphasized enough how important it is that Michigan beat Stanford at the Barclays Center this Saturday. First, Michigan will be a slight favorite over the Cardinal. A win against the school from Palo Alto would be U-M's second quality win of the season thus far, with Florida State being the first. Second, the NCAA Tournament selection committee generally will offer an at-large bid to a Big Ten school that finishes the regular season with 20 wins and a .500 conference record. If Michigan loses to Stanford, it likely will have a 7-5 non-conference record, needing a 13-5 record in the nation's best conference to hit the 20-win mark. This is not a situation in which the Wolverines want to find themselves.
Nevertheless, this year's Michigan hoops team has still been very, very good. If it sustains this level of play, in time, it will reappear in the AP Top 25 and be a strong contender for a Big Ten championship. Although Michigan is by no means flawless and still has weaknesses it needs to remedy, the team will be just as good as many of you expected it to be prior to the season.
Panic. Michigan fans need not do it. At least not yet.
Three Notes You Should Know Before Michigan-Stanford
• Michigan has had a 20-point scorer in nine straight games—the longest such streak at Michigan during John Beilein's tenure. Nik Stauskas has been the most vital player to this streak, scoring at least 20 points in six times during this span. The other players who have helped maintain it are Caris LeVert, who has topped 20 points three times, Zak Irvin, and Glenn Robinson III.
• The Wolverines are shooting 39.2 percent on three-pointers this season. This is a higher percentage than any prior Michigan team under Beilein could muster. Look for U-M to take advantage of this against Stanford, which is ranked #241 in three-point defense and allows opponents to make 36.1 percent of their three-pointers.
• New York City treated Michigan very well last season. The Wolverines played three games there—two at Madison Square Garden and one at the Barclays Center—and beat three major-conference opponents—Pittsburgh, Kansas State, and West Virginia—by an average margin of 11.1 points. The Maize and Blue will travel back this Saturday to play the Stanford Cardinal at the Barclays Center.
You can follow Drew on Twitter: @DrewCHallett