---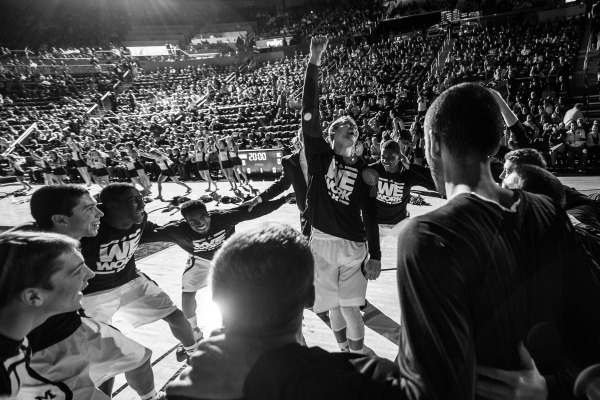 (MGoBlue.com)
Michigan can win the Big Ten regular-season championship. Even with no Trey Burke. Even with no Tim Hardaway, Jr. Even after Michigan opened with a lackluster 6-4 record. And even after Michigan announced that preseason All-American Mitch McGary opted to have back surgery and likely would miss the rest of the season. Michigan may be unranked, but many fail to realize that advanced metrics still view Michigan as a Top 25 team and Big Ten contender. But, if U-M wants to prove to the rest of the world that it is those things, it must improve its play on one side of the court.
To the surprise of some U-M fans, that side of the court is not the offense. In the preseason, there were questions about whether the Wolverines would be able to replace the offensive production of Burke and Hardaway, Jr. They were fair questions, too. Not only were Burke and Hardaway, Jr. first-round selections in the 2013 NBA Draft, they had the two highest usage rates for Michigan last season. More possessions went through Burke and Hardaway, Jr. than any other Wolverine for an offense that was considered by advanced statistics to be the most efficient in the nation. Overcoming two losses that significant is no simple task.
Yet, Michigan has done so. U-M currently does not have the most efficient offense in the nation like last year, but there has been only a slight regression. Last season, Michigan would have been expected to score 120.3 points against an average NCAA D-1 team in a 100-possession game. This season, the Wolverines would be expected to score 115.9 points against an average NCAA D-1 team in a 100-possession game. Accordingly, Michigan's offense has been the 16th-most efficient offense out of 351 NCAA D-1 teams this season. This is still an elite offense.
How? Because five of U-M's six non-freshmen that play significant minutes have increased their offensive efficiency while either maintaining or increasing their usage rage from last season:
Michigan Players' Usage Rates & Offensive Ratings

Usage Rate
Offensive Rating
2012-13
2013-14
Margin
2012-13
2013-14
Margin
LeVert
15.2
19.3
4.1
93.4
112.0
18.6
Morgan
17.5
17.4
-0.1
109.4
117.1
7.7
Stauskas
16.2
23.3
7.1
122.8
130.4
7.6
Albrecht
13.8
14.0
0.2
120.7
126.5
5.8
Horford
17.1
18.5
1.4
115.7
120.3
4.6
Robinson III
15.2
21.0
5.8
128.4
119.8
-8.6
Nik Stauskas has been the key to Michigan's sustained success offensively. Last season, Stauskas' offensive rating was 122.8, which meant he was the 36th-most efficient offensive player in the nation. So what did Stauskas do this season? He improved his offensive rating by 7.6 points, while becoming U-M's "go-to guy." As a result, Stauskas is the fourth-most efficient offensive player in the nation among those who use at least 23 percent of their team's possessions. Very few players have been better offensively than Stauskas this season.
Stauskas is not the only reason why Michigan's offense still is elite. Look no further than Caris LeVert. LeVert has had a rollercoaster season, but he is one of the most improved offensive players in the nation. His offensive rating has increased by a whopping 18.6 points, and his usage rate has jumped 4.1 percentage points. That is a remarkable leap. And it is why LeVert has become one of U-M's best scorers. Plus, Jordan Morgan, Spike Albrecht, and Jon Horford each have been more efficient offensively despite using more possessions this season than last.
The only non-freshman that has become less efficient offensively is Glenn Robinson III. But that does not mean he is an inefficient offensive player. Robinson III's 119.8 offensive rating is in the Top 300 among all players. The regression is because his offensive rating was so high last season—the tenth-best in the nation. With an increase in his usage rate from 15.2 to 21 percent, it is no surprise that Robinson III's efficiency has dipped. It is extremely difficult for a player to be more efficient when he uses that many more offensive possessions. Yes, Stauskas has done it, but Stauskas is a rare case. It should not be expected of Robinson III. Michigan fans should be pleased with Robinson III's efficiency this season, especially the past few weeks.
Throw in Zak Irvin and Derrick Walton, Jr.—who are beginning to settle into their offensive roles—and the Wolverines' offense will continue to be a terror for Big Ten opponents. But, if the Maize and Blue want to raise a Big Ten championship banner for the second time in three years, Michigan must solidify its play on the defensive side of the court.
John Beilein's teams never have been known for playing superb defense, going back to his days at West Virginia. In Beilein's five seasons as the head man in Morgantown, the Mountaineers never finished better than #70 in adjusted defensive efficiency—a metric that projects the number of points a team would allow against an average NCAA D-1 team in a 100-possession game. His defenses at Michigan have been better, but U-M has yet to finish in the Top 30 in adjusted defensive efficiency in six seasons under Beilein.
Michigan had a promising start defensively this season. Six of U-M's first seven opponents have had one of their four least-efficient offensive performances of the season against the Wolverines. Five of those opponents were not even able to muster more than one point per possession. The sixth opponent—Iowa State—did not necessarily struggle offensively against Michigan, but the 1.04 points per possession the Cyclones averaged against U-M was ISU's lowest of the season. Consequently, U-M ranked in the Top 30 in adjusted defensive efficiency.
However, in four of their next five games, the Wolverines began to show cracks defensively. And the one game they did not was against Houston Baptist—one of the worst teams in NCAA D-1 basketball. In those four games, Michigan allowed Duke, Arizona, Stanford, and Holy Cross each to average more than one point per possession. Further, the Wolverines allowed Duke, Arizona, and Holy Cross each to have one of their best offensive performances of the season against U-M. Hence, it was no shock that Michigan's rank in adjusted defensive efficiency slipped out of the Top 30 all the way down to #51 once U-M's non-conference schedule ended.
With an efficient offense, Michigan can afford those defensive lapses against lesser teams because the offense will carry U-M to victories by double digits. But Michigan cannot afford such lapses against quality opponents. And Michigan will face an abundance of quality teams in the Big Ten—the best conference in the nation according to most metrics. Seven Big Ten teams are ranked in Ken Pomeroy's Top 50, and 11 of the 12 Big Ten schools are ranked in his Top 100. Simply: there are no easy games in the Big Ten, and Michigan will find itself in multiple down-to-the-wire contests that will be decided in the final few possessions.
The bad news for Michigan is that it had major problems defensively in the final minutes of close non-conference games. U-M played in five non-conference games decided by less than ten points. In its first two games decided by single digits, against Iowa State and Florida State, Michigan's defense actually performed well in the final seven minutes of the game and in overtime relative to the first 33 minutes. But, as the table below provides, in its next three non-conference games decided by single digits, Michigan was a sieve defensively in the last seven minutes:
Michigan's Defense in Single-Digit Games – Non-Conference Games

First 33 Minutes
Last Seven Minutes & Overtime
Possessions
Pts Allowed
Pts Alwd/Pos.
Possessions
Pts Allowed
Pts Alwd/Pos.
Iowa State
61
62
1.02
13
15
1.15
Florida State
48
59
1.23
23
21
0.91
Charlotte
59
46
0.78
12
17
1.42
Arizona
49
50
1.02
12
22
1.83
Stanford
52
46
0.88
12
19
1.58
Michigan allowed 0.64 more points per possession to Charlotte, 0.81 more points per possession to Arizona, and 0.70 more points per possession to Stanford in the final seven minutes than it did in the first 33 minutes. Further, in the final seven minutes of those three games, Charlotte, Arizona, and Stanford had 36 offensive possessions total. Yet, the Wolverines forced only six stops during those possessions. Thus, U-M's defensive stop rate during the final seven minutes against those three opponents was a paltry 16.7 percent. And each of those games was decided by three points or less.
That is a recipe for disaster. One caveat is that defenses may make fewer stops at the end of games because teams are in the bonus and fouls send offenses to the free-throw line more often. But that alone is not enough to explain why Michigan struggled mightily to get critical stops at the end of tight games against Charlotte, Arizona, and Stanford. Basically, Michigan just played very poor defense in the final minutes against those opponents. And U-M did so differently each time.
Against Charlotte, Michigan's perimeter defense struggled as the 49ers knocked down 5-of-6 jumpers, including two three-pointers, in the final seven minutes. This prolonged the time U-M—which trailed by 12 points early in the second half—needed to tie the game. The Wolverines finally were able to notch the game-tying bucket with eight seconds left. However, Charlotte tipped in its own miss with two seconds remaining, and Michigan's comeback bid was over.
Against Arizona, Michigan led by eight points with seven minutes on the clock. Then, U-M did not grab another defensive rebound until the Wildcats missed a free throw with two seconds left. This allowed Arizona to score on all of its final 12 possessions and come back to beat the Wolverines by two points. Just like that, two potential Michigan wins went down the drain.
Against Stanford, Michigan almost coughed up another victory. The Wolverines led the Cardinal by ten points with seven minutes left. But U-M then committed seven fouls. As a result, Stanford shot 13 free throws in the final seven minutes and made 11 of them. Michigan could muster only two stops in Stanford's final 12 possessions. Thankfully, for the Wolverines, one of two occurred on the Stanford's last possession of the game when the Cardinal tried to send the game to overtime with a three-pointer, but missed.
If Michigan wants to win the Big Ten championship, it must improve its defense, especially in the final minutes of competitive games. Over the next two months, U-M will find itself in many tight games and cannot afford to give easy points to its opponents at critical junctures of the contest. Michigan needs to get those stops. Otherwise, U-M can kiss its championship hopes goodbye.
The good news for the Wolverines is that they have made noticeable improvement to start the Big Ten schedule. In its conference opener against Minnesota, Michigan became the first team to hold the Gophers to less below one point per possession. Further, no one led by more than eight points the entire game, and, in the final seven minutes, U-M's defensive stop rate was 50 percent. The Wolverines made just enough stops to eke out a 63-60 win on the road against a quality Minnesota club. In the following game, Michigan did not need to worry about its late-game defense because it held Northwestern to only 0.84 points per possession in a 23-point rout.
As a result of Michigan's defensive improvement to open the Big Ten slate, its ranking for adjusted defensive efficiency has leapt from #51 to #38. Although their ranking still is outside the Top 30, the Wolverines are getting back on track. U-M should be able to work out the rest of its defensive kinks in its next two games against Nebraska and Penn State—the 121st- and 66th-most efficient offenses in the nation, respectively. If so, Michigan likely will improve its Big Ten record to 4-0 and just may see its adjusted defensive efficiency ranked in the Top 30.
And just in time, too. After facing the Cornhuskers and the Nittany Lions, the Wolverines will travel to the Kohl Center to clash with the Wisconsin Badgers—one of only five remaining undefeated teams as of this morning—and the 12th-most efficient offense in the nation. It is there and then when the public will learn if Michigan's defense truly is prepared to contend for a Big Ten championship.