---

(Mike McGinnis, Getty Images)
Even though "Inside the Numbers" had been claiming for weeks that Michigan was a Big Ten contender, it was not until Michigan's fifth straight victory to open Big Ten play that the rest of the nation realized the same. Last Saturday, Michigan walked into the Kohl Center—a place where U-M had not won since 1999—and beat the Wisconsin Badgers, 77-70, in one of the most aesthetically-pleasing college basketball games thus far this season.
The Wolverines were in command almost the entire contest. They led Wisconsin—last week's No.3 team in the Associated Press poll—for all but one minute and 25 seconds and owned a 15-point lead midway through the second half. Wisconsin enhanced the drama by cutting U-M's lead to one with two minutes left. But, in those final two minutes, UW never had possession of the basketball with the opportunity to reclaim the lead. That is because Nik Stauskas buried the Badgers with this "cold-blooded," step-back three-pointer.
Not only did Michigan earn what advanced metrics considered at the time to be the toughest Big Ten contest a team could win this season, it was a historic victory for the program from Ann Arbor. It was Michigan's first win against an AP Top 3 team in the seven years John Beilein has served as the Wolverines' head coach. It also was the first road win against an AP Top 3 team in the 98 years of Michigan basketball.
But Michigan has no time to celebrate. The path to a Big Ten championship will not become any less bumpy, especially in the next few days. What is the Wolverines' reward for beating Wisconsin in Madison? It is the opportunity to play No.10 Iowa at home tonight and No.3 Michigan State in East Lansing just three days thereafter.
This will be the second time that Michigan has played three straight regular-season games against AP Top 10 schools in program history. The first time the Wolverines endured such a challenge was in December of 1963. Michigan cruised to a 16-point win against No.5 Duke, defeated No.10 NYU by nine points, and lost to No.4 UCLA, 98-80, in the span of seven days that December.
However, this will not be the first time in 51 years that Michigan has faced such a difficult stretch of games. In actuality, the Wolverines have become quite accustomed to playing some of the nation's best teams in three or more consecutive games, having done so each of the past three seasons. Since the 2010-11 season, the Wolverines have played at least three consecutive contests against opponents ranked in the Top 15 of Ken Pomeroy's rankings—which are formulated by an advanced algorithm—at least once each season. Those challenges have prepared Michigan for the obstacles it will face not only this week, but in February, too.
During the 2010-11 season, the Maize and Blue were scheduled to play Wisconsin, Kansas, and Ohio State in three consecutive contests from January 5 to January 12, 2011. The Badgers were outside the AP Top 25, but Pomeroy's algorithm—which is a much better evaluator of a college basketball teams' ability—ranked them at No.15. There was no such discrepancy with regards to Kansas and Ohio State as both rankings listed the Jayhawks and Buckeyes in the Top 3.
Michigan's Most Difficult Three-Game Stretch in 2010-11

Date

Opponent

Site

Opp. AP Rank

Opp. Pomeroy Rank

Pomeroy Win Odds

Result

Jan. 5, 2011

Wisconsin

Away

NR

#15

23%

L, 50-66

Jan. 9, 2011

Kansas

Home

#3

#3

43%

L, 60-67 (OT)

Jan. 12, 2011

Ohio St.

Home

#2

#2

32%

L, 64-68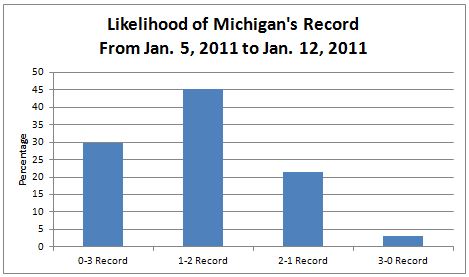 Pomeroy's algorithm gave Michigan a 70.2 percent chance to win at least once. Further, the most likely scenario was that U-M would finish escape this brutal run with a 1-2 record, having a 45.4 percent chance of doing so. Yet the Wolverines lost all three games. Michigan fought hard against Kansas and Ohio State at home, pushing each to the brink, but U-M could not muster the few extra points needed to give the students a reason to storm the court at the then-named Crisler Arena. It was a disappointing stretch for the Wolverines—especially since it was the first half of what would be a six-game losing streak—but not completely unexpected for a team ranked outside Pomeroy's Top 50.
However, it was a learning experience for Michigan and gave U-M a taste of what the Big Ten schedule would be like the next few years. In 2011-12, the Wolverines were a much better team. U-M was 16-5, 6-2 in the Big Ten, and No.33 in Pomeroy's rankings. But Ohio State, Indiana, and Michigan State were the next three Big Ten teams with which Michigan was getting into the ring. Almost midway through the conference season, the Wolverines were eyeing a Big Ten championship and could not afford to be shut out during their toughest three-game stretch for the second straight year.
Michigan's Most Difficult Three-Game Stretch in 2011-12

Date

Opponent

Site

Opp. AP Rank

Opp. Pomeroy Rank

Pomeroy Win Odds

Result

Jan. 29, 2012

Ohio St.

Away

#4

#1

6%

L, 49-64

Feb. 1, 2012

Indiana

Home

#20

#10

45%

W, 68-56

Feb. 5, 2012

Michigan St.

Away

#9

#5

15%

L, 54-64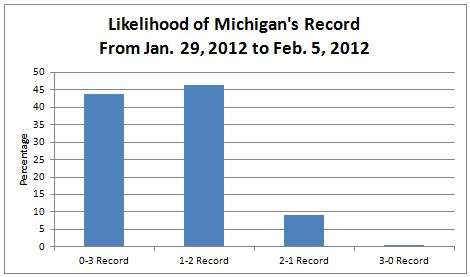 Despite being a better team in 2011-12 than the previous season, Michigan's toughest three-game stretch in 2011-12 was more difficult because U-M played two of those three games on the road rather than in Ann Arbor. As a result, Pomeroy believed the Wolverines had only a 56.1 percent chance to record at least one victory. The most likely outcome was that U-M would finish with a 1-2 record, but finishing with a 0-3 record was less than three percentage points away from being just as likely. But, unlike 2010-11, Michigan lived up to its expectations and snatched one win, defeating Indiana by 12 points at home.
This was an improvement from Michigan's three-game stretch the prior season. The Wolverines learned just how valuable it is to protect home court during Big Ten play. By doing so against the Hoosiers, U-M stayed amidst the Big Ten race. Following this treacherous three-game stretch, Michigan won six of its final seven games and captured its first share of a Big Ten regular season championship since 1986. Without that victory against Indiana, U-M's Big Ten-championship drought would be at 27 years.
Last season, Michigan fielded its best team in two decades. Coincidentally, Big Ten officials decided that scheduling three straight games against Pomeroy Top 15 opponents was too easy for the Wolverines, so they decided to schedule four straight instead. And to make matters worse, three of those would be played in Big Ten cities not named Ann Arbor. Nonetheless, many expected the Wolverines to maneuver past these roadblocks because U-M endured these rough patches in the schedule the past two years and was one of the nation's best teams.
Michigan's Most Difficult Four-Game Stretch in 2012-13

Date

Opponent

Site

Opp. AP Rank

Opp. Pomeroy Rank

Pomeroy Win Odds

Result

Feb. 2, 2013

Indiana

Away

#3

#2

32%

L, 73-81

Feb. 5, 2013

Ohio St.

Home

#10

#11

76%

W, 76-74 (OT)

Feb. 9, 2013

Wisconsin

Away

NR

#14

56%

L, 62-65 (OT)

Feb. 12, 2013

Michigan St.

Away

#8

#14

55%

L, 52-75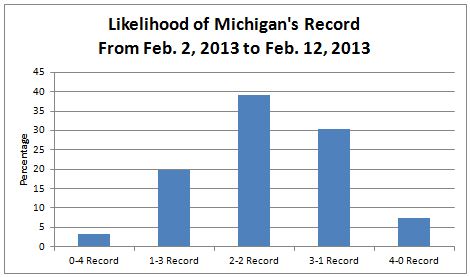 Even though Michigan was going to play three of these four games on the road, Pomeroy's algorithm still gave U-M a 77 percent chance to win at least two games. And the most likely outcome was that the Wolverines would finish with a 2-2 record. The Wolverines did remember their lesson from 2011-12 and protected their home court, edging Ohio State by two points in overtime.
But what Michigan needed to learn was how to win road contests during these tough stretches. U-M's best shot was in Madison against Wisconsin when Tim Hardaway, Jr. broke a tie with a three-pointer with about two seconds left. But Wisconsin guard Ben Brust miraculously converted a buzzer-beating, half-court prayer to send the game to overtime where the Badgers would escape with a win. The heartbreaking loss sucked the wind out of U-M's sails, and the Wolverines ultimately were unable to win any of those three road games. Thus, Michigan finished with a 1-3 record, below Pomeroy's expectations for U-M.
Those three brutal stretches of games—in three consecutive seasons, no less—would take their toll on every team in NCAA D-1 basketball. The odds of even the best college basketball team escaping all three of those stretches unscathed would be slim to none. But Michigan posted only a 2-8 record during those three stretches combined. None of those wins were outside Ann Arbor. Given the expectations set by Pomeroy, U-M underwhelmed. And there were questions about whether Michigan could beat elite teams away from the Crisler Center.
But, then, everything clicked. Michigan became acclimated to these brutal conditions, and U-M's experiences from those difficult stretches of games finally began to pay off. Proof? See Michigan's magical run through the 2013 NCAA Tournament. In the Sweet Sixteen, Elite Eight, and Final Four, the Wolverines matched up against Kansas, Florida, and Syracuse, respectively, on neutral sites. All three opponents were ranked in Pomeroy's Top 10. Pomeroy thought that Michigan had only a 7.4 percent chance to beat all three and advance to the national championship game. And, yet, the Wolverines did just that and were seven points shy of winning the program's second national title.
Now, in the 2013-14 season, the Wolverines have begun to show that it can win contests not just at neutral sites, but also in true road games during these difficult stretches. Michigan proved that with its aforementioned upset win against Wisconsin four days ago. The Wolverines need to continue to show the nation that they can survive these stretches, starting with the one they are amid right now.
Michigan's Difficult Three-Game Stretch from Jan. 18, 2014 to Jan. 25, 2014

Date

Opponent

Site

Opp. AP Rank

Opp. Pomeroy Rank

Pomeroy Win Odds

Result

Jan. 18

Wisconsin

Away

#3

#4

22%

W, 77-70

Jan. 22

Iowa

Home

#10

#5

57%

TBD

Jan. 25

Michigan St.

Away

#3

#6

31%

TBD
Before Michigan played Wisconsin in the Kohl Center, Pomeroy gave U-M a 23.1 percent chance that it would be winless during this stretch. Yet U-M already eliminated that possibility. So, with one win in the bank, Michigan already has matched its expectations and needs just one win against Iowa or Michigan State this week to surpass them. The odds that the Maize and Blue do just that: 70.3 percent.
With a 5-0 conference record and more than a seven-tenths chance to defeat at least one of the two Big Ten schools it will be competing with in the Big Ten race, Michigan has set itself up to make a run at a conference championship. However, it is not all cupcakes and ice cream once Michigan finishes this current test. In February, the Wolverines will endure a similarly difficult four-game stretch that likely will determine whether they have a legitimate shot at winning their second Big Ten title in three years.
Michigan's Difficult Four-Game Stretch from Feb. 8, 2014 to Feb. 23, 2014

Date

Opponent

Site

Opp. AP Rank

Opp. Pomeroy Rank

Pomeroy Win Odds

Result

Feb. 8

Iowa

Away

#10

#5

27%

TBD

Feb. 11

Ohio St.

Away

#17

#16

36%

TBD

Feb. 16

Wisconsin

Home

#9

#7

62%

TBD

Feb. 23

Michigan St.

Home

#3

#6

62%

TBD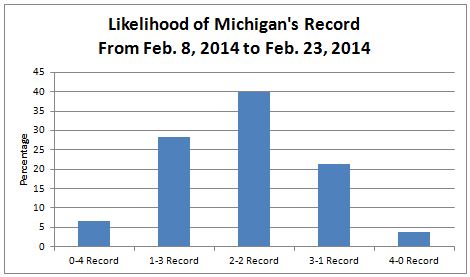 Pomeroy believes that the most likely outcome for Michigan during this second brutal stretch is a 2-2 record, with a 40 percent chance to do so. Pomeroy also thinks that Michigan has a 65 percent chance to grab at least two wins. Therefore, in Michigan's seven games against the best of the Big Ten this season, Pomeroy's algorithm gives the Wolverines almost a 50 percent chance to have no worse than a 4-3 record.
That is not a typo. Advanced metrics give Michigan almost a 50-50 shot to finish with at least a 4-3 record against Michigan State, Wisconsin, Iowa, and Ohio State in 2013-14. If the Wolverines can land on the right side of that coin flip, they likely will finish with no worse than a 14-4 Big Ten record assuming U-M loses a game or two it should win. That will likely result in a earning a share of the Big Ten championship and maybe even the whole thing.
Michigan is a Big Ten contender. Not only is U-M a Big Ten contender, it is a Big Ten contender whose conference season will be decided in two treacherous stretches that would break most teams. But Michigan has learned how to handle these rough sections of the road in the Big Ten, improving each of the past three seasons. The Wolverines now know how to maneuver through them whether they are at home or on the road.
Michigan did it on Saturday in Madison against Wisconsin. Tune into the Big Ten Network tonight at 7 p.m. EST to see if the Wolverines can do it for the second straight game against Iowa at the Crisler Center.