---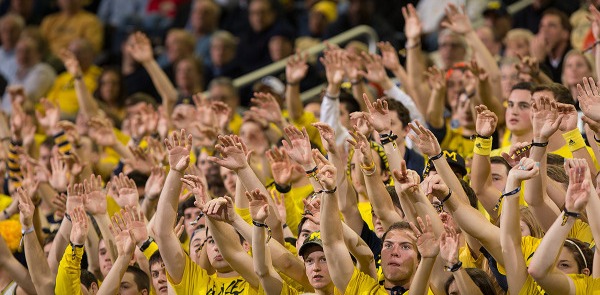 (MGoBlue.com)
Michigan has become the darling of the Big Ten. Prior to the Big Ten season, talk about the Big Ten's elite focused on four teams: Michigan State, Wisconsin, Iowa, and Ohio State. Michigan was disregarded, thought to be in the second tier in the Big Ten and a bubble team once March arrived. The idea that the Wolverines could contend for a Big Ten championship seemed completely farfetched.
Well, people are certainly talking about Michigan now. The Wolverines are riding a nine-game winning streak—the second-longest with John Beilein as head coach. As a result, Michigan is 7-0 in the Big Ten and became the last unbeaten in conference play when U-M rallied past Michigan State to earn its second win in East Lansing since 1997.
This is rarefied air for Michigan. The Wolverines have had fantastic teams in the past, but few ever have had this type of start to the Big Ten season. This is only the fourth time in school history that Michigan has started the Big Ten season with a 7-0 record and the first time since the 1976-77 season.
Michigan's Best Conference Starts
Season
Starting Record
First Loss
Final Record
Conference Finish
1964-65
13-0
at Ohio State
13-1
1st
1976-77
8-0
at Northwestern
16-2
1st
1970-71
8-0
at Indiana
12-2
2nd
2013-14
7-0
TBD
TBD
TBD
All three previous times Michigan won its first seven conference contests, the Wolverines placed either first or second in the Big Ten standings. In 1965 and 1977, Michigan's hot starts gave U-M an insurmountable lead, helping U-M win the conference championship by multiple games. However, the Wolverines' 8-0 start in 1971 was not enough as they finished one game behind Ohio State for the Big Ten crown.
It should be no shock that these three Michigan teams were so high in the Big Ten standings. Teams that start 7-0 in conference play are much more likely than to win their league those that do not. This is not a revelation. This is common sense. But just how likely is it that these teams will win the Big Ten? The following table, which lists every team that has had a 7-0 Big Ten record in the past 50 years and where they finished in the standings, answers that question. And Michigan fans will love the answer.
Best Conference Starts in the Big Ten Since 1963-64
Season
School
Starting Record
First Loss
Final Record
Conference Place
1975-76
Indiana
18-0
N/A
18-0
1st
1974-75
Indiana
18-0
N/A
18-0
1st
2004-05
Illinois
15-0
at Ohio State
15-1
1st
1969-70
Iowa
14-0
N/A
14-0
1st
1992-93
Indiana
13-0
at Ohio State
17-1
1st
1964-65
Michigan
13-0
at Ohio State
13-1
1st
2010-11
Ohio State
11-0
at Wisconsin
16-2
1st
2009-10
Michigan State
9-0
at Wisconsin
14-4
t-1st
1989-90
Purdue
8-0
vs. Michigan State
13-5
2nd
1978-79
Ohio State
8-0
at Michigan State
12-6
4th
1976-77
Michigan
8-0
at Northwestern
16-2
1st
1970-71
Michigan
8-0
at Indiana
12-2
2nd
2013-14
Michigan
7-0
TBD
TBD
TBD
2006-07
Wisconsin
7-0
at Indiana
13-3
2nd
1990-91
Ohio State
7-0
at Michigan State
15-3
t-1st
1977-78
Michigan State
7-0
at Indiana
15-3
1st
Michigan is the 16th team to sprint to a 7-0 record in the Big Ten in the past half-century. Of the prior 15 Big Ten squads to achieve such a feat, 11 won at least a share of the regular-season conference championship. That is a very promising rate of 73.3 percent. And the odds of a Big Ten team with a 7-0 start finishing worse than second place is highly improbable. Only one school has had such a collapse in 50 years: 1978-79 Ohio State, which dropped six of its final 10 games after an 8-0 start.
Although Michigan already is in an excellent position to hang another banner in the rafters at the Crisler Center, U-M is two straight wins away from crossing a golden threshold. Since 1964, eight teams have had a 9-0 record in the Big Ten. All eight won the Big Ten title, and seven of the eight were the sole champion. To join these select few, Michigan must beat both Purdue and Indiana this week. This is likely to happen as Ken Pomeroy's advanced algorithm gives the Wolverines a 67.7 percent chance to go 2-0 this week.
But to do so, Michigan will need to win at a venue that has been a terrible host to perfect Big Ten teams in the past. Big Ten teams with at least a 7-0 record seem to stumble against the same opponents. Eleven of the 12 Big Ten teams that started 7-0, but did not run the table, in the past 50 years lost their first game to Indiana, Michigan State, Ohio State, or Wisconsin. And 10 of those 11 lost on the road to one of those four opponents.
To earn that significant ninth straight conference win, Michigan will need a triumph over Indiana in Bloomington. The Hoosiers may be experiencing a down year of sorts, but a victory at Assembly Hall has never been an easy task for the Wolverines.
This is a critical week of games for Michigan. If U-M improves to 9-0, it will have to end up on the wrong side of history not to win its second conference title in three years. The good news is that the Wolverines have been battle-tested en route to their 7-0 record. Four of U-M's seven wins were against opponents in Pomeroy's Top 30, all of which currently are in second through fifth place.
Further, Michigan's played Minnesota, Nebraska, Wisconsin, and Michigan State on the road. Those four Big Ten schools are a combined 40-5 at home. Yet the Wolverines have produced four of those five losses. Michigan is no fluke and should continue to string together victories.
The bad news, though, is that Michigan State has no plans to let Michigan go into cruise control. Last night, the Spartans upended the Iowa Hawkeyes in overtime in Iowa City to improve to 8-1 in the Big Ten. As a result, both the Wolverines and the Spartans are 2.5 games ahead of third-place Iowa and a combined 14-0 against the rest of the Big Ten. Even if Michigan does indeed reach that 9-0 threshold, Michigan State still will be breathing down its neck.
Nevertheless, Michigan has to love where it stands. Teams in the same position have won the Big Ten championship almost three-fourths of the time. And the Wolverines are two very winnable games away from a perfect Big Ten start that has always led to a new banner in the rafters.
It is important to note that correlation does not equal causation and that Michigan will not be guaranteed a Big Ten title if it starts 9-0. But Michigan does have 50 years of history on its side. And after being considered an afterthought to start the conference season, the Wolverines will take those odds.