---

(MGoBlue.com)
Michigan suffered its first conference loss to the Indiana Hoosiers at Assembly Hall on Super Bowl Sunday. Assembly Hall has always been a "House of Horrors" for Michigan, as the Wolverines have won in Bloomington only once since 1995 and only twice since 1988. It was no different in 2014. Michigan struggled offensively. Its 52 points were the fewest it has scored this season, thanks in part to the contest having a very slow tempo at only 55 possessions. And Michigan's 43.3 eFG%, which gives additional weight to three-pointers made because they are worth more points, was the lowest it has been in over two months. It was an ugly display by the Wolverines.
But do not let Sunday's performance fool you. Michigan has been outstanding offensively this season, to the surprise of many I would presume. John Beilein-coached teams generally shine on the offensive end, but many wondered how the Wolverines would overcome the losses of consensus National Player of the Year Trey Burke as well as Tim Hardaway, Jr. to the NBA. Although Michigan had offensive firepower in Nik Stauskas, Glenn Robinson III, and Mitch McGary returning, no one expected this year's offense to be better than last year's offense.
Yet that is exactly what has happened. In 2013, Michigan's adjusted offensive efficiency, which calculates what an offense would score in a 100-possession game against an average NCAA D-1 opponent, was 120.3—the best in the nation. In 2014, Michigan's adjusted offensive efficiency is currently 121.4. While it may only be the third-highest adjusted offensive efficiency in the country this season, it is the ninth-best since the 2002 season.
Ten Most Efficient Offenses Since 2001-02

Rank

Team

Adjusted Offensive Efficiency

1

2014 Duke

127.9

2

2014 Creighton

125.7

3

2005 Wake Forest

124.0

4

2012 Missouri

123.9

5

2011 Ohio State

123.3

6

2009 North Carolina

122.4

7

2005 North Carolina

121.9

8

2007 Florida

121.5

9

2014 Michigan

121.4

10

2012 Kentucky

121.3
Michigan's offense showed flashes of this potential against non-conference opponents, but it was not until Big Ten play that it really found its groove. In U-M's first eight conference games, the Wolverines exceeded 1.00 points per possession in each game and had an unadjusted offensive efficiency of 118.1—by far the best in the Big Ten. No Big Ten opponent could keep pace with the Wolverines as Michigan sprinted out to an 8-0 conference record for just the fourth time in program history.
Michigan's unadjusted offensive efficiency against conference foes now is 115.8 after the blunder in Bloomington, but that still is the best in the Big Ten by a significant margin. Additionally, Michigan's unadjusted offensive efficiency in conference play is tied for the fifth-best among all teams in the seven major conferences—AAC, ACC, Big 12, Big East, Big Ten, Pac-12, and SEC.
Best Conference-Only Offensive Efficiencies Among Seven Major Conferences

Rank

Team

Unadjusted Offensive Efficiency

1

Duke

121.2

2

Creighton

120.1

3

Kansas

118.7

4

Villanova

117.1

t-5

Michigan

115.8

t-5

Connecticut

115.8
Michigan has been an offensive juggernaut mainly because U-M has shot the lights out of the basketball. In their nine Big Ten games, the Wolverines' eFG% is 58.3 percent. That is by far the best eFG% in the Big Ten—Minnesota is second with a 52.8 eFG%—and the highest in the Big Ten since 2004. The only major-conference team that can say that it has a better conference-only eFG% is Creighton at 58.7 percent in the Big East. And Creighton could not say that until Sunday because U-M's eFG% was 60 percent prior to the Indiana game.
To understand why the Wolverines have been torching the twine at such an efficient rate, I charted all of Michigan's shots from its past five games. I used the shot-chart data provided by CBS Sports' online GameTracker. I could chart only U-M's past five games because the GameTracker feature is available only for games involving a ranked team, which was not the case for U-M's first four Big Ten contests. Nonetheless, the following shot chart paints a picture as to why Michigan has its highest eFG% this millennium.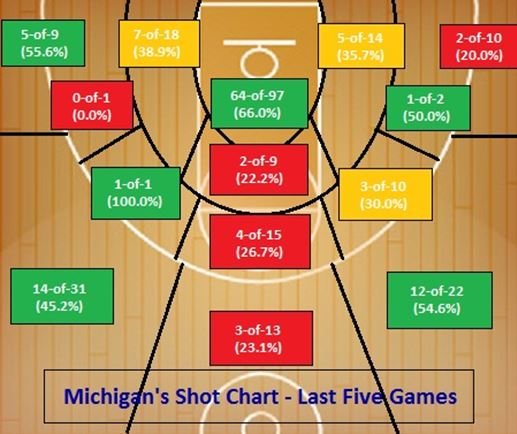 First, Michigan has been one of the best teams in the nation around the rim. In their past five games, the Wolverines have made 66 percent of their shots taken in the paint and no more than 10 feet away from the basket. This percentage is boosted by the fact that U-M rarely misses shots right at the rim. The only field goal attempts considered "at the rim" are dunks, layups, and tip-ins, and the average NCAA D-1 team converts 60.9 percent of them, per Hoop-Math. Yet Michigan has far exceeded that average by making an astounding 79 percent of its shots at the rim this season and 74.3 percent of them in the past five contests.
Michigan's success at the rim has been a team effort. The only U-M player that has not made at least 70 percent of his shots at the rim is Spike Albrecht, who converts an average 60 percent of them. Jon Horford and Robinson III have been the leaders of U-M's excellence around the bucket. They have combined to make 79-of-84 shots at the rim this season for a near-perfect conversion rate of 94 percent. If one of those two catches the ball next to the hoop, it is almost an automatic two points for the Wolverines unless the opposing defense chooses to send them to the free-throw line. But, even if it is not Horford or Robinson III, Michigan has done a fantastic job of capitalizing on opportunities to make the easiest shots in basketball.
Second, not only are the Wolverines excellent at the rim, they also are excellent from long distance, too. Michigan has made 39.8 percent of its three-pointers during the conference season, which leads the Big Ten. Everyone knows that Stauskas is one of the best three-point shooters in the nation, but he is far from Michigan's only long-range weapon. The Wolverines have five players—Stauskas, Albrecht, Derrick Walton, Jr., Zak Irvin, and Caris LeVert—that have attempted at least 40 three-pointers this season and made at least 37 percent of them. With no less than three of these players on the court at all times, opposing defenses have struggled to extend out on all of U-M's shooters.
In the past five games, Michigan has found its sweet spot from behind the three-point line on the wings. The Wolverines have converted 49.1 percent of three-pointers on the wings, while making 36.8 percent from the corners and only 23.1 percent from straight away. Michigan has not shied away from its sweet spots either. Of the 85 three-pointers U-M has attempted in the past five games, almost two-thirds of them have been shot from the wings. Michigan has had an extraordinary amount of success from these spots recently, and U-M should continue to run plays that place its three-point specialists on the wings.
Third, and most importantly, Michigan has made a concentrated effort to eliminate long two-point jumpers from its shot selection. Those are the worst shots in basketball mathematically, and it is not even close. Two-point shots at the rim are much better than long two-point jumpers because there is significant discrepancy in their conversion rates. Three-point shots are much better than long-two point jumpers, despite having similar conversion rates, because three-point shots are worth an additional point. If a team is going to shoot a shot that will be made no more than 40 percent of the time, that team might as well try to get three points out of it.
In their past five games, 63.1 percent of the Wolverines' field-goal attempts have either been at the rim or a three-pointer. Therefore, in its past five games, 36.9 percent of Michigan's shots have been two-point jumpers. While that rate exceeds the NCAA D-1 average of 29.3 percent, it does not necessarily mean that Michigan is settling for long two-point jumpers. Of U-M's 93 two-point jumpers in its past five games, 34.4 percent have been attempted in the paint and 68.8 percent closer than 15 feet away from the hoop. But, if the Wolverines plan to continue to take two-point jumpers, they need to do an even better job of taking them closer to the hoop because they converted only 31 percent of them outside 15 feet in their past five contests.
It should be noted that Michigan has superb shooters. U-M would not have been able to achieve such a high eFG% without having this type of offensive talent on its roster. Credit must be given to Beilein for recruiting and developing players that not only finish around the rim, but also drain shots from beyond the arc. But even more credit should be given to Beilein and his staff for deploying an offensive strategy that leads to his team taking the most valuable shots in basketball: dunks, layups, tip-ins, and three-pointers. As a result, Michigan once again is one of the most explosive offensive teams in the nation and in prime position to shoot its way to its second Big Ten championship in three years.