---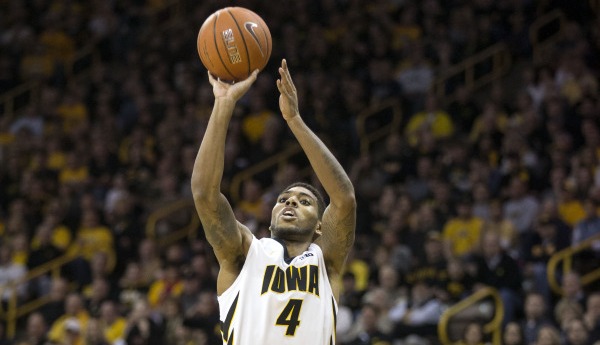 (Brian Ray, Hawkeyesports.com)
Two minutes into the Michigan-Iowa contest on Saturday, Roy Devyn Marble found himself open on the left wing behind arc. Marble rose, and with the flick of his wrist, buried a three-pointer jumper for Iowa's first points of the game. Fifty-seven seconds later, Marble drained another three-pointer. Then he did it again. And again. And again. And, unbelievably, again.
Flames emanated from Marble's right hand as he shredded the Wolverines at Carver-Hawkeye Arena. In the first half, Marble scored 22 points and converted eight of his 13 shots — six of which were three-pointers. It was an extraordinary shooting display from Marble, who had made a slightly-above-average 35.5 percent of his three-pointers prior to Saturday's game, and it helped Iowa cruise to an 85-67 win against the Maize and Blue.
But this is not the first time Michigan has seen its opponent explode offensively while on the road. If anything, it has become somewhat of a concerning trend. In its last three road games, Michigan has allowed Michigan State, Indiana, and Iowa to score a total of 223 points in 182 possessions for an average of 1.225 points per possession. This is in stark contrast to the 1.082 points per possession U-M allowed in its first five road contests.
So what has changed? Why, in the past three weeks, did Michigan have its two worst defensive performances of the season against Iowa and Michigan State on the road and also allow Indiana to score a hefty 1.310 points per possession in the second half? A comparison between Michigan's defensive "Four Factors" from its previous three road games with its first five road games indicates that it has been a little bit of everything.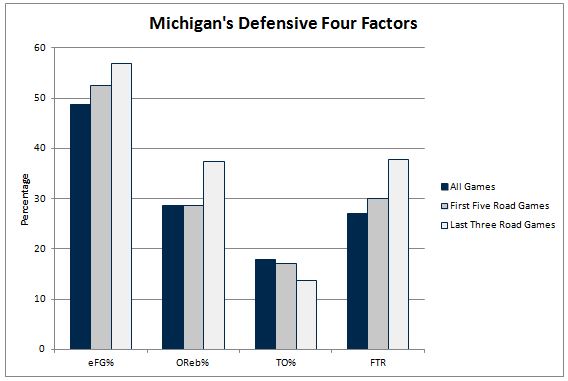 In his book "Basketball on Paper," Dean Oliver identified what he called the "Four Factors of Basketball Success" for how teams win basketball games. Those factors are effective field goal percentage (eFG%), offensive rebounding percentage (OReb%), turnover percentage (TO%), and free throw rate (FTR). To have the best chance of winning, a defense wants its opponent to have a low eFG%, OReb%, and FTR, and a high TO%.
Unfortunately, for the Wolverines, they were unequivocally worse in all of the "Four Factors" defensively in their past three road games than in their first five. Michigan State, Indiana, and Iowa shot better, rebounded better, committed less turnovers, and made their way to the free-throw line more often. Therefore, at first glance, it appears that Michigan needs to completely retool its defensive approach in road contests.
Yet that is not the case. While Michigan has allowed its opponents to snatch too many offensive rebounds and shoot too many free throws, those are not what is haunting U-M's defense in hostile environments. The Wolverines' main issue defensively was that they were the victim of an incredible shooting spree by Michigan State, Indiana, and Iowa — one that was out of the Wolverines' control.
According to Oliver, eFG% is by far the most valuable of the "Four Factors." Teams that make a higher percentage of their shots than their opponents are more likely to win than teams that have a higher percentage of offensive rebounds than their opponent. Surprise! In Michigan's first five road games, its opponents recorded a 52.5 eFG%. But that percentage has spiked in U-M's previous three road games, with the Spartans, Hoosiers, and Hawkeyes notching a 56.9 eFG%.
Michigan's Shooting Defense on the Road

Games

Defensive eFG%

Defensive 2FG%

Defensive 3FG%

3PA / FGA

First 5 Road Games

52.5%

54.2% (97-of-179)

33.0% (33-of-100)

35.8%

Last 3 Road Games

56.9%

47.3% (53-of-112)

53.2% (25-of-47)

29.6%
Do not blame Michigan's interior defense for this spike. Michigan State, Indiana, and Iowa failed to convert half of their two-point tries at home against the Wolverines after U-M allowed opponents to make 54.2 percent of their two-point attempts in its first five road games. The Wolverines have protected the rim much better and will need to continue to do so if they want their field-goal defense to improve.
Michigan did not see this improvement in its past three road games because the Spartans, Hoosiers, and Hawkeyes did not miss from downtown on their home courts. In U-M's first five road contests, its opponents made a tad-below-average 33 percent of their three-pointers. Michigan State, Indiana, and Iowa blew that figure out of the water, knocking down an absurd 53.2 percent of their shots from three-point territory against the Maize and Blue. For context, on average, an NCAA D-1 basketball team makes 34.3 percent of its three-pointers.
But, for the most part, this incredible display of three-point shooting by Michigan's opponents was the result of bad luck, not poor perimeter defense. Ken Pomeroy, one of leading proponents of advanced statistics in college basketball, has theorized that defenses have little control over the percentage of three-pointers that an opponent makes. His data suggests that the best indicator of three-point defense is a team's ability to prevent opponents from attempting three-pointers, not making them.
If Pomeroy's theory is correct, Michigan actually has improved its three-point defense away from the Crisler Center. In U-M's first five road games, 35.8 percent of its opponents' field-goal attempts were three-pointers. That ratio was only 29.6 percent in U-M's prior three road games. Therefore, Michigan's perimeter defense limited the number of looks that Michigan State, Indiana, and Iowa had from beyond the arc, but this improvement was disguised by some extremely unlucky hot shooting from deep.
To be fair, the Wolverines' perimeter defense is not without blame. In each of these three past road games, there have been multiple instances where Michigan failed to contest three-pointers by not placing a hand in a shooter's face, not switching a pick and roll properly, or not finding shooters in transition. The Maize and Blue cannot afford to continue to make these mistakes because open three-pointers are more likely to hit the bottom of the net than contested three-pointers.
Nonetheless, opponents will not continue to make more than half of their three-pointers within the confines of their home arena against the Wolverines, even if they are wide open. This type of shooting luck from the outside cannot last forever. Opponents will begin to cool down from three-point land. Guaranteed. Regression to the mean is undefeated. But Michigan needs to continue to limit opponents' three-point attempts if it does not want to be burned from downtown.
Michigan will not have to wait very long to see if its opponents' shooting luck from three-point range will regress. The Wolverines travel to Columbus tomorrow to face their bitter rivals, the Ohio State Buckeyes. Ohio State has been feeling it from long range recently, too. In its past three games, OSU drained 20-of-44 three-pointers — 45.5 percent.
If the Buckeyes continue that trend tomorrow, and start making it rain from the perimeter, Michigan likely will lose back-to-back games for just the third time since January, 2011. But if the Buckeyes do not experience the same shooting luck that the Spartans, Hoosiers, and Hawkeyes each had while hosting U-M in the past three weeks, the Wolverines likely will earn their first win in Columbus since 2003.