---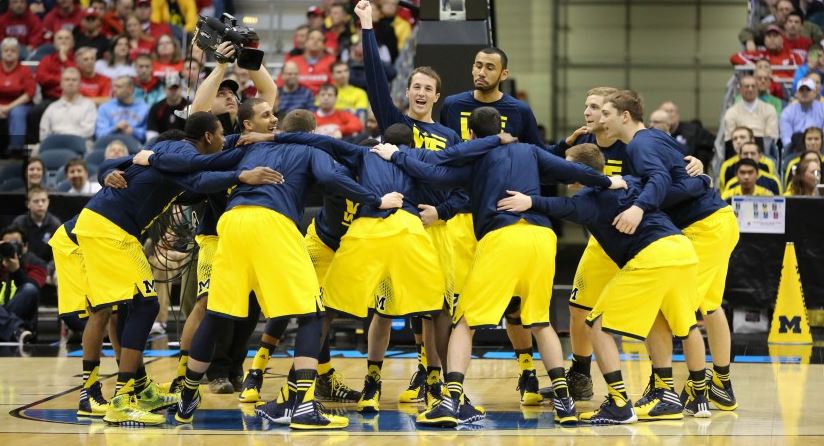 (Dustin Johnson, UMHoops)
It sure is sweet.
On Saturday evening, No. 2-seed Michigan bombed No. 7-seed Texas, 79-65, with a school-record 14 three-pointers in an NCAA Tournament game to advance to the Sweet Sixteen. This is the second straight year and the 13th time in school history that Michigan will participate in the Sweet Sixteen. This also is the seventh time that Michigan has made the Sweet Sixteen when it did so the previous season.
The Wolverines will travel to Indianapolis this weekend, hoping they will be the lone school to survive the Midwest Regional. This will not be an easy challenge. In the Sweet Sixteen, the Wolverines will square off with the underrated No. 11-seed Tennessee Volunteers. With a victory, the Wolverines will play the winner of No. 4-seed Louisville and No. 8-seed Kentucky with a spot in the Final Four at stake.
Michigan fans may be wondering what the Wolverines should expect from these three teams. "Inside the Numbers" will provide an in-depth scouting report for each of Tennessee, Louisville, and Kentucky and how Michigan can exploit those teams' weaknesses tomorrow. Today, "Inside the Numbers" will focus on Michigan's past performances in the Sweet Sixteen and why they should give fans a reason to be optimistic when the Wolverines and the Volunteers step on the hardwood on Friday night.
Before "Inside the Numbers" does so, a discrepancy needs to be clarified first. As aforementioned, this will be the 13th time that Michigan appears in the Sweet Sixteen. However, the University of Michigan's Athletic Media Relations' media guide lists a record for U-M in Sweet Sixteen games which suggests that the Wolverines already have played in the Sweet Sixteen 13 times before this season.
The confusion seems to stem from Michigan's appearance in the 1948 NCAA Tournament. Prior to 1951, there were only eight teams in the NCAA Tournament, which means there was no "Sweet Sixteen." After 1951, the NCAA Tournament expanded to 16 teams with the first round labeled as the "regional semifinals," which now is nicknamed the "Sweet Sixteen." Yet the media guide labels Michigan's first game in the 1948 NCAA Tournament as a "regional semifinal" game. The result of this game seems to mistakenly have been added to Michigan's listed record in the Sweet Sixteen. Therefore, the 1948 NCAA Tournament will not be discussed in this post.
With that discrepancy clarified, "Inside the Numbers" can finally reveal one reason why fans should be optimistic that the Wolverines will defeat the Tennessee Volunteers on Friday night. In its 12 games played in the Sweet Sixteen, Michigan has posted an 11-1 record. Yes, 11-1. This means that Michigan has a 91.7 win percentage in the Sweet Sixteen. Additionally, the Wolverines have won all five of their Sweet Sixteen contests since 1988.
Results of Michigan's 12 Previous Sweet Sixteen Games

Year

Opponent

Result

Year

Opponent

Result

1964

Loyola

W, 84-80

1988

North Carolina

L, 69-78

1965

Dayton

W, 98-71

1989

North Carolina

W, 92-87

1966

W. Kentucky

W, 80-79

1992

Oklahoma St.

W, 75-72

1974

Notre Dame

W, 77-68

1993

George Wash.

W, 72-64

1976

Notre Dame

W, 80-76

1994

Maryland

W, 78-71

1977

Detroit

W, 86-81

2013

Kansas

W, 87-85 (OT)
Michigan has experienced a tremendous amount of success in the Sweet Sixteen. Only one other NCAA D-1 college basketball team that has made a minimum of five Sweet Sixteen appearances has won a higher percentage of its Sweet Sixteen games than Michigan. That team is Temple, which is 7-0 in the Sweet Sixteen. When the minimum number of Sweet Sixteen appearances is raised to 10 games, a feat 31 schools have achieved, there is no team better than the Wolverines.
Highest Win Percentage in the Sweet Sixteen (Min. 10 Appearances)

Rank

School

Record

Win Pct.

Rank

School

Record

Win Pct.

1

Michigan

11-1

91.67%

9

UCLA

21-10

67.74%

2

North Carolina

24-6

80.00%

10

Ohio St.

10-5

66.67%

3

Kentucky

30-10

75.00%

11

Michigan St.

11-6

64.71%

t-4

Georgetown

8-3

72.73%

12

Illinois

7-4

63.64%

t-4

Oklahoma St.

8-3

72.73%

13

Villanova

10-6

62.50%

6

Duke

19-8

70.37%

14

Cincinnati

8-5

61.54%

7

Kansas St.

11-5

68.75%

15

Connecticut

10-7

58.82%

8

Kansas

19-9

67.86%

16

San Francisco

7-5

58.33%
Among schools that have played in a minimum of 10 Sweet Sixteen games, Michigan is the only school to have won more than 90 percent of them. In fact, the Wolverines are the only such team to have won more than 80 percent of them. Even if Michigan lost to Tennessee on Friday, U-M's win percentage in the Sweet Sixteen would drop only to 84.62 percent, which would still be high enough to be the best. Although other schools, such as North Carolina, Kentucky, Duke, and Kansas, and UCLA, have more Sweet Sixteen wins, no team has made the most of its Sweet Sixteen appearances than Michigan.
There are two trends that have been established in Michigan's previous 12 Sweet Sixteen games of which fans should be aware. First, almost all of these Sweet Sixteen games have come down to the wire. Of the previous 12 games Michigan has played in the Sweet Sixteen, all but one of them were decided by single digits. Seven were decided by five points of fewer. The average margin of victory in these games is seven points. It would be fewer if not for Michigan's 27-point win over Dayton in the 1965 Sweet Sixteen.
Michigan fans should not expect this to be any different on Friday evening. Generally, games at this stage of the NCAA Tournament pit two equal teams against one another. This definitely applies to the matchup between Michigan and Tennessee. The Volunteers may be only a No. 11 seed, but the computers and advanced statistics view Michigan and Tennessee as equals. So does Vegas, which has the Wolverines as only a 1.5-point favorite over the Vols. Michigan may have beaten Tennessee by 30 points in the first round of the 2011 NCAA Tournament, but do not expect a repeat result this week.
Second, as aforementioned, this is the seventh time that Michigan has appeared in the Sweet Sixteen one year after doing the same in the previous season. In the previous six such games, the Wolverines never lost. A repeat appearance in the Sweet Sixteen always has led to a victory for the Maize and Blue. There are lots of possible reasons for this: quality of team, quality of opponent, matchups, hot shooting, lucky bounces, etc.
Yet another potential explanation for this phenomenon is experience. When teams appear in the Sweet Sixteen for a second consecutive season, these teams likely have most of the roster intact from the previous season. These players have already dealt with nerves of playing in the Sweet Sixteen and have become accustomed to the high stakes of such a game. Six of Michigan's eight key contributors participated in last season's Sweet Sixteen showdown against Kansas—Nik Stauskas, Caris LeVert, Glenn Robinson III, Jordan Morgan, Jon Horford, and Spike Albrecht. It is unlikely that any of these six players will be fazed by the circumstances of Friday's Sweet Sixteen contest. The same may not be able to be said about the Volunteers, none of whom have appeared in the Sweet Sixteen before.
The one caveat is that historical trends generally have little impact on upcoming games. All trends are broken or snapped at one point or another as teams and rosters change over time. Michigan's 11-1 record in the Sweet Sixteen does not guarantee that the Wolverines will advance to the Elite Eight on Friday.
However, it is much more reassuring for Michigan fans to hear that their team has been extremely successful in the Sweet Sixteen rather than not. Michigan fans would be much more concerned about U-M's prospects on Friday if they learned that their team had only a 1-5 record in Sweet Sixteen games. Why a 1-5 record specifically? Because that is Tennessee's record in the Sweet Sixteen. It sure is sweet.