---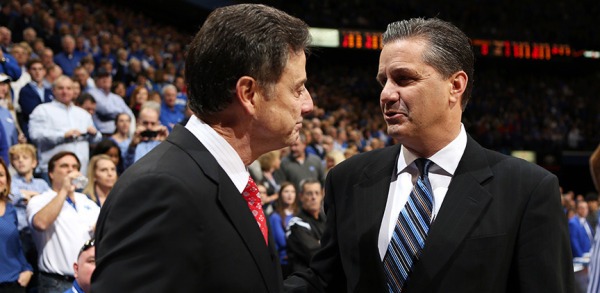 (Britney McIntosh, UK)
Earlier today, "Inside the Numbers" provided Part One of its Midwest Regional Preview. Part One focused on the tough path Michigan faces to reach its second straight Final Four and presented an in-depth scouting report of Michigan's Sweet Sixteen opponent, the No. 11-seed Tennessee Volunteers.
If the Wolverines beat the Volunteers, they will face either the No. 4-seed Louisville Cardinals or the No. 8-seed Kentucky Wildcats in the Elite Eight. Therefore, Part Two of the Midwest Regional Preview will provide an in-depth scouting report of each of the potential teams Michigan may see in the Elite Eight, so fans will know what to expect if U-M wins on Friday.
Louisville: 31-5 (15-3 AAC) | Seed: No. 4 | Pomeroy Rank: No. 3
Overview: On Selection Sunday, many analysts picked Louisville as one of their favorites to not only to emerge out of the Midwest Regional, but to win the national championship. These predictions were not baseless. Entering the NCAA Tournament, Louisville was streaking, having won 11 of its past 12 games. Further, the Cardinals did not just win these games. They demolished the competition, recording an average margin of victory of 27.2 points during this span. However, Louisville had a shaky first weekend in the NCAA Tournament, barely scraping by No. 13-seed Manhattan before winning a slop fest against No. 5-seed Saint Louis. Louisville advanced to the Sweet Sixteen, but it no longer appears to be the juggernaut everyone claimed it was.
Resume: 3-1 vs. Pomeroy Top 25; 7-5 vs. Pomeroy Top 50; 9-5 vs. Pomeroy Top 100; No losses vs. Pomeroy Sub-100
Louisville ran through most of its schedule without a hiccup. The Cardinals played 24 teams outside Pomeroy's top 50 and 22 teams outside his top 100. Louisville thrashed most of them by at least 20 points. However, Louisville had only the 101st-toughest schedule in the nation according to Pomeroy. The reason is because the Cardinals played so few top 50 teams. And, on top of that, the Cardinals did not perform consistently against these upper-tier teams, losing five times in 12 games, albeit none by double digits. For this reason, it is unclear whether Louisville can string together enough wins against elite competition to contend for a national title.
Four Factors: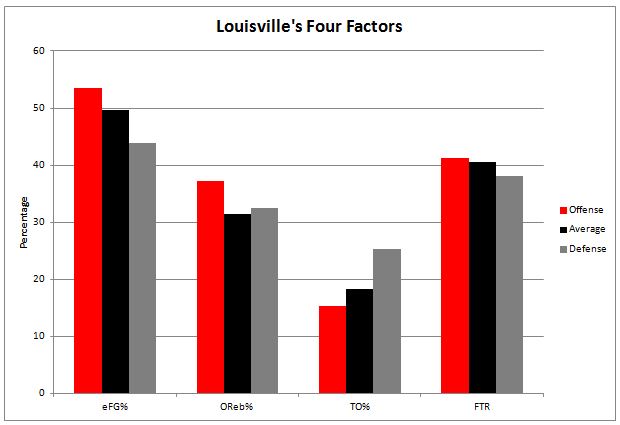 Offensive Profile: Louisville is extremely efficient offensively, ranking No. 15 in adjusted offensive efficiency. This is no surprise when the Cardinals racked up 1.160 points per possession in AAC play. Yet Louisville did not fare as well against stingy Manhattan and Saint Louis defenses, failing to exceed one point per possession in the NCAA Tournament. This has unearthed some cracks in the foundation.
The most evident crack is turnovers. This may seem odd because Louisville has been great about not coughing up the basketball, ranking No. 25 in offensive turnover rate. Nonetheless, Louisville's offensive efficiency relies on maintaining a low offensive turnover rate. This can be a problem when Louisville's point guard is Russ Smith.
Smith is the engine of Louisville's offense. He has a usage rate of 30.9 percent, which is the 35th-highest rate in the nation. Despite this, Smith has actually been more efficient this season than in years past. He is shooting better than he ever has from both two and three, while recording his best assist rate to date. Smith also gets to the free-throw line frequently. In two NCAA Tournament games, Smith has made 21 trips to the charity stripe. Nonetheless, Smith is a wildcard. He has a reputation for forcing plays and taking bad shots. If Smith starts to think he can beat defenses one on five, he starts to take contested two-point jumpers and commit careless turnovers. It is no coincidence that in Louisville's last two games, during which its offense stumbled for long stretches, Smith had 13 turnovers total.
The Cardinals also like to get the ball to their best big man, Montrezl Harrell, in the post Harrell is an athletic freak who uses his natural abilities and strength to be productive around the rim and sky high for offensive rebounds. Harrell may have a nice tough on his jump shot, but do not expect many from him. Two-thirds of his shots are dunks, layups, and tips, of which he makes 72 percent. He is a load for defenses to hand in the interior.
On the perimeter, Louisville has an army of shooters. There are five Cardinals who have attempted at least 50 threes and made at least 34 percent. Luke Hancock—a name Michigan fans are all too familiar with—is the first person who comes to mind, but he has actually been worst of these five shooters, barely making 34 percent. Wayne Blackshear (40.2 pct.), Smith (39.7 pct.), Chris Jones (38.1 pct.), and Terry Rozier (37.1 pct.) have been much more lethal from downtown. Accordingly, Louisville punishes teams that try to play zone defense against it.
One thing to keep an eye on is Louisville's free-throw shooting. Louisville does not need free throws to improve its offensive efficiency. But, by shooting only 66.3 percent from the charity stripe, the Cardinals may leave the door open for opponents trying to claw their way back into a game in the final minutes. If opponents are in a must-foul situation, Harrell, who makes less than 50 percent of his free throws, is the man they want to send to the line.
Defensive Profile: Louisville is even better defensively. Louisville is ranked No. 3 in adjusted defensive efficiency behind only Arizona and Florida. Louisville held AAC teams to 0.905 points per possession. The Cardinals have been even better in the NCAA Tournament, limiting Manhattan and Saint Louis to only 0.833 points per possession. It is on the defensive end where Louisville dominates games.
Pressure is the one word needed to summarize Louisville's defense. Louisville attacks opponents defensively by running a variety of full-court and three-quarters-court presses. These presses cause opponents to panic and make mental mistakes, like throwing the ball away. This is why Louisville has the second-best defensive turnover rate, forcing opponents to commit a turnover 25 percent of the time, and the second-best defensive steal rate. Additionally, these presses help Louisville speed up the tempo of the game to a pace that best suits the Cardinals.
Without these turnovers, though, Louisville is not nearly as effective in getting stops. Louisville's half-court defense allows too many offensive rebounds because the Cardinals' wings are trying to get out in transition to ignite a fast break before their post players have hauled in the defensive rebound. Further, if Louisville does not force turnovers, the intense and hectic pressure that it applies causes referees to call fouls on the Cardinals, sending opponents to the free-throw line often. This is why teams that can break Louisville's presses have the best chance to light up the scoreboard.
However, Louisville's defense is not a one-trick pony. The Cardinals' field-goal defense is top-notch. The Cardinals have the sixth-best defensive effective field-goal percentage (eFG%) in the nation. The Cardinals hold opponents to just 44.2 percent shooting on two-pointers, but are even better along the perimeter. Teams make only 28.6 percent of their threes against Louisville, which is the second-lowest percentage in the nation. But this is more likely good luck than anything else. Three-point defense is more about how much a defense limits three-point attempts. Although Louisville is decent at preventing three-point attempts, the Cardinals are by no means locking down the three-point line.
Michigan's Key to Victory: If Michigan rematches the team it fell to in last year's championship game, the turnover battle will be the key. Offensively for Michigan, the Wolverines will be dealing with Louisville's pressure all game. The good news for the Wolverines is that they are one of the best at holding onto the basketball. Michigan always has multiple excellent ball handlers on the court, whether it is Derrick Walton, Jr., Spike Albrecht, Nik Stauskas, or Caris LeVert. Accordingly, U-M's offensive turnover rate is only 14.7 percent, which is the 12th-best in the nation. If Michigan can routinely break Louisville's pressure, it will be able to slow the pace to its liking and limit Louisville's points off turnovers.
Defensively for Michigan, the Wolverines will have problems getting stops unless Smith decides to do it all by himself. If Smith tries hero ball, he likely will shut out his teammates and turn over the basketball frequently. However, Michigan does not pressure opposing offenses into turnovers. Therefore, if Smith is able to get into a groove and get his teammates involved, the Wolverines will have a very difficult time defending not only Harrell in the paint, but also all of Louisville's snipers around the perimeter.
Kentucky: 26-10 (12-6 SEC) | Seed: No. 8 | Pomeroy Rank: No. 13
Overview: No team had more preseason hype than Kentucky. With what many scouts dubbed as the best recruiting class in the history of college basketball, even better than Michigan's "Fab Five," Kentucky was ranked No. 1 in the preseason Associated Press (AP) poll. Some even though that a perfect 40-0 season was realistic. Not exactly. The regular season was a rollercoaster ride for the youngest and most inexperienced team in the country. Kentucky appeared to be stumbling at the finish line, but a hard-fought, one-point loss to top-ranked Florida in the SEC Tournament reminded the Wildcats just how talented they really are. UK used this confidence boost to beat No. 9-seed Kansas State in the opening round before handing No. 1-seed Wichita State its first loss of the season in an all-time classic.
Resume: 3-5 vs. Pomeroy Top 25; 5-6 vs. Pomeroy Top 50; 16-9 vs. Pomeroy Top 100; One loss vs. Pomeroy Sub-100
Kentucky played one of the most difficult schedules in the country. Unlike many major-conference schools, the Wildcats scheduled a challenging non-conference slate. UK failed to win any of its first three marquee non-conference contests against Michigan State, Baylor, and North Carolina, but the Wildcats earned a signature win by upending in-state rival Louisville. In conference play, though, UK's only quality wins was a home victory against Tennessee. It also did not help that UK was swept by Florida and Arkansas and suffered a bad road loss to South Carolina. But this did not prevent Kentucky from earning its best win of the year last Sunday when UK knocked off formerly undefeated Wichita State.
Four Factors: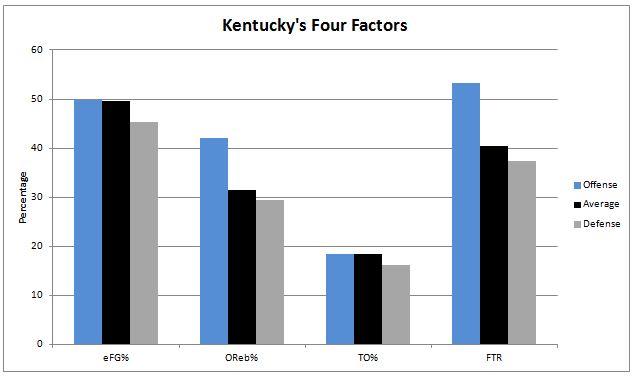 Offensive Profile: Kentucky is ranked No. 17 in adjusted offensive efficiency, but its offense has been faltering in the past few weeks. Through UK's first 27 games, the Wildcats exceeded one point per possession in each game. In the nine games thereafter, though, Kentucky has managed to exceed that mark only four times. This is a sign of inconsistency, but the Wildcats did just post 1.258 points per possession against Wichita State, the most the Shockers allowed all season.
This inconsistency stems from poor shooting. Kentucky is ranked No. 158 in eFG%. Do not blame Kentucky's interior offense, though. The Wildcats convert 50.1 of their two-pointers, which is 102nd-best in the nation. They do this by feeding freshman star Julius Randle on the block. Randle is a walking double-double. He averages 15.1 points and 10.6 rebounds per game and has double-doubles in both of his NCAA Tournament games. Randle scores often because he uses a team-high 26.5 percent of UK's possessions and is very efficient around the rim. About half of Randle's shots are at the rim, of which he converts 71 percent because of his array of post moves and strength to outmuscle opposing defenders. However, Randle likes to settle for jumpers from time to time, of which he makes only 33.7 percent. Teams will make Randle look average if he repeated takes seven- to 15-foot jumpers all game.
Kentucky also likes to get the ball to Willie Cauley-Stein and Alex Poythress on the block. They are not nearly as skilled as Randle or receive as many touches, but their size—Cauley Stein is 7'0" and Poythress is 6'8"—makes it difficult for defenders to guard them effectively. Similar to Randle, about half of their shots are around the rim. Cauley-Stein is more efficient there, making 76.2 percent, while Poythress converts 66.7 percent of his shots at the rim. Also, Cauley-Stein shoots 37.7 percent on his two-point jumpers, which means he can be effective away from the rim as well.
Kentucky's shooting problems arise from inability to make the long ball. Kentucky drains only 32.7 percent of its threes, which is No. 239 in the nation. UK does not attempt many threes either. Only three Wildcats have attempted more than 50 threes. James Young and Aaron Harrison have attempted 222 and 155 three-pointers, respectively, both making an average 34.2 percent. Andrew Harrison is UK's best three-point shooter, drilling 36.1 percent, but he attempted only 83 threes. And, if any other Wildcat lets one fly from behind the arc, opponents will be more than happy as no other major contributor shoots better than 30 percent from three-point territory.
Despite these shooting issues, Kentucky finds other ways to score. First, Kentucky grabs 42 percent of its missed shots, which is the second-best offensive rebounding rate in the nation. All four of Kentucky's big men—all of whom are at least 6'8" and two are 7'0"—use their incredible size to hit the glass hard. With two post players on the hardwood at all times, Kentucky usually has a size advantage at the center and power forward positions. If teams do not box out these post players, Kentucky will generate lots of second-chance points as all four of Randle, Cauley-Stein, Poythress, and Dakari Johnson have at least 30 put backs each.
Second, Kentucky is very adept at getting to the free-throw line. Kentucky's free-throw rate is 53.2 percent, which is the seventh-highest rate in the nation. There are three Wildcats that have an individual free-throw rate higher than 60 percent. They are Randle (77 pct.), which is the 35th-best individual rate in the country, Andrew Harrison (69.4 pct.), and Johnson (62.7 pct.). But this does not mean that Kentucky is a good free-throw shooting team. The Wildcats make only 68.4 percent of their free throws, which is No. 229 in the nation. Both Randle and Andrew Harrison make at least 70 percent of their free throws, but it is Cauley-Stein (48.2 pct.) and Johnson (45.9 pct.) that cause UK's free-throw percentage to plummet.
Turnovers also have been a problem for Kentucky. The Wildcats commit a turnover during 18.3 percent of their possessions, which is No. 167 in the nation. This is no surprise when the Wildcats have a true freshman, Andrew Harrison, running the offense. His turnover rate is an alarming 23.8 percent. This is actually higher than his assist rate. This is not what teams want from their point guard who is supposed to get the team into its offense. Andrew Harrison is prone to making bad mistakes with the ball in his hands and coughing the ball up to opponents, which has hurt Kentucky's offensive efficiency.
Defensive Profile: Kentucky is ranked No. 26 in adjusted defensive efficiency in the nation. Kentucky's defense had been playing very well prior to facing Wichita State on Sunday. In UK's first four postseason games, three in the SEC Tournament and one in the NCAA Tournament, UK's opponents scored only 0.940 points per possession. However, against the Shockers, which are an elite offensive team, Kentucky allowed an alarming 1.226 points per possession.
Kentucky's defense is at its best when it is able to set up in the half court. According to Sports Illustrated's Luke Winn, the Wildcats allow a superb 0.796 points per possession when playing half-court defense. This is one of the best half-court defensive efficiencies in the nation. This is no surprise given Kentucky's incredible size. The heights of UK's starting lineup are 6'6", 6'6", 6'6", 6'9", and 7'0". Once Kentucky is set up in its half-court defense, its size and length prevents opponents from having clean looks at the rim.
Accordingly, Kentucky has a defensive eFG% of 45.4 percent, which is the 29th-best in the nation, and a defensive block rate of 15.4 percent, which is the 12th-best in the nation. The anchor to UK's stingy half-court defense is Cauley-Stein, who has the 12th-highest individual defensive block rate in the country. Additionally, the Wildcats do a decent job with its defensive rebounding, which is No. 91 in the nation, and not sending opponents to the free-throw line, No. 111 in the nation. Kentucky's half-court defense is one of the most difficult in the nation to solve.
However, Kentucky's defense loses its edge when opponents try to attack it in transition. When opponents attack Kentucky in transition, they are able to score 1.159 points per possession. This is a 0.363 point-per-possession difference from Kentucky's defensive efficiency in the half court. This is the second-biggest drop-off between half-court defensive efficiency and transition defensive efficiency in all of NCAA D-1 college basketball. This is what happens when Kentucky puts a lineup with that much size on the court. The big men struggle to run back on defense in time to contest opponents' transition opportunities. It also does not help that Kentucky has such a young roster, as those players are more prone to making mental mistakes when transitioning back to defense.
Also, despite having such incredible length, Kentucky does not force lots of turnovers. Opponents commit a turnover during only 16.2 percent of their possessions against Kentucky. This means that UK's defensive turnover rate is No. 300 in the nation. The only Wildcat that has a higher defensive steal rate is Cauley-Stein, who is UK's best defensive player. He does a great job interfering with opponents' passes inside. However, there is very little threat from UK's guards and wings that they will be able to steal the ball for easy transition points.
Michigan's Key to Victory: Michigan plays one of the slowest tempos in the nation, but the Wolverines likely would need to speed it up to defeat Kentucky. There is a vast difference in the strength of UK's defense when set in the half court and when scrambling back in transition. Although the Wolverines do not attack on the fast break very often, they are very lethal when they do so. If Michigan pushes the ball enough and speeds up the tempo, Stauskas and LeVert likely will have lots of open looks from three-point line in transition, while Glenn Robinson III may be available for a couple easy ones around the rim.
Defensively, similar to Tennessee, Kentucky does not shoot well from the perimeter. The Wildcats' bread-and-butter is to work the ball inside to Randle and have its guards penetrate. Therefore, Michigan should pack the paint and sag off of Kentucky's perimeter players. This may tempt UK's guards to chuck it from three-point range. This also will have Michigan's defenders positioned closer to the rim, which will help mitigate UK's propensity to crash the offensive boards. Additionally, given how much Kentucky turns over the basketball, Michigan's 1-3-1 zone likely will be very effective against UK's youth.
Which Team Does Michigan Fans Want to Win:
Kentucky, I think. Although Michigan may have a better matchup offensively against Louisville because U-M has the ball handlers to break UL's presses, the matchup defensively against Kentucky is too favorable despite the size disadvantage. Louisville's offense is extremely balanced, and defenses one hope is that Russ Smith commits lots of turnovers by trying to do everything himself. But Michigan does not force opponents to commit lots of turnovers. If Michigan cannot pressure Smith into making mistakes, U-M will struggle to cover UL's snipers on the perimeter. And they will not miss.
On the other hand, Kentucky is a poor shooting team that is prone to turnovers. Its offensive strengths are offensive rebounding and getting to the free-throw line, which Michigan has done a very good job at preventing opponents from doing all season. In this clash of strengths, Michigan will be able to hold up defensively as long as it packs the paint or runs its 1-3-1 zone for long periods of time. This will tempt the Wildcats' perimeter players to shoot three-pointers, at which they are not very efficient, and make bad passes over the zone. Michigan has a much better chance against a poor shooting team because U-M is prone to allowing open looks.
Additionally, Kentucky may be the team that many fear because they have been playing their basketball as of late. However, they have been inconsistent all year. This is what happens when a team has the youngest roster in America, playing five freshmen and two sophomores the majority of its minutes. Michigan would much rather play a team that is prone to mistakes than a team full of upperclassmen that have appeared in the last two Final Fours and won the national championship last season.