---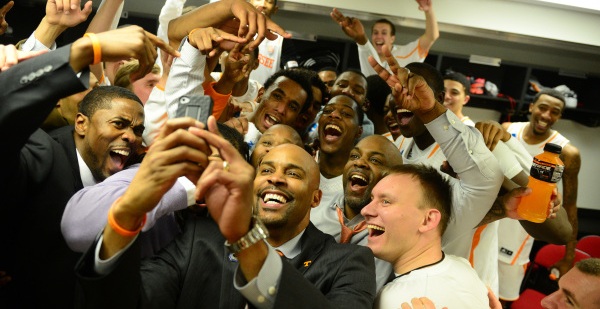 (Wade Rackley, UT Athletics)
Yesterday, "Inside the Numbers" provided a historical analysis of Michigan's extraordinary success in the Sweet Sixteen. It was a fun post that allowed Michigan fans to reminisce and hope that the good times will continue to roll this weekend. However, with Michigan's Sweet Sixteen contest only two days away, it is time to start looking ahead at the obstacles that stand between Michigan and a trip to a second straight Final Four.
This weekend, there will be three teams traveling to the Midwest Regional in Indianapolis along with No. 2-seed Michigan: No. 4-seed Louisville, No. 8-seed Kentucky, and No. 11-seed Tennessee. The Wolverines will battle the Volunteers on Friday night in the Sweet Sixteen. If the Wolverines defeat Tennessee, they will then play the winner of the Louisville-Kentucky matchup in the Elite Eight.
It is important to note the difficulty of maneuvering through this regional. Many fans may see that the other three teams in the Midwest Regional are only a No. 4 seed, No. 8 seed, and No. 11 seed and think that this will be a cakewalk for No. 2-seed Michigan. This would be foolish. All three of these schools are much better than their seeds indicate. In fact, advanced statistics show that the Midwest Regional is the toughest remaining regional of the four.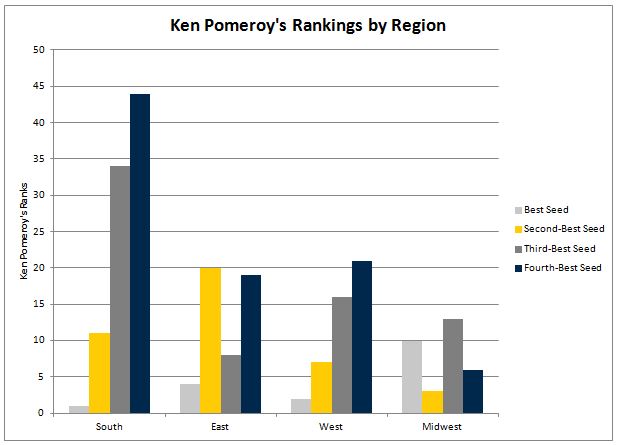 All four teams in the Midwest Regional are ranked in the top 13 of Ken Pomeroy's rankings, which use an advanced algorithm to rank teams based on their adjusted offensive and defensive efficiency. Every other region has at least two teams ranked outside Pomeroy's top 15. Further, the average Pomeroy rank of the Midwest Regional is 8.00, while it is 11.50 for the West Regional, 12.75 for the East Regional, and 22.50 for the South Regional. Michigan's path to the Final Four is far from a cakewalk.
With the groundwork set that the Midwest Regional is the toughest to win of the four regionals, here is an in-depth scouting report of Michigan's Sweet Sixteen opponent, Tennessee, in Part One. Part Two, which will be posted later today, will include in-depth scouting reports of Michigan's potential opponents in the Elite Eight, Louisville and Kentucky, should U-M defeat UT.
Tennessee: 24-12 (11-7 SEC) | Seed: No. 11 | Pomeroy Rank: No. 6
Overview: Tennessee is weird. On one hand, Tennessee lost double-digit games in the regular season and finished with an 11-7 record in the nation's fifth-best conference. This led to the Volunteers being a No. 11 seed and one of the last four bubble teams to make the NCAA Tournament. On the other hand, the computers are infatuated with Tennessee. The Volunteers are No. 6 in the nation in Pomeroy's rankings and actually projected by Pomeroy to beat Michigan in the Sweet Sixteen despite the discrepancy in seeds. How is this possible? The "Resume" section below will attempt to answer.
The difference in Tennessee's seed and Pomeroy rank make it very difficult to peg just how good the Volunteers are. Is Tennessee actually the sixth-best team in the nation? Probably not. But the Volunteers certainly are playing some of their best basketball at the moment. After upending an underrated No. 11-seed Iowa in overtime in the First Four, Tennessee steamrolled No. 6-seed Massachusetts by 19 points and No. 14-seed Mercer by 20 points to advance to the Sweet Sixteen.
Resume: 1-5 vs. Pomeroy Top 25; 2-5 vs. Pomeroy Top 50; 11-9 vs. Pomeroy Top 100; three Losses to Pomeroy Sub-100
The reason why Tennessee barely snuck into the NCAA Tournament is that the Volunteers have a very poor record against the best teams in the nation. Prior to the NCAA Tournament, Tennessee had a 1-5 record against both the top 25 and top 50 of Pomeroy's rankings. The Volunteers did not add that second top 50 win until they beat Iowa in the First Four. Three of those losses came at the hands of the Florida Gators, which are the No. 1 overall seed in the NCAA Tournament, with the other two against Wichita State and Kentucky. Additionally, Tennessee has three bad losses to teams ranked outside Pomeroy's top 100, which includes being swept by Texas A&M and a road loss to Vanderbilt.
Yet Tennessee is still No. 6 in Pomeroy's rankings because of the margin of victory in its games. Tennessee's lone top 50 win prior to the NCAA Tournament was a 35-point smack down of No. 1-seed Virginia. Also, in SEC play, the Volunteers' efficiency margin was plus-0.135 points per possession, which was second in the SEC. For comparison, Michigan's efficiency margin in Big Ten play was plus-0.107 points per possession. Yes, the Big Ten was far superior to the SEC, but Tennessee's efficiency margin indicates that UT won its games in blowout fashion while losing many down-to-the-wire contests.
Four Factors: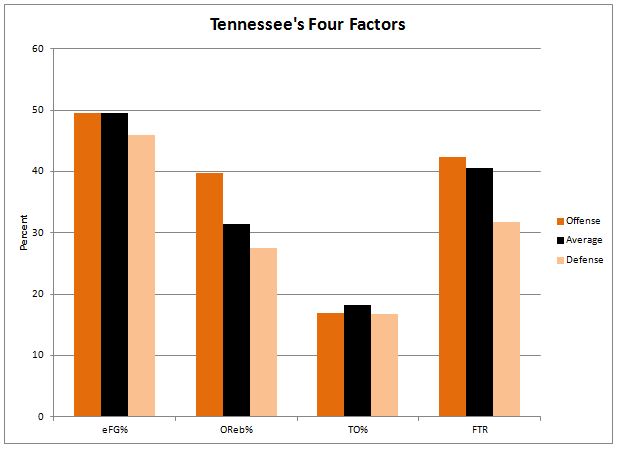 Offensive Profile: Tennessee has the 16th-best offense in the nation in terms of adjusted efficiency and has shown why in the NCAA Tournament. In its three NCAA Tournament games, the Volunteers have scored no less than 78 points in each one, averaging a superb 1.286 points per possession in all three.
However, Tennessee is an average shooting team at best. UT is ranked only No. 170 in the nation in effective field goal percentage (eFG%) with an eFG% of 49.6 percent. This is because the Volunteers, like Texas, are a poor three-point shooting team. Tennessee is No. 282 in the nation in three-point shooting, making only 31.9 percent. The Volunteers have only two consistent shooters from behind the arc. The first is Jordan McRae, who has made 77-of-215 threes for a team-best 35.8 percent. The second is Josh Richardson, who has converted 34.4 percent of his threes this season. Yet Richardson has slumped from outside recently, draining only 3-of-22 (13.6 pct.) threes in his past seven games. The only other Volunteer likely to shoot from three-point range is Antonio Barton, who has attempted 141 threes this season. But Barton has made just a tad more than 32 percent of them, so he is not nearly as dangerous as the other two.
This is why Tennessee is most efficient offensively when it tries to work the ball inside to its best player, Jarnell Stokes. Stokes is UT's 6'8″ center who is a beast around the basket. About 50 percent of Stokes' shots are either at the rim, meaning they are dunks, layups, or tips, while the other 50 percent are two-point jumpers. However, in this case, two-point jumpers are short shots about three to six feet from the hoop, not 15-foot pull-up shots. Stokes is very efficient around the basket, too. His eFG% at the rim is 68.5 percent. Expect Tennessee to feed Stokes—who is averaging 20.3 points per game in the NCAA Tournament—in the post early and often.
However, Tennessee's low-post offense is not even its biggest offensive strength. Like Texas, the Volunteers' offense thrives on crashing the glass. The Volunteers are the fourth-best offensive-rebounding team in the nation, corralling 39.8 percent of their missed shots. In their last game against Mercer, the Volunteers rebounded 18 of their 30 misses for an absurd offensive rebounding rate of 60 percent. Most of UT's offensive rebounding comes from it two starting post players—Stokes and Jeronne Maymon. Both Stokes and Maymon are in the top 30 in the nation in individual offensive rebounding. In UT's three NCAA Tournament games, Stokes and Maymon have averaged a combined seven offensive rebounds per game. Expect those two to be all over the glass on Friday night.
Unlike Texas, Tennessee plays at very slow pace similar to Michigan. The Volunteers' adjusted tempo is only 62.8 possessions, which is the 325th-fastest out of 351 NCAA D-1 college hoops teams. Tennessee, which has a very short bench, likes to be patient and set up its half-court offense. Only 21.8 percent of UT's initial shots are in transition, which is No. 260 in the nation. The Volunteers are not looking to run their opponents. They would much rather run down the shot clock and beat their opponents with execution and brute force.
Defensive Profile: Tennessee also is an excellent team on defense as well, ranking No. 18 in adjusted defensive efficiency. The Volunteers allowed SEC opponents to score only 0.973 points per possession and have held their three NCAA Tournament opponents to 1.016 points per possession. The key to Tennessee's defense is that it is very balanced and very good at many different things.
The heart of Tennessee's defense is inside the paint. Like Texas, the Volunteers do a fantastic job at holding opponents to a subpar shooting percentage from inside the three-point line. Teams have been able to convert only 44.3 percent of their two-pointers against the Volunteers. However, unlike Texas, Tennessee does not do this by jumping at and trying to block every shot around the rim. The Volunteers are very adept at maintaining their ground while contesting two-pointers. This allows Tennessee to rebound 72.5 percent of its opponents' missed shots, which is 18th-best in the nation, and rarely send opponents to the free-throw line.
Another critical difference between Tennessee and Texas' defense is that the Volunteers are much, much better at contesting opponents' three-pointers. Only 27.3 percent of Tennessee's opponents' field-goal attempts have been threes. This is the 22nd-lowest rate in the nation. Teams have struggled to launch threes against Tennessee because of the length of its perimeter players. UT's guards and wings are 6'6″, 6'6″, and 6'2″. These Volunteers use their length to quickly get out on three-point shooters, making it difficult for opponents to find open looks around the three-point line.
One element of Tennessee's defense that opponents are not concerned with is turnovers. The Volunteers struggle to force their opponents to commit turnovers, forcing them to do so only 16.8 percent of their offensive possessions. Given the strengths of the rest of UT's defense, it is imperative that UT's opponents do not commit unforced errors against this defense. Otherwise, those opponents will run into a buzz saw.
Michigan's Key to Victory: After reading this preview, one may think that Tennessee is the favorite to win the national championship. Obviously, this is not the case. The Volunteers have very good numbers, but they have not been able to record these types of numbers consistently against elite competition, like the Wolverines. Michigan's skill and talent level will provide many challenges for this Volunteers squad.
There are two keys for Michigan, and both are on the defensive end. Michigan has the third-best offense in the nation and has proven time and time again that it can score against the best of the best. But Michigan will need to win this game on the defensive end of the court.
First, Michigan needs to pack the paint defensively. Tennessee scores most of its points around the bucket and struggles with its perimeter shooting. By packing the paint, the Wolverines will clog up the spacing inside that Stokes will need to operate effectively. Plus, this will tempt the Volunteers' outside shooters to fire away. This could be very beneficial for Michigan when Richardson has not been able to find his shot from beyond the arc in his past seven games and when Barton loves to chuck from three-point range despite not being very efficient from there.
Second, by packing this paint, this will make it much more difficult for the Volunteers to crash the offensive glass. All five of Michigan's players will be closer to the rim when Tennessee's shots go into the air. This will allow the Wolverines to find a Volunteer to box out much easier and help limit Stokes and Maymon's second-chance opportunities. If Michigan can limit Tennessee's possessions to one-and-done, U-M will take away the most effective element of UT's offense. Therefore, it is imperative that Jordan Morgan keeps Stokes at bay and Glenn Robinson III boxes out Maymon on a consistent basis. If this happens, Michigan likely will walk away as the victors.
Part Two of the Midwest Regional Preview on Louisville and Kentucky will be posted later today.