---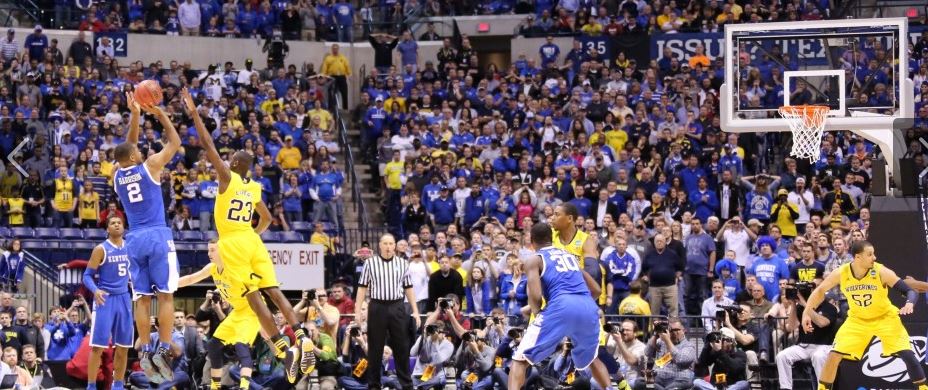 (Dustin Johnson, UMHoops)
The best word to describe the NCAA Tournament is "unpredictable." When a 68-school, single-elimination tournament is used to crown the national champion, chaos will ensue. Although the following counters what all traditional college basketball fans believe, forty minutes of basketball is not enough time to truly determine which of two teams playing each other is the better team.
This is why, every year in mid-March, there are top-four seeds losing in the Round of 64 (Hi, Duke!). There are double-digit seeds shocking the nation with Cinderella runs deep into the tournament (Hi, Dayton!). There are buzzer-beaters (Hi, Cameron Ridley!). There are overtimes (Hi, Tennessee, Stephen F. Austin, Connecticut, North Dakota State, San Diego State, Saint Louis, and Wisconsin!). This is why the NCAA Tournament is coined "March Madness" and why it is one of the most entertaining, dramatic, and popular sporting events. But this is also why it is one of the cruelest.
Before March Madness takes the nation by storm, the 68 NCAA Tournament teams generally have already played 30 to 35 games. It is during these 30 to 35 games that teams reveal their identity on the hardwood. Some, like Michigan, Duke, and Creighton this year, show themselves to be offensive wizards, with an ability to score from any spot on the floor, but incapable of preventing opponents from doing the same. Others, like Ohio State, Saint Louis, and Cincinnati this season, become defensive juggernauts that cannot buy a bucket for themselves. And few, like Florida, Arizona, and Wichita State this year, excel on both ends of the floor. The identities that teams established in the regular season are the ones that these teams are expected to assume in the NCAA Tournament.
Kentucky's identity is easy to peg. Kentucky has size, size, and more size, boasting a starting lineup and a few key reserves who all are 6'6" or taller. With this size, the Wildcats' offensive identity is paint domination. UK's guards love to drive into the teeth of opposing defenses for layups and two-point jumpers. UK's big men love to receive the ball on the block and use their size, strength, and, in Julius Randle's case, an array of post moves to generate easy looks around the rim. And, if those shots do not fall, few teams in the nation crash the offensive glass and earn second-chance points as well as the Wildcats.
This was on full display when Kentucky and Michigan squared off in the Midwest Regional final on Sunday evening with a spot in the Final Four at stake. Kentucky capitalized on its size advantage against the Wolverines and set up shop in the paint. The Wildcats took 58 shots. Forty-seven of those were taken inside the three-point line, of which UK converted a healthy 51.1 percent. And, when Kentucky did miss, it grabbed the offensive board a season-high 63 percent of the time. This led to 46 points in the paint and 17 second-chance points for the Wildcats. This may have been more than expected, but it certainly was not a surprise.
However, the same cannot be said about Kentucky's perimeter shooting. One of the reasons why Kentucky's identity is paint domination is because the Wildcats have no sharpshooters. Only James Young and the Harrison twins, Aaron and Andrew, have attempted more than 50 triples this season, and no major contributor on Kentucky has made more than 36 percent of his threes. Accordingly, prior to Sunday's game, Kentucky ranked No. 247 in the country in three-point shooting, making a subpar 32.7 percent. Kentucky had not been hot from the outside recently either. UK had made 34 percent of its three-pointers in its first three NCAA Tournament contests and 33.8 percent in its previous 10 games before the Elite Eight.
This is why the most significant defensive key to the game for Michigan, other than trying to prevent Kentucky from assaulting the offensive glass, was to tempt UK's guards into launching treys from behind the arc. The more frequently the Wildcats tried to add three points to their total, the more likely they would stray away from their offensive strengths. Whether or not Michigan employed a defensive strategy that did this effectively is a debate for another time. The point is that the battle of the perimeter was supposed to be won convincingly by Michigan, the fourth-best three-point shooting team in the nation at 40.2 percent, not Kentucky.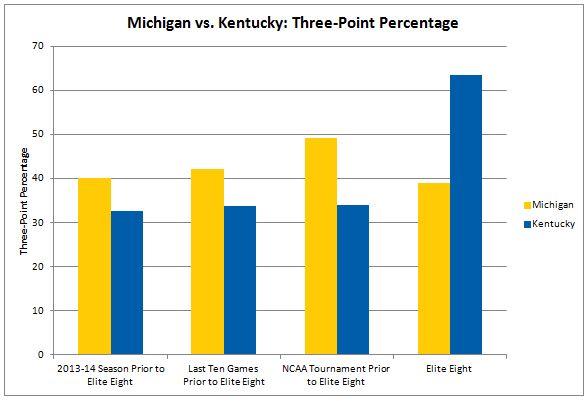 The problem for Michigan, though, was variance. If Michigan was to play Kentucky three or four times in a season, or even in all 35 games of a season, UK likely would convert only between 32 and 34 percent of its three-pointers over the course of those games. But Michigan and Kentucky played each other in only one game. And, in one game, there is variance. There will be some individual contests in which the Wildcats will light it up from downtown. There will be more individual contests in which the Wildcats are ice cold and struggle to hit a shot outside 15 feet. Against the Wolverines, it was the former.
Kentucky, a team that had made only 32.7 percent of its three-pointers prior to the Elite Eight, sunk 7-of-11 triples against Michigan for an atypical rate of 63.6 percent. It is the second-highest three-point percentage the Wildcats have recorded this season, with only the 75 percent they made during a 6-of-8 performance against Providence four months ago in December topping it. The effort was led by Aaron Harrison and Young, who combined to make 70 percent of their threes against the Wolverines after combining to make only 34.2 percent in the 37 games they had played before Sunday.
This was the difference in the game. The Wolverines made 38.9 percent of their threes against Kentucky, which falls right in line with U-M's average for the season. However, this was a stat that Michigan needed to dominate. In its first three NCAA Tournament games, Michigan had outscored its opponents from three-point territory by a substantial margin, 96-24. Against Kentucky, though, Michigan had as many points from threes as the Wildcats (21). Had Kentucky shot its season average against U-M, the Wolverines would have scored about nine to 12 more points from the perimeter than Kentucky. The Wildcats may have rebounded one or two of those additional misses, but that is the difference between Michigan winning by six to nine points and losing by three.
And the shot that buried Michigan? A heavily contested three-pointer by Aaron Harrison, who had made only 34.6 percent of his triples this season before the Elite Eight, with a tad over two seconds remaining.
If this had been a best-of-seven series to determine whether Michigan or Kentucky would advance to the Final Four, it would have been a tough loss for the Maize and Blue. However, the Wolverines would have had six more opportunities to try to win four games, and the odds would have been extremely unlikely that the Wildcats would have another extraordinary three-point-shooting performance.
But this was not a best-of-seven series. This was the NCAA Tournament, where variance, like a one-game spike in three-point shooting, can be the difference between celebrating a second straight Final Four and sitting at home for the last weekend of the tournament. This is what makes the NCAA Tournament one of the best sporting events and one of the cruelest. Unfortunately, for the Wolverines, they just experienced why it can be the latter.