---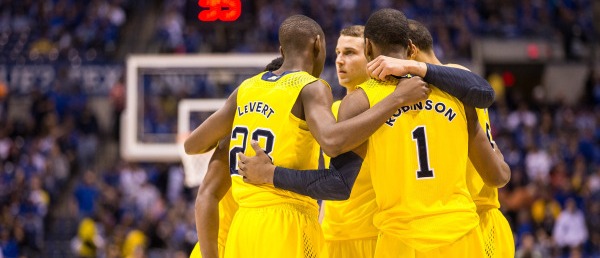 (MGoBlue.com)
In 2013, Michigan had the best offense in the nation. Trey Burke and Tim Hardaway, Jr. were the offensive engines, holding the two highest usage rates on the roster. Burke consumed a team-high 29 percent of U-M's possessions, while Hardaway, Jr. used the second-most at a 22.3-percent rate. And neither wasted many possessions when they had the ball in their hands. They averaged a combined 33.1 points per game, accounting for 44 percent of Michigan's points. Burke and Hardaway, Jr. were the main reasons why the Wolverines had the highest adjusted offensive efficiency in the country in 2013 (120.3).
It was no surprise then that Burke, the consensus national player of the year, and Hardaway, Jr., member of the coaches' All-Big Ten first team, decided to forego their Michigan careers and declare for the 2013 NBA Draft. This left a huge void offensively for the Wolverines. How would Michigan overcome their departures offensively? Although Michigan had skilled, efficient players returning, none had before lifted the load the Burke and Hardaway, Jr. had just lifted. It was not preposterous to assume that their individual efficiency would suffer at the expense of a bigger workload. This is why most outside the Michigan locker room, myself included, expected the Wolverines to step back offensively in 2014.
Boy, were we wrong.
Despite the departures of Burke and Hardaway, Jr. and the lower-back injury that forced Mitch McGary to miss most of the season, Michigan led the nation in adjusted offensive efficiency for the second straight season. This is the third time that a school has achieved this feat two years in a row. The other two were Wake Forest (2004-05) and North Carolina (2008-09). However, unlike Michigan, the Demon Deacons and the Tar Heels did not lose their star players after the first year. Wake Forest had current NBA star Chris Paul for both years, and North Carolina kept their core nucleus of Tyler Hansbrough, Ty Lawson, Danny Green, Wayne Ellington, and Deon Thompson intact. Michigan did not have such a luxury and still did it anyway.
In addition to having the best adjusted offensive efficiency for the second straight season, Michigan actually increased its rating in 2014 without Burke, Hardaway, Jr., and McGary. In 2013, Michigan would be expected to score 120.3 points in a 100-possession game against an average NCAA D-1 college basketball team. In 2014, Michigan would be expected to score 124.1 points in such a game. Not only is this a significant improvement, no team has ever posted a better adjusted offensive efficiency in the KenPom era. Therefore, Michigan's offense this season was the most efficient in the nation since at least 2002.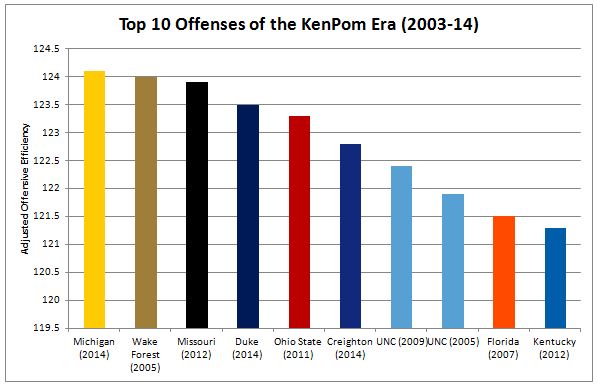 The 2014 season featured three of the six most-efficient offenses of the past 12 seasons. In addition to Michigan, Duke and Creighton had historically impressive offenses. In fact, for most of the season, the Blue Devils and the Bluejays, not the Wolverines, were dueling for the designation as the nation's most-efficient offense. However, Michigan made a giant push in the NCAA Tournament for the top spot. After a lackluster showing against Wofford in the Round of 64, the Wolverines scored 1.379, 1.213, and 1.265 points per possession against three top-50-caliber defenses. These offensive explosions propelled Michigan past both Duke and Creighton for the title as the most-efficient offense not only in 2014, but also in the KenPom era.
These offensive explosions were common throughout the entire season, not just in the NCAA Tournament. It did not matter whether the opponent had one of the nation's best defenses or one of the worst. Most defenses that challenged Michigan's potent offense limped away whimpering. Ten of Michigan's opponents—Coppin State, Houston Baptist, Arizona, Holy Cross, Ohio State, Michigan State, Indiana, Texas, Tennessee, and Kentucky—had their worst defensive performance, in terms of efficiency, against the Wolverines. An additional four opponents—South Carolina State, Long Beach State, Penn State, and Illinois—had their second-worst defensive performance against Michigan. Therefore, 14 of U-M's 27 different opponents this season had either their worst or second-worst defensive performance against Michigan. And Michigan State's two worst defensive performances were at the hands of the Wolverines.
So how did Michigan pull this off without Burke, Hardaway, Jr., and McGary? Well, for starters, Michigan had absolutely no weak links on offense. All eight of Michigan's major contributors—Nik Stauskas, Caris LeVert, Glenn Robinson III, Derrick Walton, Jr., Jordan Morgan, Zak Irvin, Jon Horford, and Spike Albrecht—had an individual offensive rating higher than 110.0. Therefore, all eight Michigan regulars averaged more than 1.10 points per individual possession, which is extremely efficient.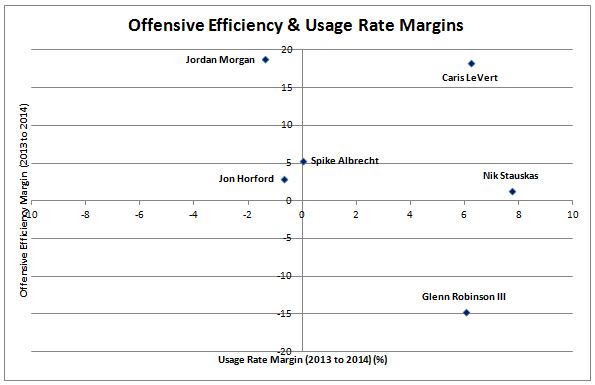 But, most importantly, the key to Michigan maintaining this offensive success was that five of U-Ms six returners upped their offensive efficiency in 2014. LeVert and Stauskas had the most significant improvements because they increased both their usage rate and offensive rating, which is a difficult task. LeVert's improvement is eye-popping. He was the least efficient Wolverine last season and had a minor role accordingly. This season? LeVert's usage rate was the second-highest on the team, and he increased his offensive rating by 18.3 points. A legitimate argument can be made that LeVert's sophomore season (21.4-percent usage rate, 111.7 offensive rating) was more productive than Hardaway, Jr.'s junior season (22.3-percent usage rate, 106.7 offensive rating). Either way, it is clear that LeVert filled the void left by Hardaway, Jr.
Stauskas' improvement is just as impressive as LeVert's even though Stauskas' offensive rating increased by only 1.3 points. Stauskas had little room to increase his efficiency after recording an offensive rating of 122.8 as a freshman, which was the 36th-best in the nation in 2013. Yet Stauskas did this despite increasing his usage rate from 16.2 to 23.9 percent and becoming Michigan's offensive star. Generally, a go-to player may struggle with his efficiency because he receives the most attention from defenses and must shoot bad shots in late-shot-clock situations. But Stauskas still upped his offensive efficiency anyway. While he was not the playmaker that Burke was, Stauskas mitigated the loss of the consensus national player of the year as well as any player can.
Three Wolverines improved their offensive efficiency while either maintaining their usage rate or using fewer possessions than last season: Morgan, Horford, and Albrecht. Morgan saw the largest spike in his offensive rating not only among these three Wolverines, but everyone on the team. His offensive rating jumped 18.8 points, just surpassing the 18.3-point spike LeVert's offensive rating experienced. As a result, Morgan's offensive rating of 128.2 was the highest on the team and the 26th-best in the country. This is what happens when a player makes a school-record 70 percent of his field-goal attempts.
The only returning major contributor that did not see his offensive efficiency increase was Robinson III. Not only did his offensive rating drop, it plummeted by 14.7 points. But this is unfair. Last season, Robinson III had an offensive rating of 128.4, which was the 10th-best in the nation. Similar to Stauskas, Robinson III had little to no room to improve his offensive efficiency. He pretty much hit the ceiling as a freshman. It is no surprise that his offensive rating dropped to a still very good 113.7 while increasing his usage rate by six percentage points. This is normal. Stauskas is the exception, not the rule. So, although Robinson III was not as consistent or efficient offensively as he was as a freshman, he still was very reliable offensively for a player handling over 20 percent of his team's possessions.
So what does this all mean? It means that Michigan just had the best offense of the past 12 seasons despite losing two NBA first-round draft picks. It means that John Beilein and this Michigan program is more than just one or two players. It means that Beilein is recruiting skilled players that fit and are developing quickly perfectly in his offensive system, which no other school has been able to match for the past two seasons. And it means that you should not make the mistake of assuming that Michigan's offense will take a step back next year, even if Michigan loses another player or two to the NBA.