---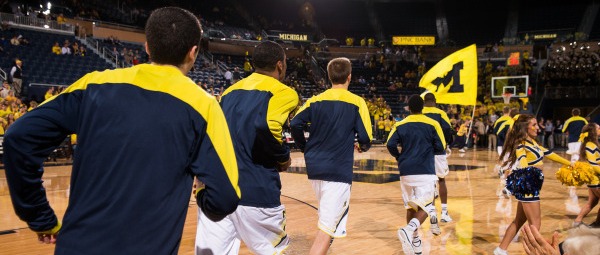 (MGoBlue.com)
The college basketball season officially has ended. Accordingly, this will be the final entry of my "Inside the Numbers" series for the 2013-14 athletic season. This hiatus will last a few months until I begin previewing the 2014 Michigan football team this summer. But I still will write for Maize and Go Blue in the meantime. I am starting a bimonthly mailbag. If you have any questions about Michigan football and basketball that you want answered, please tweet them to me (@DrewCHallett) or email them to me (drew.maizeandgoblue@gmail.com), and I will answer them here. On that note, I hope you enjoy my last "Inside the Numbers" piece on the 2013-14 Michigan basketball team. 
Michigan is a "football school." Always has been. Always will be. This is expected when Michigan is the winningest football program of all-time, leads the Big Ten with 42 conference championships, owns 11 national championships, has three Heisman Trophy winners, plays its home games in the nation's largest football stadium, and has made more television appearances than any other college football program. But this "football school" label should not overshadow the achievements of the Michigan's basketball program. Especially right now.
Michigan basketball is not some poor or substandard program. Michigan has won 14 Big Ten regular-season championships, which is one more than the number Michigan State has won. The Wolverines have appeared in the Sweet Sixteen and the Elite Eight 13 times each. Michigan has participated in the Final Four seven times. Only nine schools in the nation have advanced to the Final Four more often. And the Wolverines have celebrated one national championship. Indiana and Michigan State are the only Big Ten programs with more than one national title.
Unlike the football program, though, Michigan's basketball program has experienced only sporadic success. Historically, Michigan has not always been one of the best basketball programs in the nation. Michigan has not competed for Big Ten or national championships on a consistent basis. When the Wolverines have competed at such a level, they have not been able to sustain it for an extended period of time. This is why, from the inaugural NCAA Tournament in 1939 to 2011, there had been only four brief stretches during which Michigan was near the top of the college basketball landscape.
A-Maize-ing Stretches of Michigan Basketball (1939-2011)

Years

Overall
Win Pct.

Conference Win Pct.

B1G Titles

Sweet Sixteens

Elite Eights

Final Fours

1964-66

79.27%

83.33%

3

3

3

2

1974-77

79.31%

79.41%

2

3

3

1

1985-89

78.31%

72.22%

2

2

1

1

1992-94

78.43%

72.22%

0

3

3

2

Other 58 Years

52.65%

43.46%

1

0

1*

0

*Michigan appeared in the 1948 NCAA Tournament when the field had only eight teams
When John Beilein arrived in Ann Arbor in April 2007, it had been 13 years since Michigan had last been considered elite and nine years since Michigan had participated in the NCAA Tournament. The Wolverines were in a rut and in need of a new leader to rebuild their program. The first few seasons under Beilein were slightly rocky. Yes, Michigan overachieved in 2009 with a 21-win season and its first NCAA Tournament since 1998. But a disappointing sub-.500 record in 2010 and underwhelming start in 2011 gave the impression that Michigan was still a long ways away from the top of the mountain.
Then, suddenly, everything began to click a few weeks into the Big Ten season in 2011. With a worrisome 1-6 conference record, Michigan traveled to East Lansing, a place where it had not won since 1997, to play rival Michigan State. With the program trending downwards, Michigan seemed destined to suffer yet another loss at the Breslin Center. But Zack Novak and Stu Douglass had different plans. Novak buried a career-high six triples, and Douglass drilled a three-point dagger with 20.2 seconds left to secure a surprising victory for the Wolverines. The win turned around the season. Michigan closed with a 10-5 record and pushed No. 1 seed Duke to the brink in a promising NCAA Tournament appearance.
While this was happening on the court, Beilein was striking gold on the recruiting trail. In August 2010, Beilein landed an undersized point guard, whom Rivals ranked No. 136 in the 2011 class when he committed. His name was Trey Burke. One month later, Michigan received a pledge from an athletic wing whose father played in the NBA. The commitment earned little fanfare, though, because Rivals ranked the prospect only No. 118 in the 2012 class. His name was Glenn Robinson III. In March 2011, a Canadian sharpshooter, whom Rivals ranked No. 106 in the 2012 class at the time, decided he wanted to be a Wolverine. His name was Nik Stauskas. Then, after Beilein landed the highest-ranked recruit of his career in the form of five-star Mitch McGary, Beilein added a last-second commit, whom Rivals did not rank nationally, to the 2012 class. His name was Caris LeVert.
The combination of Michigan's end-of-the-season turnaround in 2011 and Beilein's superb recruiting of under-the-radar prospects ushered in what can now be considered the fifth golden era of Michigan basketball. Since 2011, Michigan has posted an 83-27 overall record (75.45 win percentage). The Wolverines' 83 wins are the most they ever have had in a three-year span. U-M's 59 total wins in 2013 and 2014 are the most ever by the school in consecutive seasons. With this type of on-court success, Michigan recently has accomplished goals and records that it has not done been able to do since the Fab Five era.
For starters, Michigan has been the best Big Ten basketball program during this timeframe. Since 2011, Michigan has a 40-14 conference record (74.07 win percentage). No Big Ten school has more conference wins or a higher conference win percentage in that span. The closest is Michigan State with 38 conference wins. Accordingly, the Wolverines won a Big Ten regular-season championship in 2012 and 2014. These were Michigan's first conference championships since 1986. Further, Michigan ran away with the title in 2014, winning the Big Ten by three games. This was a feat no team had achieved since Michigan State in 2009. For the first time in almost three decades, Michigan sits atop the Big Ten without an equal.
Michigan's success has translated to the postseason, too. Michigan has been no lower than a No. 4 seed in each of the past three NCAA Tournaments. Its No. 2 seed in 2014 was its highest since it was a No. 1 seed in 1993. Yes, the Wolverines fell unexpectedly to Ohio in the Round of 64 in 2012. But they have more than made up for it since then. Michigan has advanced to the Elite Eight each of the past two seasons, doing so in consecutive years for the first time since 1992-94. This included a magical run to the national championship game in 2013, where Michigan finished as the national runner-up. In these two NCAA Tournaments, the Wolverines accumulated eight wins. No other school in the nation can claim more in this span.
Michigan is amid this golden era of regular-season and postseason success because it has become the nation's gold standard for offense. The Wolverines have finished in the top 20 in adjusted offensive efficiency in each of the past three seasons. Michigan actually led the nation in this category in both 2013 and 2014. In fact, Michigan's adjusted offensive efficiency rating of 124.1 in 2014 was the highest by any team in the nation for the 12 seasons this stat has been tracked. Therefore, Michigan's offense this past season was the most efficient in the nation since at least 2002. Beilein's offensive system is predicated on having four guards or wings on the court, spacing, constant motion, and outside shooting. With the proper weapons at Beilein's disposal, few teams, if any, can score at a rate like Michigan.
And Beilein has found the proper weapons. Beilein has hauled in some of the best talent Ann Arbor has seen in decades, even if those players were not considered blue-chip recruits by other elite programs. In 2013, Burke was named the consensus National Player of the Year. It was the second time ever a Wolverine had received such an honor and the first time since Cazzie Russell in 1966. Additionally, Burke also was honored as a consensus first-team All-American and Big Ten Player of the Year. Burke was Michigan's first member of an All-America first team since Chris Webber in 1993 and first Big Ten Player of the Year since Glen Rice in 1989.
There were some outsiders who claimed that Michigan was a one-man program and would return to mediocrity with Burke's departure. This was far from case. The following season, Stauskas became Michigan's go-to player and blossomed into a star. Stauskas, like Burke in 2013, was named to an All-America first team and the consensus Big Ten Player of the Year. It was the first time a Wolverine had been a first-team All-American and Big Ten Player of the Year in consecutive seasons since 1964-66 and 1988-89, respectively. McGary was a preseason first-team All-American in 2014, but his season was derailed by a lower back injury. LeVert was selected as a member of the All-Big Ten second team in 2014 after having a minimal role as a freshman the previous season. And Robinson III has been a two-time All-Big Ten honorable mention and projected to possibly be a first-round draft pick.
This is an exciting time to be involved with Michigan basketball. In each of the past three seasons, the team has competed for conference and national championships. The players have run Beilein's offensive system to perfection, showing the rest of the nation how offense is supposed to be played. As a result, the players have received multiple national and conference honors to recognize their performances. Additionally, there have been so many other awards, honors, records, and accolades that Michigan and its players have attained since 2011, but there are too many to recognize all of them in this piece. It would be a stat overload. But the message is clear: this is the fifth golden era of Michigan basketball.
The logical follow-up question is, "How long will this fifth golden era of Michigan basketball endure?" Will Michigan drop from its lofty perch in the college basketball world quickly as it has historically? Or has Beilein built this program into a consistent contender that will be among the nation's best for another decade-plus? This is anyone's guess. If I had to give mine, I would lean toward the latter, even if one or two Wolverines declare early for the NBA Draft in the next week or so. Nonetheless, Michigan fans should not take this success for granted. Michigan may be a "football school," but, at the moment, its basketball program is superior and may be for quite some time.