---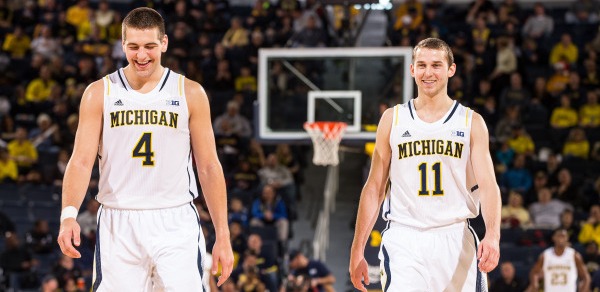 (MGoBlue.com)
Mitch McGary has announced his decision to follow Nik Stauskas and Glenn Robinson III to the NBA Draft, forgoing his final two seasons in Ann Arbor following an NCAA-mandated one-year suspension for testing positive for marijuana.
"Mitch has had a tremendous impact on our program from the moment he committed to us," said head coach John Beilein. "He has injected an enthusiasm that cannot be matched. This is why he is loved by the coaching staff, his teammates and Wolverine fans. The progress he has made on and off the court has been outstanding. His willingness to face a personal issue head on and his positive work ethic during his recent injury have helped him to grow in many ways. We know that he will put all of his energy and effort toward achieving his goals. We will continue to assist and support Mitch as he pursues a career in the NBA."
McGary averaged 7.5 points and 6.3 per game as a freshman during the 2012-13 season, but broke out during Michigan's NCAA Tournament run to the national championship game. In those six games, McGary averaged 14.3 points and 10.7 rebounds, recording three double-doubles. He was named to the NCAA Tournament All-South Region team and the NCAA Final Four All-Tournament team. Entering this season, McGary was named to five Preseason All-America teams and a preseason candidate for the John R. Wooden Award, Naismith Award, and USBWA's Oscar Robinson Award.
A back injury limited McGary to start the season and he played in just eight games before undergoing back surgery that ended his season in mid-December. In those eight games, he averaged 9.5 points and 8.3 rebounds despite not being fully healthy. He recorded double-doubles against Florida State (14 points, 12 rebounds) and Duke (15 and 14).
"My family and I want to thank everyone for giving us privacy and the time to make this decision," said McGary. "As you know, it was important for us to weigh all the factors that go into something like this. With that being said, I am ready to move on to the next stage in my life and enter the NBA Draft."
The failed drug test, as reported by Dan Wetzel of Yahoo! Sports, came during this year's NCAA Tournament run while McGary was still sidelined. He was selected for a random test following Michigan's Sweet Sixteen win over Tennessee. Following the Final Four, Michigan and McGary learned he had failed the test and would face a one-year suspension for a first-time offender if he returned to school next season. From there, whether McGary wanted to return to school or not, the decision became easy: enter the draft. But credit McGary for coming clean.
"Being a part of a program that values integrity, it is important to let everyone know of a poor decision I recently made. I tested positive for marijuana during the NCAA Tournament. We were notified of that result after the Final Four. I regret thoroughly disappointing my family, coaches and administration. Despite all of this they have been understanding and helpful over the last couple of weeks.
"I take full responsibility for this poor choice and want to apologize to everyone, especially those I have grown close to during my fabulous two years at the University of Michigan.
"I love the University of Michigan and all it has allowed me to do. I have had my ups and downs, especially with my injury this season. I want to thank all the fans for embracing me. This has been the best two years of my life and I have some unbelievable memories. I know that I will be a Wolverine forever. Go Blue."
With McGary, Stauskas, and Robinson III all heading to the NBA, in addition to the graduation of Jordan Morgan and transfer of Jon Horford, Beilein faces an enormous task next season. He has quality pieces in place in Caris LeVert, Derrick Walton Jr., and Zak Irvin, but virtually no experience inside. Max Bielfeldt averaged just 4.7 minutes per game and less than one point this season. Mark Donnal, a four-star freshman who redshirted, becomes perhaps the most important player on the roster next season and incoming big man Ricky Doyle will likely have to play as well.
Michigan is also in the market for a transfer, most notably Nevada big man Cole Huff, but he won't help next season due to the transfer rule that will force him to sit out a season.