---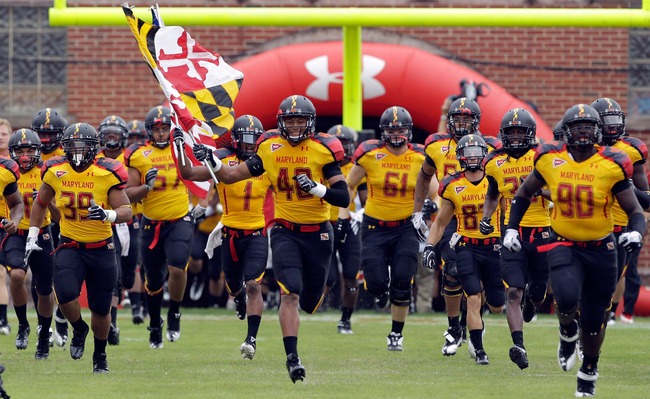 (Rob Carr, Getty Images)
As we count down the days and weeks until Michigan opens its season against Appalachian State on Aug. 30, we're going to kick off our season preview series. The position previews and projections, opponent previews, Big Ten position rankings, staff roundtables, and mailbags that follow will carry us through the sports wasteland that is the summer. So as you take your summer vacations, enjoy cookouts and golf outings, and work on your tan, make sure to check in daily to get your maize and blue fix.
To get things started, we broke down the returning production from each team in the Big Ten. Michigan State won the conference last season, but will that success translate into 2014? Purdue went winless in conference play; are the Boilermakers headed for the same fate this fall? Michigan suffered a losing record in Big Ten play; do the Wolverines have any chance of winning their division this year?
While returning production certainly doesn't answer any of those questions, it can be a strong indicator of how good or bad each team will be. Rather than simply looking at the number of returning starters, we broke down the yards gained, touchdowns scored, and tackles made by each of those returning starters in order to quantify the results and compare each team. Here are the results:
Offense
Returning offense
Team
Percent Returning
2013 Total Off. Rank
Maryland
97.5
77
Iowa
92.8
85
Michigan State
90.9
81
Purdue
82.5
121
Penn State
76.4
43
Rutgers
74.4
96
Northwestern
71.9
73
Michigan
68.6
87
Indiana
67.3
9
Nebraska
66.5
59
Minnesota
65.9
107
Ohio State
59.8
7
Wisconsin
57.0
18
Illinois
34.3
46
Returning scoring offense
Team
Percent Returning
2013 Scoring Off. Rank
Maryland
94.4
83
Michigan State
91.3
63
Iowa
89.3
79
Rutgers
86.9
77
Penn State
84.4
69
Purdue
80.6
121
Indiana
72.2
16
Northwestern
71.1
83
Michigan
63.8
46
Nebraska
59.5
48
Wisconsin
57.7
27
Minnesota
57.4
85
Ohio State
53.7
3
Illinois
40.0
60
As you can see, one of the conference newcomers, Maryland, has the most production returning in terms of both total offense and scoring offense. In fact, with nine starters returning on offense, the Terrapins lost only 204 receiving yards, seven rushing yards, and three touchdowns. In addition, Maryland returns three linemen that started all 13 games last season and have two others that have a combined 12 career starts. This is an offense that could make some noise this fall.
Iowa and Michigan State both return around 90 percent of both their total offense and scoring offenses from units that were pretty similar statistically in 2013. Iowa returns 100 percent of its passing and rushing yards while losing 21 percent of its receiving production and 31.6 percent of its receiving touchdowns from tight end C.J. Fiedorowicz. Michigan State returns all of its rushing production from running backs and all but one receiver, Bennie Fowler, who made up 21 percent of last season's receiving yards and six of 17 receiving touchdowns.
Purdue, Penn State, and Rutgers make up numbers four through six in both categories, however, one of these is not like the others. While Purdue ranked 121st nationally in total offense and Rutgers 96th, Penn State was a respectable 43rd. The Nittany Lions have quarterback Christian Hackenberg back with a year under his belt and 100 percent of the running back production. The main loss is receiver Allen Robinson, who accounted for 108 more receiving yards than all returning receivers combined.
Northwestern and Michigan are pretty similar in terms of returning production. Northwestern has slightly higher returning numbers in both categories, but where the Wildcats ranked a few spots higher nationally in total offense, Michigan was much more adept at finding the end zone. Michigan returns 44 touchdowns compared to just 33 for Northwestern. Nebraska, which has the fifth-lowest returning production in the conference also returns 44 touchdowns from a scoring offense that was just two spots behind Michigan's last season.
Indiana returns 67.3 percent of its total offense and 72.2 percent of its scoring offense from the Big Ten's second-best unit. The Hoosiers have more touchdowns returning (70) than any other team in the conference even with the loss of their top two receivers, Cody Latimer and Kofi Hughes, and top tight end, Ted Bolser, who combined for 22 touchdown grabs.
Ohio State was the Big Ten's best offense in 2013, and despite having the third-lowest total offense and second-lowest scoring offense returning, the Buckeyes still have 65 touchdowns coming back, which is second only to Indiana. In addition, OSU lost 74.3 percent of last season's starting offensive line and 87.7 percent of career starts along the line — and that includes the addition of Alabama transfer Chad Lindsay.
Wisconsin lost a lot of production from running back James White, but the Badgers do have leading running back Melvin Gordon back. The big loss was at receiver where Wisconsin lost its top four pass catchers, including White.
Defense
Returning defense
Team
Percent Returning
2013 Total Def. Rank
Maryland
82.6
44
Indiana
79.1
123
Rutgers
77.8
74
Michigan
77.6
41
Northwestern
76.1
89
Illinois
75.8
112
Penn State
67.4
49
Minnesota
66.1
43
Nebraska
66.5
39
Purdue
63.3
105
Ohio State
60.3
47
Michigan State
50.1
2
Wisconsin
49.9
7
Iowa
44.4
6
The top three defensive teams in the Big Ten last season — Michigan State, Iowa, and Wisconsin — are the three that lost the most defensive production in terms of tackles, tackles, for loss, sacks, and interceptions. Iowa and Wisconsin both lost virtually their entire linebacker corps. For Iowa, that made up its top three tacklers, two of the top three in tackles-for-loss, sack leader, and interception leader. For Wisconsin, it was two of the top three tacklers, three of the top four in tackles-for-loss, and two of the top three in sacks. Michigan State's lost production was more spread out among the entire defense rather than one position group. Ohio State also lost its top three tacklers and most of its defensive backfield, though the Buckeyes do return probably the most experienced and talented defensive line in the Big Ten.
Just like on the offensive side, Maryland leads the way in returning production with a whopping 82.6 percent returning. The Terps lost just four players that had double-digit tackles, although one, linebacker Marcus Whitfield, was the team leader with 15.5 tackles-for-loss and ranked second with nine sacks. Only Ohio State returns more sacks (34) than Maryland (25).
Indiana returns the second-most defensive production, but unlike its offense, the Hoosier defense was downright horrendous. It ranked 123rd nationally, so even with 13 of their top 14 tacklers back, they have a lot of work to do, especially since one of those lost was the team tackle-for-loss and sack leader.
Rutgers and Michigan both return the same amount of defensive production, but Michigan's defense was a respectable 41st, while Rutgers' was 33 spots lower. Both have solid linebacker groups returning. Northwestern and Illinois are right behind, but both ranked in the bottom third nationally in total defense.
Penn State, Minnesota, and Nebraska make up spots seven, eight, and nine, all with 66 to 67 percent production returning. In addition, all three were pretty similar in terms of total defense in 2013, ranking 49th, 43rd, and 39th, respectively. Penn State lost its leading tackler, linebacker Glenn Carson, and its leader in tackles-for-loss, defensive tackle DaQuan Jones. Minnesota lost quite a bit of production from its defensive backfield and its key cog in the middle of the line, while Nebraska lost three of the top four from its secondary.
Conclusion
When both offense and defense are combined, Maryland has far and away the most coming back, while Wisconsin has the least. Here's the comparison chart.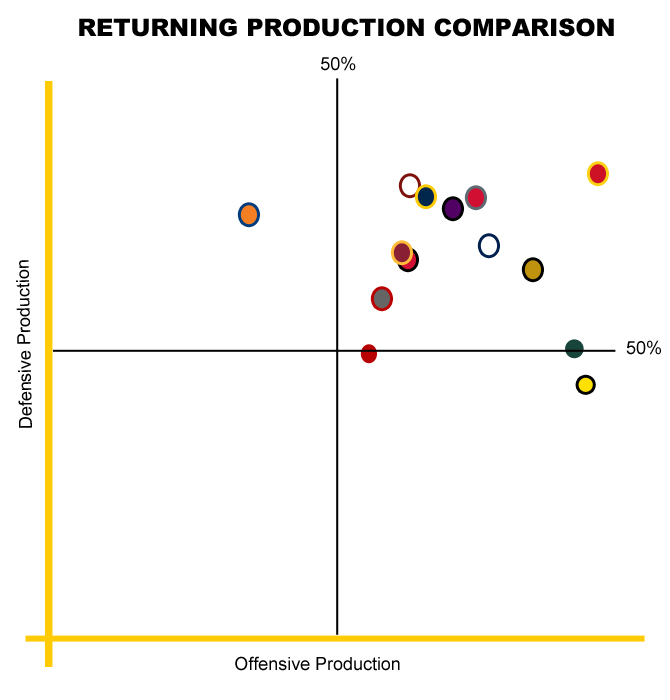 While it's impossible to draw conclusions about this season's performance based on these numbers alone, they can be used as part of the overall picture. In the days and weeks to come, these numbers will be expanded on in our individual opponent previews, position rankings, and other season preview content. Stay tuned.