---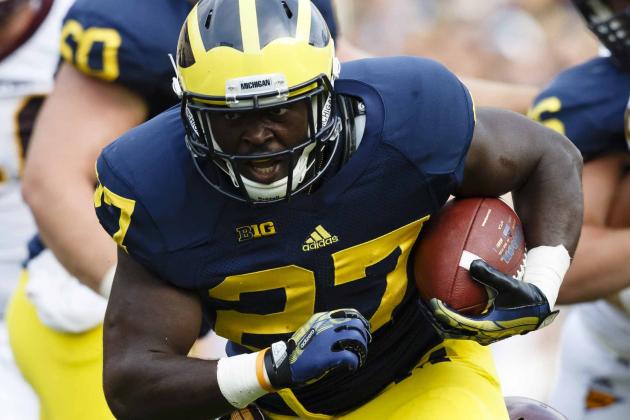 (Rick Osentoski, USA Today Sports)
The most glaring hole in the Michigan offense during 2013 was the absence of a legitimate rushing threat. A porous offensive line and indecisive running backs combined to cripple the one-dimensional Wolverine offense and led to a 755-yard decrease in rushing yards from 2012. Fortunately for offensive coordinator Doug Nussmeier, several players emerged as potential contributors in the backfield towards the end of the 2013 campaign.
Michigan's worst rushing performance in the team's 134-year history (minus-48 yards against Michigan State) came during a season in which a recruiting class loaded with running back talent took the field. Brady Hoke brought one five-star recruit and two four-star recruits to Ann Arbor in the class of 2013, only to watch his team rush for 3.3 yards per carry on the season. If Michigan hopes to steer the program back in the right direction, that number will have to improve drastically under Nussmeier.
Michigan did add USC transfer Ty Isaac last week, but this preview assumes that he does not receive a hardship waiver from the NCAA and has to take a redshirt this fall.
The Starters
When he arrived in Ann Arbor, Nussmeier announced that he will use two primary running backs during the 2014 season. Much as he did with Eddie Lacy and T.J. Yeldon in 2012 at Alabama, the new offensive coordinator will use the depth at his disposal to get the most out of his rushing attack.
One of the most important players to Michigan's upcoming season was also one of the most disappointing during 2013. Sophomore Derrick Green gained just 270 yards on 83 attempts in his first college season after showing up to camp out of shape and struggling with discipline. Green was the most highly-touted recruit in Michigan's top-five class after his commitment famously made Hoke cry with relief.
Green is perhaps the player with the most to gain under Nussmeier, as his ground-and-pound mentality that made him the top running back recruit in the country mirrors that of Eddie Lacy, who rushed for 1,322 yards and 17 touchdowns en route to a national championship under Nussmeier in 2012.
Green's best game came in week one against Central Michigan, when he ran for 58 yards and a touchdown on 11 carries. But as the season progressed, the offensive line's struggles hurt Green more than any other running back as rushing between the tackles became nearly impossible.
Hoke's star recruit learned from his freshman mistake and showed up to camp in better shape this season, looking faster and more confident than he ever did throughout his first season. Green gives Michigan the best chance to be an elite team as his ceiling is higher than possibly any other back in the Big Ten.
Despite the hype surrounding Green, his classmate De'Veon Smith appeared to play the role of starting running back during the spring practice on April 5. Smith rushed for the best average (4.5 yards per carry) of any regular running back in 2013 and saw his role increase late in the season. After carrying the ball just seven times in the first nine games, Smith's number was called 15 times in the final three regular season games.
At 5'11″, 223-pounds, Smith features almost the exact same running style as Green, but demonstrated better instincts when plays broke down in 2013. Nussmeier is faced with a difficult decision between Smith and Green, but both players will likely see significant time throughout the upcoming season.
Projected Stats – Green

Attempts
Yards
YPC
Long
TDs
YPG
160
650
4.1
11
50.0
Career Stats
2013
83
270
3.3
30
2
20.8
Totals
83
270
3.3
30
2
20.8
Projected Stats – Smith

Attempts
Yards
YPC
Long
TDs
YPG
130
500
3.8
4
30.8
Career Stats
2013
26
117
4.5
38
0
9.8
Totals
26
117
4.5
38
0
9.8
Veteran Depth
Michigan's depth took a small hit when Thomas Rawls decided to transfer in the winter, but there are still plenty of quality options at Nussmeier's disposal.
Senior Justice Hayes has made some noise throughout the offseason, and played better than both sophomores during the spring game. Hayes was largely invisible during the 2013 season, carrying the ball twice for six yards. His most productive game came alongside Shane Morris in the Buffalo Wild Wings Bowl, when he caught three passes for 22 yards.
Hayes is a very different running back than Smith and Green, relying on speed and reads more than strength and power. Despite weighing just 190 pounds, the senior demonstrated the best pass-blocking ability, which is valuable behind an inexperienced offensive line. Hayes will have to dazzle coaches to earn a starting position, but he will be an important member of the rotation during the fall either way.
The top returning running back from Michigan's 2013 depth chart has yet to take any reps in training camp, as redshirt sophomore Drake Johnson continues to recover from a torn ACL in the season-opener. Johnson was listed second on the running back depth chart at the start of 2013 behind Fitzgerald Toussaint, but ran the ball just twice before his season ended while covering a kickoff.
Hoke said that the running back competition will be complete only when Johnson returns during fall camp, but it's unlikely that the young back will have enough time to earn a starting spot by August 30. Look for Johnson to provide depth for Nussmeier if he returns from his injury on schedule.
Projected Stats – Hayes

Attempts
Yards
YPC
Long
TDs
YPG
35
150
4.3
2
11.5
Career Stats
2013
2
6
3.0
7
0
0.5
2012
18
83
4.6
24
1
13.8
2011
0
0
N/A
N/A
0
N/A
Totals
20
89
4.5
24
1
4.7
Projected Stats – Johnson

Attempts
Yards
YPC
Long
TDs
YPG
70
250
3.6
2
19.2
Career Stats
2013
2
9
4.5
7
0
9.0
Totals
2
9
4.5
7
0
9.0