---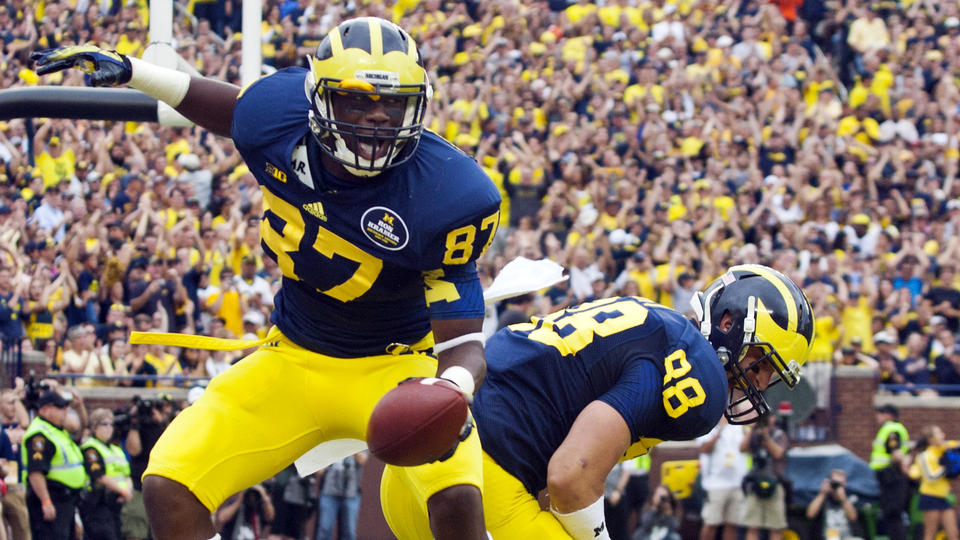 When wide receiver Jeremy Gallon walked off the field in Arizona after Michigan's loss to Kansas State, the Wolverines lost 42.6 percent of their receiving yards for the season and the top playmaker on the team.
Michigan's receiving corps was a one-man wrecking crew in 2013, with Gallon averaging 15.5 yards per catch and scoring nine times. His departure leaves room for a deep group of young wide outs to grow with the rest of the Wolverine offense.
Previously: Quarterbacks, running backs
The Starters
Devin Funchess represents Michigan's top returning receiver after transitioning from tight end to wide out during the 2013 season. Funchess was moved to receiver officially after playing a tight end-wide receiver hybrid position that highlighted the tall sophomore's downfield skills.
As a junior, Funchess will be asked to show more consistency in the receiving game. Though he was one of the more explosive options for Devin Gardner in 2013, catching 49 passes for 748 yards, he struggled with concentration lapses that turned into dropped passes. Funchess holds all the tools to be a dominant receiver in the Big Ten, as his size and athleticism make him a mismatch for virtually every defender in the conference.
Funchess is more valuable to the Michigan offense as a wide receiver because of a 6'5″, 230 pound frame that makes him a huge red zone target. The former tight end has done his best work in the end zone for the Wolverines, catching 11 touchdowns in his first two seasons in Ann Arbor.
Michigan entered spring camp with a second wide receiver position wide open until a true freshman charged out of the pack to grab the spot. Freddy Canteen dazzled the coaching staff the day he stepped on campus and has been the talk of the team ever since. The lightning-fast receiver turned heads with his quick feet and athleticism, leaving no doubt that he will line up opposite Funchess for the Wolverines on August 30.
Canteen and Funchess give Michigan a receiving duo with a remarkably high ceiling. Funchess can only benefit from an offseason exclusively dedicated to becoming a wide receiver, and Canteen's quick rise up the depth chart offers him the opportunity to blossom with first-team reps.
Projected Stats – Funchess

Receptions
Yards
YPC
Long
TDs
YPG
65
900
13.8
8
69.2
Career Stats
2013
49
748
15.3
59
6
57.5
2012
15
234
15.6
30
5
18.0
Totals
64
982
15.3
59
11
37.8
Projected Stats – Canteen

Receptions
Yards
YPC
Long
TDs
YPG
35
600
17.1
5
46.2
Veteran Depth
Depth at wide receiver is one of the biggest questions facing the Michigan offense as it prepares for the 2014 season. Jehu Chesson is the only returning wide receiver that recorded over 100 yards in 2013, doing so on just 15 receptions.
Chesson was the forgotten man for much of his redshirt freshman season, playing in all 13 games but catching three or fewer passes in each one of them. Despite his inconsistency last season, the sophomore will be asked to provide stability to an otherwise young group of wide receivers in 2014.
Chesson's struggles can be largely attributed to the circumstances that thrust him into the regular rotation last season. Amara Darboh was well on his way to earning a starting position last fall before suffering a foot injury in August and missing the entire season. The explosive sophomore has been rehabbing his injury throughout the past eight months and appears ready to make a return to a unit that sorely needs him.
Darboh sat out the spring game, but announced that he feels 100 percent and hopes to be a full participant in fall camp. If he regains his previous form, Darboh will be a huge asset to the offense, as his hands were the surest of the young receivers in camp last offseason. His pure catching ability offers Michigan a Junior Hemmingway-type player that can beat defenders to the ball.
If Doug Nussmeier decided to utilize a slot receiver, then junior Dennis Norfleet is the most likely candidate to earn that role. Michigan regularly features the speedy Norfleet as a kick returner because of his big-play potential; but the junior's quickness could make him a valuable weapon in the passing game, in which he caught six passes for 46 yards last season.
Projected Stats – Chesson

Receptions
Yards
YPC
Long
TDs
YPG
25
350
14.0
3
26.9
Career Stats
2013
15
221
14.7
58
1
17.0
2012
0
0
N/A
N/A
0
N/A
Totals
15
221
14.7
58
1
17.0
Projected Stats – Darboh

Receptions
Yards
YPC
Long
TDs
YPG
18
200
11.1
2
15.4
Career Stats
2013
0
0
N/A
N/A
0
N/A
2012
0
0
N/A
N/A
0
N/A
Totals
0
0
N/A
N/A
0
N/A
Projected Stats – Norfleet

Receptions
Yards
YPC
Long
TDs
YPG
12
100
8.3
0
7.7
Career Stats
2013
6
46
7.7
15
0
3.5
2012
0
0
N/A
N/A
0
N/A
Totals
6
46
7.7
15
0
3.5
Newcomers
Brady Hoke added a major piece to the receiving corps when Drake Harris committed to the Wolverines out of Grand Rapids. The consensus four-star turned heads during his junior season in high school, catching 91 passes for 2,016 yards and 23 touchdowns. Harris was considered one of the top recruits in his class before missing his entire senior season with a hamstring injury.
Harris sat alongside Darboh in the spring game, continuing a quiet offseason for the talented receiver. At 6'4″, Harris could be a valuable target during his freshman campaign, but health concerns will continue to surround the youngster until he steps foot on the field.
Michigan's roster also features a host of young receivers hoping to crack the lineup this fall. Da'Mario Jones was blocked by Chesson last season after Darboh's injury figured to bring him into the mix. Former three-star recruit Jaron Dukes is eligible in 2014 after redshirting his freshman season and could earn playing time with a strong spring.
Projected Stats – Harris

Receptions
Yards
YPC
Long
TDs
YPG
22
300
13.6
2
23.1