---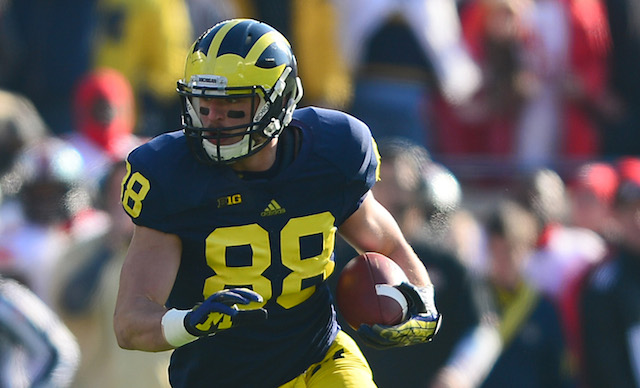 Michigan football made a few announcements this offseason that gutted the tight end depth for offensive coordinator Doug Nussmeier. The team's top option throughout much of the last two seasons was Devin Funchess, who will be moved permanently to wide receiver for his junior season. Transitioning Funchess was much easier after the emergence of freshman Jake Butt, but a torn ACL sidelined the young star and left the Wolverines without their top two options at tight end, at least for the first few games of the season.
Brady Hoke opted against moving Funchess back to tight end, and will instead choose from a number of veteran options that have made smaller impacts during their Michigan careers.
The Starters
With the offense under construction after the hiring of Nussmeier, it remains to be seen what type of role the tight ends will play in 2014. During the spring game, the majority of Michigan's sets featured one tight end, often junior A.J. Williams.
Williams played a very limited role in his sophomore campaign, catching just one pass for a two-yard touchdown in the loss at Iowa. The 6'6″ tight end started six games, but was rarely featured as an integral part of the offense. The junior will be asked to play a much bigger role in 2014, as he holds the No. 1 tight end spot on the depth chart and received the most reps during the spring game.
Fellow junior Keith Heitzman lineup up with Williams on the first team during double tight end sets at the spring game, revealing Nussmeier's willingness to at least experiment with more than one tight end on the field.
Heitzman has played 23 games for the Wolverines in his career, but all of them have come on the defensive line. The 271-pound junior separated himself from the rest of the pack as the No. 2 tight end, but will likely be featured as a blocker and less of a receiving threat.
Butt, meanwhile, is expected to be out until Big Ten play, but when he returns, will slide back into a starting role. The 6'6″, 250-pound sophomore impressed as a true freshman in 2013, catching 20 passes for 235 yards and two touchdowns. That's five more catches and one more yard than Funchess had in his freshman campaign. Butt saved his best performance of the season for the matchup against his hometown Buckeyes, recording five catches for 85 yards and a score. Butt won't match Funchess' 2013 numbers, but will play a major role in the offense once he returns.
Projected Stats – Williams

Receptions
Yards
YPC
Long
TDs
YPG
9
100
11.1
1
7.7
Career Stats
2013
1
2
2.0
2
1
0.2
2012
0
0
N/A
N/A
0
N/A
Totals
1
2
2.0
2
1
0.2
Projected Stats – Butt

Receptions
Yards
YPC
Long
TDs
YPG
21
250
11.9
4
27.8
Career Stats
2013
20
235
11.8
37
2
18.1
Totals
20
235
11.8
37
2
18.1
Projected Stats – Heitzman

Receptions
Yards
YPC
Long
TDs
YPG
16
200
12.5
2
15.4
Career Stats
2013
0
0
N/A
N/A
0
N/A
2012
0
0
N/A
N/A
0
N/A
2011
0
0
N/A
N/A
0
N/A
Totals
0
0
N/A
N/A
0
N/A
Veteran Depth
Tight end remains one of the thinnest positions on the Michigan roster leading into the 2014 season, but quality recruits over the past two seasons have provided the Wolverines with some talented options. The struggle for Nussmeier in 2014 will be finding a tight end that can both protect the quarterback and hurt defenses in the passing game.
Redshirt freshman Khalid Hill figures to be an option if Williams and Heitzman struggle, as the former consensus three-star offers Michigan more of a receiving weapon. Hill is smaller than the other tight ends, but makes up for it with quickness and essential receiving skills like strong hands and great route running. Hill is more likely to be a difference-maker in the future, but a strong spring could put him on the radar for 2014.
Projected Stats – Hill

Receptions
Yards
YPC
Long
TDs
YPG
13
150
11.5
1
11.5
Career Stats
2013
0
0
N/A
N/A
0
N/A
Totals
0
0
N/A
N/A
0
N/A
Newcomers
Michigan welcomed one key tight end prospect in the 2014 recruiting class in Ian Bunting. Bunting is a tall, but athletic tight end that should evolve into Michigan's top receiving threat from his position. The freshman played wide receiver throughout much of his high school career, which molded him into the offensive threat that Hoke recruited.
Bunting figures to compete for playing time as a true freshman, since the Wolverines could really use a receiving threat from the tight end position. His versatility can only improve his chances to crack the lineup, as Nussmeier owns the option to line him up in the slot or out wide.
If a largely unproven wide receiver unit struggles during the non-conference season, expect the coaching staff to consider awarding Bunting more time at tight end to give the offense more options. The freshman fits the mold of Funchess and Butt as a pseudo-receiver at tight end.
Projected Stats – Bunting

Receptions
Yards
YPC
Long
TDs
YPG
10
150
15.0
1
11.5