---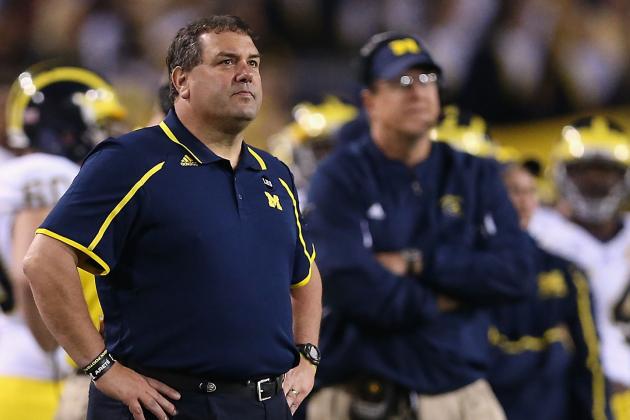 (Christian Peterson, Getty Images)
As we continue our 2014 season preview series, the time has come for our first M&GB Roundtable. These roundtables will be posted on Fridays a few times throughout the summer and will discuss a hot topic relating to the upcoming season. Given the way last season went and the overall pessimism throughout the fan base at the moment, the first topic is certainly a hot one:
Is Brady Hoke on the hot seat? If not now, what kind of season does Michigan have to have to avoid the hot seat heading into next season? If so, is there a scenario in which you would want him fired after this season?

In my opinion, Hoke isn't on the hot seat right now, and I don't say that because of how I feel Dave Brandon views it. I don't think Hoke should be on the hot seat right now. Of course we're all disappointed with a 7-6 season. No one wants that. I've heard all the "Michigan shouldn't accept mediocrity" arguments, and I agree. But we have to face the reality of the situation Michigan is in. The program has to be built back up to where it once was, and that process takes time.
I don't fully blame Rich Rodriguez, though he is partially to blame, mostly for things like not focusing enough on defense and failing to recruit certain positions each year. The main blame should fall on Bill Martin for hiring Rodriguez in the first place back in 2008. The hiring took a traditional, pro-style offense, hard-nosed defense team and forced it to turn into a new-age, spread offense, smaller and faster defense team. We can debate all day long whether Rodriguez would have eventually succeeded if he had been given enough time to fully transition the roster. But when he wasn't — he was fired after three seasons — and when Brandon handed the reigns back to a more traditional Michigan coach, it stunted the process even more. I'm not saying that was the wrong decision, but the reality is that Brandon did so for long-term, not short-term success. The roster was somewhere between 60-80 percent transitioned to Rodriguez's style and now it would need to be turned back into the old style.
Hoke going 11-2 in his first season was more of a mirage than what should have been expected. For his part, he solidified the defense, and that combined with the already potent offense, allowed for the great season. Had he kept recruiting and coaching towards Rodriguez's philosophies, 2012 and 2013 would have been better. But that's not who Hoke is or what he was brought in for. With only about 25 roster spots able to change over each year, transitioning back to the Michigan of old will take time. And that's what we, as Michigan fans, need to give Hoke.
Recruiting is going well and there is plenty of young talent on the team. This season, Michigan will still be one of the youngest teams in the Big Ten, and in 2015 the vast majority of the roster will be Hoke's guys. Hoke needs to be given through 2015 to turn things around. Michigan should at least be within striking distance of the Big Ten championship in 2015. If, at that point, Michigan is still having 7-6 or 8-5 seasons, we can start to seriously discuss how hot Hoke's seat is.

No, Brady Hoke is not on the hot seat. To be on the hot seat, a coach must be in a position where he must win a substantial number of games the following season or else he will be fired. Hoke is not in such a position, even if his seat is a bit warmer than it was prior to 2013. Fans forget just how toxic things were in Ann Arbor prior to Hoke's arrival. Not only did Michigan collapse down the stretch in Rich Rodriguez's final two seasons, his recruiting classes experienced mass defections. The attrition rate was astronomical and left craters in various areas of Michigan's depth chart that were bound to rear their ugly head down the road.
Hoke has been trying to rebuild Michigan into what it was prior to Rodriguez's tenure, but it is not an overnight job. Yes, Michigan's record has worsened each of Hoke's first three seasons, but do not let the 2011 campaign fool you. That was a magical run. Michigan benefited from some of the best karma and luck the Wolverines have seen in quite some time en route to an 11-2 record and Sugar Bowl victory. But it did not rectify Michigan's underlying problem that it would have little depth and experience at multiple positions the following seasons. Hoke has tried to plug the holes in the depth chart quickly, bringing in the No. 6 and No. 4 recruiting classes in 2012 and 2013, respectively, according to 247 Sports, but those recruits have been only sophomores or freshmen. How much of an immediate impact can be expected from them? This lack of depth and inexperience, combined with puzzling offensive game plans from Al Borges and unfortunate injuries, is why Michigan was 15-11 the past two years.
So Hoke is not on the hot seat yet. He still needs more time to balance the depth chart and develop his talented recruits. Just look at Michigan's offensive line for the upcoming season. The raw talent is there, but it likely needs one more season to become a cohesive unit. Plus, Michigan will be trying to break in a new offense under the tutelage of offensive coordinator Doug Nussmeier, while being saddled with road games against all three of its major rivals—Ohio State, Michigan State, and Notre Dame—for the first time ever. Hoke has two more years to right the ship with big expectations for 2015. He could help alleviate some of that pressure with nine or more wins, especially if they are against a rival or two, in 2014, yet a seven- or eight-win season would make his seat burn a bit more in 2015. And the only scenario where Michigan would consider firing Hoke after this season is one where Michigan has a losing record and fails to make a bowl game. Otherwise, expect Hoke and his staff to be back in 2015.

As far as Dave Brandon is concerned Brady Hoke is not on the hot seat. Whether the university has Brandon/Hoke on the hot seat is another question. I've long held the opinion that it would take Hoke until 2015 before he fielded a championship caliber team (conference, not national) and I stick by it. Rome was not built in a day, nor will the Maize and Blue be rebuilt in three-to-four years.
We were spoiled in 2011, but I truly think that was an aberration, an aligning of the stars, so to speak. OSU was down for once and Sparty was, well Sparty. It takes several years to revamp a program from one style into basically the complete opposite. That simply does not happen overnight. Heading into year four Hoke has shown he is a monster on the recruiting trail, which helps me keep my cool. That he has managed to haul in some really good players and classes that fit his 'Michigan Man' mold perfectly, in spite of sub-par on-field results is truly a testament to the man's character and recruiting skill.
The player development, however, has been less than what most of us would have expected but we need to keep in mind that this is a VERY YOUNG team. While it is not uncommon for a first or second year player to be great (Marshall Faulk, Adrian Peterson*, Johnny Football), it is not the norm. To expect a roster almost fully loaded with first and second year players to play at a high level was just ridiculous.
*Adrian Peterson played with a Heisman winning quarterback, a future first round wide receiver in Mark Clayton, ran behind a line that featured two future NFL players (Jammal Brown and Davin Joseph), and three senior linemen (the other two were juniors), for a team that had a 36-5 record coming in.
No, we haven't had the seasons we expect from Michigan, but it's been a long time since we've seen great seasons back to back (10-plus wins). There haven't been back to back 10-win seasons in over a decade, 2002-2003 and you have to go back to 1997-1999 to see three straight. Or if you want to be more generous and count 9-plus win seasons, we still go back over a decade to 2002-2004 for three straight and 2006-2007 for back-to-back.
Long story short, Hoke is not on the hot seat nor should he be. One needs at least five seasons to retool a program. I think he gets that and nothing more. That said, I was also of the opinion Rich Rodriguez needed at least five seasons. Although I was happy to see him go, I think he would have turned the corner by his fifth season.
Will the 'heat' get turned up if Hoke turns in another seven- or eight-win season? I don't think so. The fans may be impatient and restless but they don't call the shots. Dave Brandon played for Bo and he knows what Hoke is dealing with and the time and effort it takes to basically rebuild from the ground up. The temperature stays the same heading into 2015 — which is still very warm — unless of course Hoke goes 3-9. Then all bets are off. I think Brandon is just looking for marked improvement, not necessarily in the win-loss column, but something that shows what this staff is doing is working and taking enough steps forward.
I can think of only one scenario under which I'd like to see Brady Hoke fired after this season. Bill Belichick takes over the program (AD and head coach) and brings Nick Saban along with him. That said, it seems logical that Doug Nussmeier would take over should Hoke be given the boot, after either this season or the next.

Is Hoke on the hot seat? It certainly seems like he should be, but the atmosphere around the program lacks the sense of urgency that usually surrounds a desperate coach. He's at least feeling pressure, and that's not only because of the team's overall performance, but also the individual performances of important players.
Hoke's similarity to Rich Rodriguez after three years in Ann Arbor has been well documented around the college football world. Both finished 7-6 in their third season, and both struggled in Big Ten play despite hot starts during the non-conference schedule. The major difference between the two? While Rodriguez's teams at least improved record wise, each year has shown a steady decline under Hoke. If that trend continues in 2014, especially with such a weak home schedule, then Hoke should be shown the door without a doubt.
The overall struggles are largely due to slow improvement from talented players like Derrick Green. Hoke has proven he can lure some of the most highly regarded recruits in the country to Ann Arbor, but those players simply haven't performed on the field in many cases. In 2013 the offensive line was loaded with former stud recruits, but as a unit it left Devin Gardner on his back more often than any other group in the Big Ten. Some recruits clearly don't live up to the hype, but Hoke needs more from five-star guys like Green.
Team 135 is immensely important for Hoke and his future at Michigan. In his fourth season fans expect that the talent he needs is at his disposal and the program needs to take a step in the right direction. With Jabrill Peppers and company on campus, Michigan is primed to compete in the Big Ten. Hoke's job is to make sure that happens.