---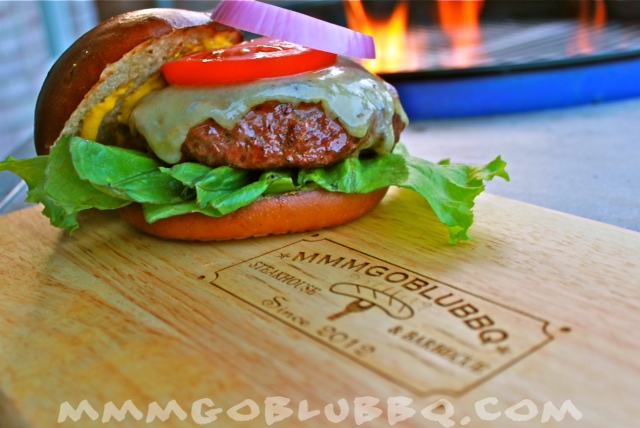 Friday is the Fourth of July. For most of us, that means a day off work, gathering with family and friends, and cooking out. With that in mind, we are introducing a new series that will run each week during the season. We teamed up with Joe from MmmGoBluBBQ to provide weekly recipe ideas for your tailgate or barbecue.
Today, we're just providing a quick meat recipe for your Fourth of July cookout, but during the season we will feature both a meat and a drink recipe themed around that week's opponent. Whether you'll be tailgating in the shadows of the Big House or barbecuing at home, we hope to provide you with new ideas to impress your friends and satisfy your hunger.
When I think back on past July 4th holidays, two great memories come to mind. The first is the annual herring fishing trip to Drummond Island with my dad and his co-workers. The second revolves around the Weber grill, usually overstuffed with hot dogs and hamburgers. Both hold great meaning for me and my family and will always be a fun source of "story telling" (that's code for fishing tales). When I was asked to write a recipe for our nation's birthday, there was only one true option — the all-American CHEESEBURGER.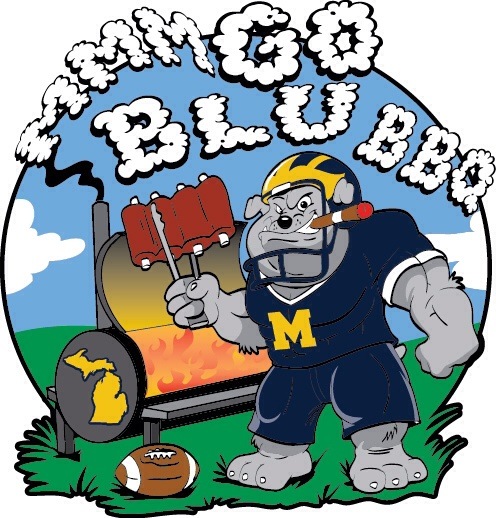 Recently, I've been experimenting with different ways to cook everyday BBQ.  One of my new favorites is the SMOKED Cheeseburger.  It's ridiculously juicy, super flavorful, and surprisingly easy. I will never go back to the standard grilled burger again. It's that good and everyone can do it. I hope you enjoy it.
Ingredients:
• 85/15 Ground beef (Yes, use the fatty stuff)
• Cheese (Your choice)
• Pretzel Bun or Onion Bun
• Salt and pepper and Worcestershire sauce to taste
• Condiments of your choice
Directions:
Set up smoker or grill for indirect heat. I love using my mini smoker or my Weber Kettle grill for this recipe. If you are using a gas grill, set up for indirect heat by turning on one or two burners and leaving the other burners off. While the grill is heating up to 250 degrees, start forming your burgers. Add some salt, pepper, and a few splashes of Worcestershire sauce. I like to make them 1/3- to 1/2-pound so that they can smoke for awhile and still retain their tasty juices.  If they are too thin, the burgers will finish before getting any smokey flavor. The reason we are using the fattier meat (85/15 or 80/20) is due to the longer cooking time. The meat will lose some juices over the 45-minute cook, so we need a little more fat. The more fat, the more flavor we will have in the finished burger.
Once the smoker is up to a temperature of 250 degrees, add some hickory wood chunks. Hickory goes great with red meat and will not be overpowering or leave a bitter taste. Add the burgers to the smoker/grill and relax with a cold, tasty beverage. These burgers will take about 45 minutes to cook.
An instant read thermometer is a great tool to have if you are planning on doing a lot of smoking or grilling. I don't know what I would do without my Thermapen thermometer.  We are looking for an internal temperature of 140-150 degrees. I like mine medium, with a little pink in the middle, but If you prefer yours a little less or more well done, adjust the cooking time accordingly.
After about 45 minutes, we should be nearing the 140 degree internal temperature mark. This is where I add my cheese. I like to finish them over an open flame to get some char on the meat. This will also get the temp up to a "perfect pink centered" medium. Leave the meat over the flame for about 60 seconds.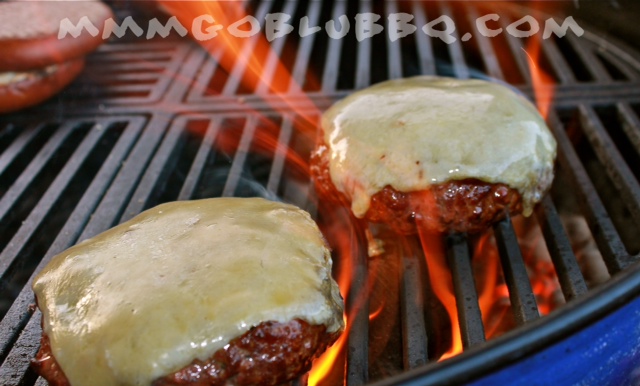 While the cheese is melting and the flames are charring, you can assemble your buns. If you'd like to grill the buns, throw them on as well.  I love the char on the buns, so I never skip this step. Once the buns are done and the cheese is melted, it's time to enjoy.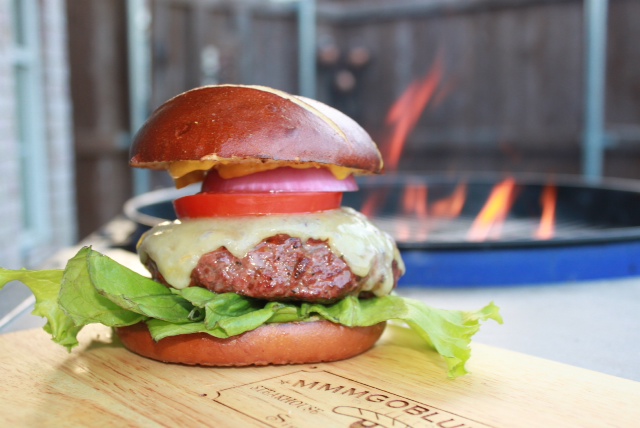 This is a great tailgate recipe as it doesn't take all day to make. This is a 60-minute recipe and can be cooked on any grill or smoker. I hope you enjoy.
GO BLUE!
For more great recipes, photos, and barbecue ideas, follow Joe on Twitter at @mmmgoblubbq.